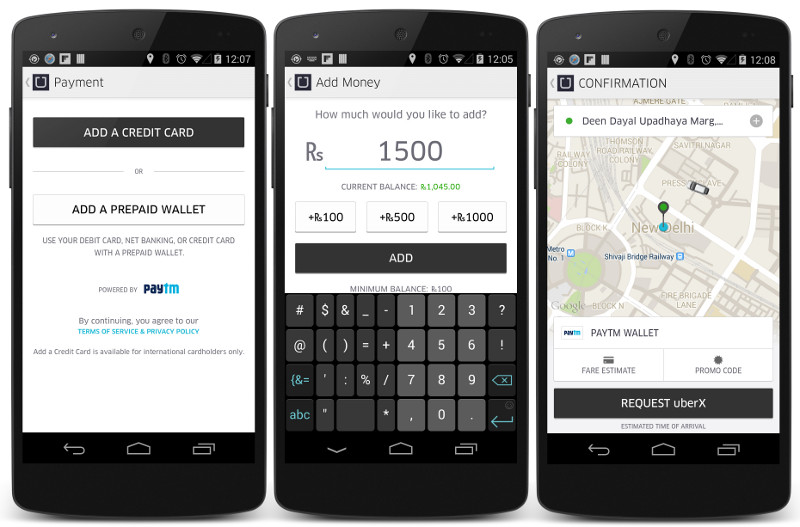 Uber entered India last year and is currently one of the popular cab services in India. Uber accepts only credit cards, which was one of the main concerns among the users in India who didn't have credit cards. Today Uber has tied up with Paytm, one of the leading mobile commerce platforms to introduce payment through debit card, net banking or credit card using Paytm wallet.
Once you link your card or bank account via a Paytm wallet to your Uber account, you can top up your wallet using multiple payment options. Once the payment is added, your fare will be automatically debited from your e-wallet after the Uber ride. As usual you will get receipt with detailed fare breakdown and the trip route taken at the end of the ride.
Option for adding Paytm wallet is available on Android and iOS after the latest update. Here is the procedure to add money to your wallet.
When you register with Uber, you'll be prompted to add a payment profile. If you already have a Paytm wallet, you may link it to your Uber account.
Click on 'Payment' to find your wallet. Then click on 'Add Money' (minimum recharge value is Rs. 100)
Recharge your wallet whenever you want by using your credit card, debit card or your NetBanking account.
This new move is due to a new rule by Reserve Bank of India (RBI) that requires all online transactions to pass through domestic payment systems. If the customer has insufficient funds to pay their cab, the account goes into a negative balance and subsequently prompts them to top up and return their wallet to credit after the ride, said an Uber spokesperson TechCrunch.