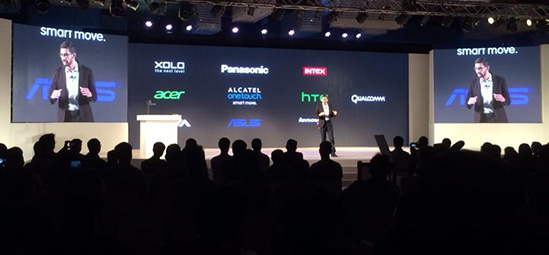 The Android One launch event, presided by Sundar Pichai, is underway in India at the moment. One of the key announcements of this new program from Google, is the addition of 9 new OEM partners and, unsurprisingly, Qualcomm chipset support. This comes after the initial announcement at Google IO, of four partners, Karbonn, Micromax and Spice being the OEMs and Mediatek chipset support, mainly targeted at the Indian market, but it seems like Android One will take the global route with the new OEMs.
The list of 9 new OEMs includes some biggies like HTC and Lenovo, with other smaller Indian companies like Xolo, Lava and Intex, along with Panasonic, Alcatel, ASUS and Acer. The addition of Qualcomm as a chip supplier breaks the brief monopoly that MediaTek had over the program. As mentioned earlier, this brings Android One to more markets than just India, and even the competition is all set to get even more intense here in the local market. Lenovo is the only company from the top 5 manufacturers to be present in the list of Android One partners, with Samsung and LG notably missing. It's also interesting to see that ZTE, Huawei or other popular Chinese manufacturers not featuring in this list.
ASUS recently launched its Zenfone range of devices, in which the cheapest one already enforces the idea of a fast high quality affordable smartphone. Android One is very similar, but it will force all the OEMs to drop their identity, i.e their custom skins, like the ZenUI, HTC Sense and so on. With the addition of all these partners, it is seemingly the end of AOSP modifications, at least in the lower end smartphones that usually sell the most. But what will Android One do to all the major OEMs like Samsung or LG remains to be seen.
Also, the program is coming to more countries this year like Indonesia, the Philippines and South Asia (Bangladesh, Nepal, Pakistan, and Sri Lanka) by the end of the year, with more countries to follow in 2015.