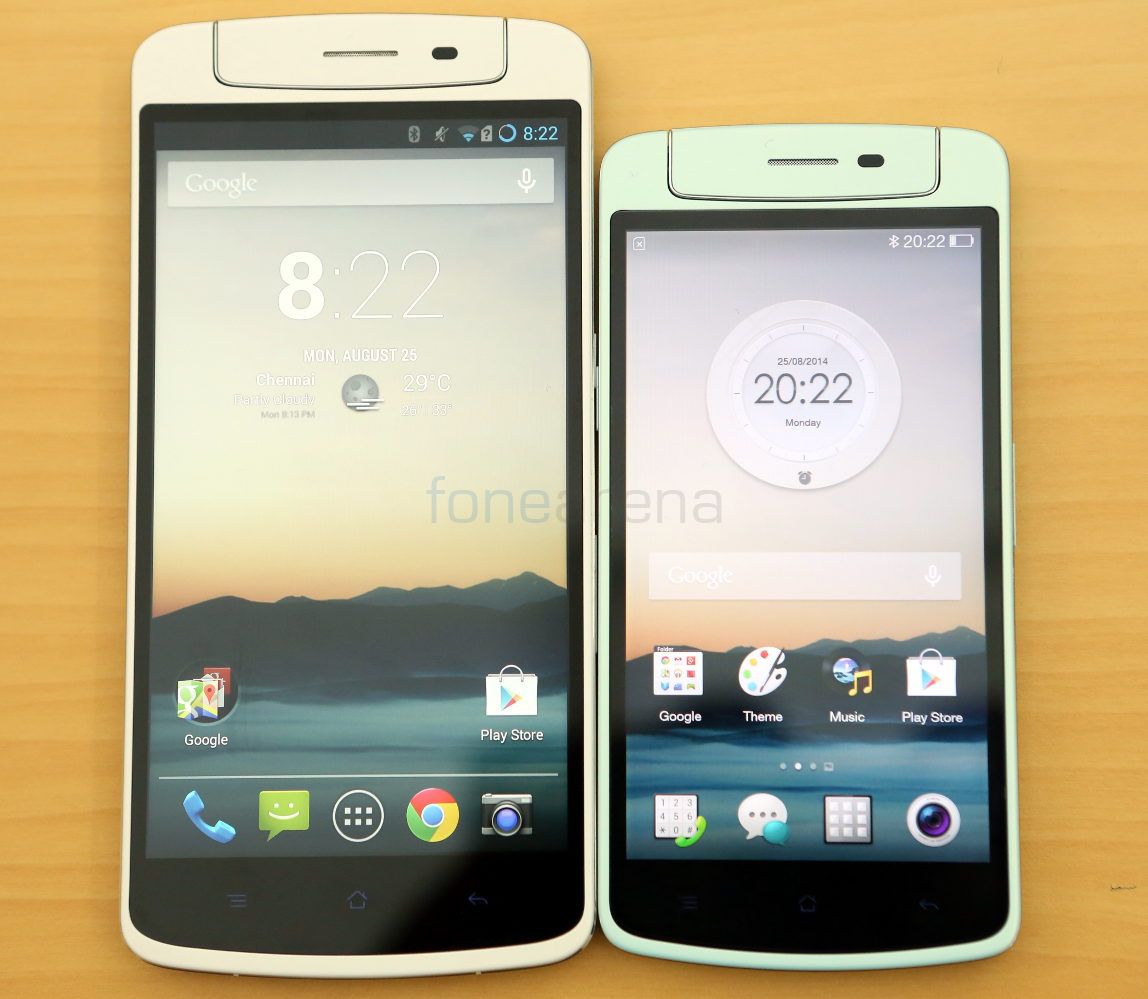 Oppo N1 mini was launched last month as the mini variant of last year's Oppo N1 that retains the same 13-megapixel swivel camera. The Oppo N1 mini comes in a smaller package and is priced at Rs. 26,990 in India, slightly cheaper than the N1 that now retails for Rs. 32,990. We managed to compare the latest N1 mini and last year's N1 that was launched in India back in January. Check out the photo gallery below.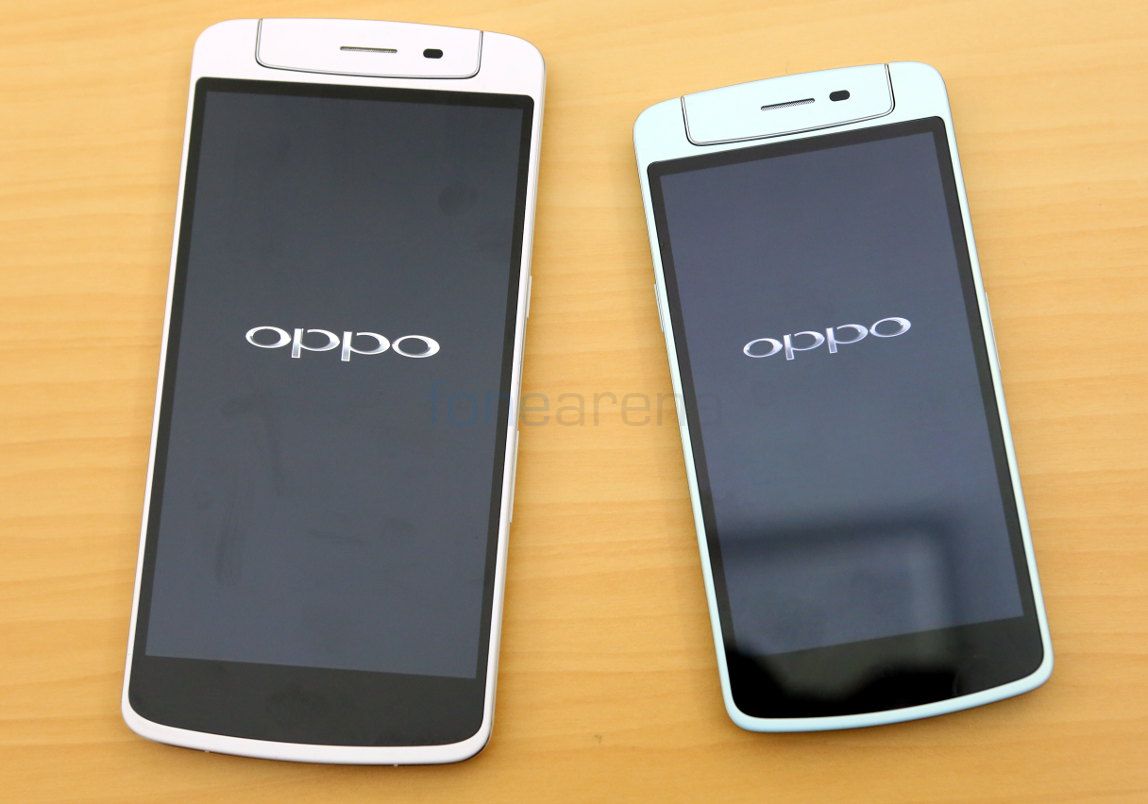 The Oppo N1 has a 5-9-inch 1080p screen, while the N1 mini comes with a 5-inch 720p screen. Both these have huge bezels around the display.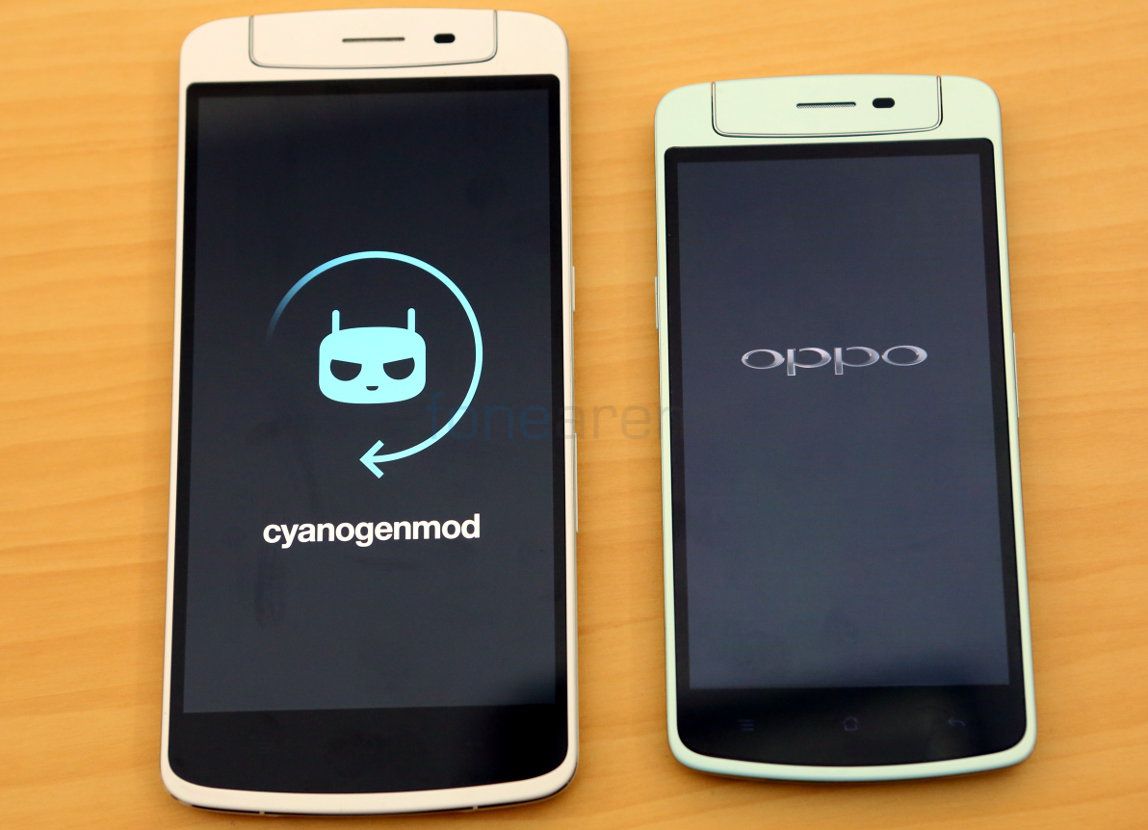 The Oppo N1 got the official CyanogenMod ROM last year, but the N1 Mini doesn't have official CyanogenMod ROM yet, and it runs on Color OS 1.4 based on Android 4.3 (Jelly Bean).
These have a similar design, including the design of the earpiece and the sensors.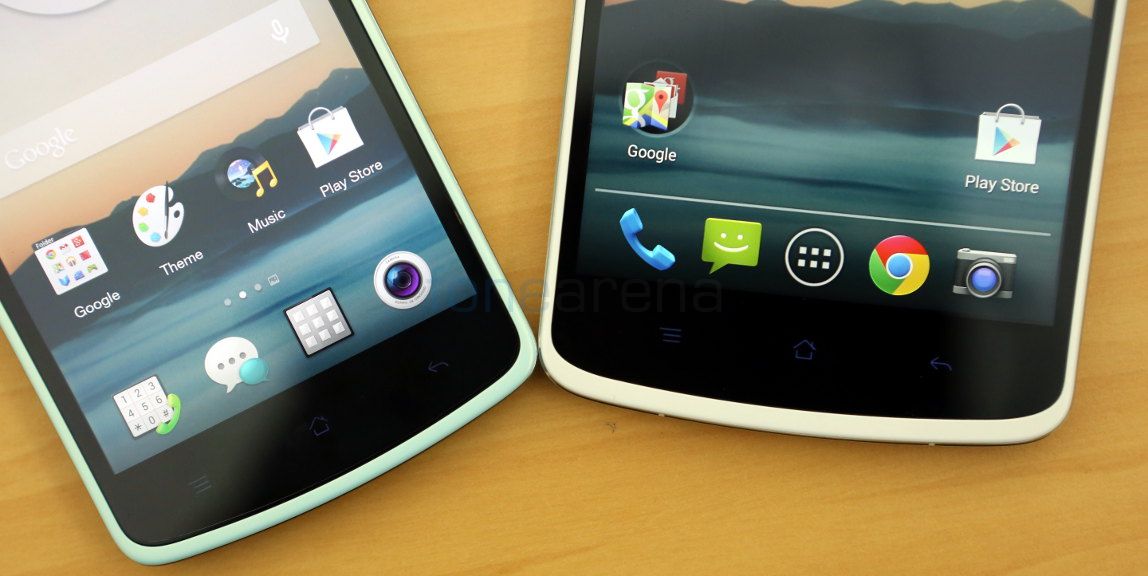 These also have a similar capacitive touch buttons below the display.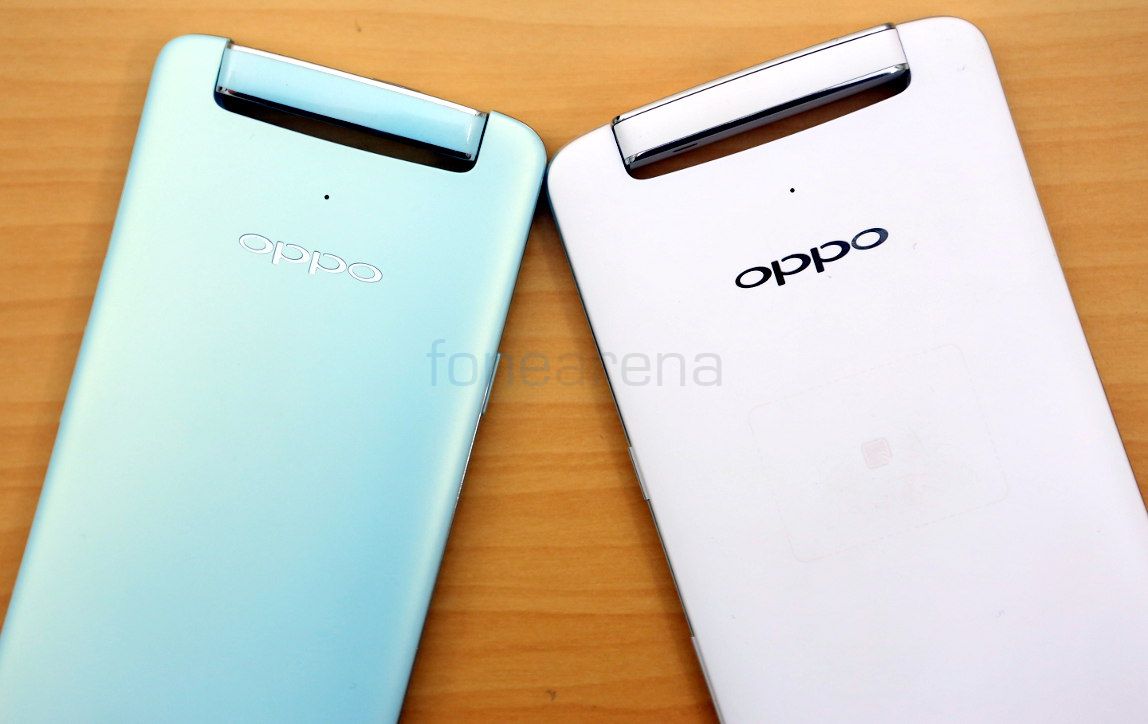 The Oppo N1 comes only in White color, but the N1 Mini comes in Mint and Lemon colors, in addition to white.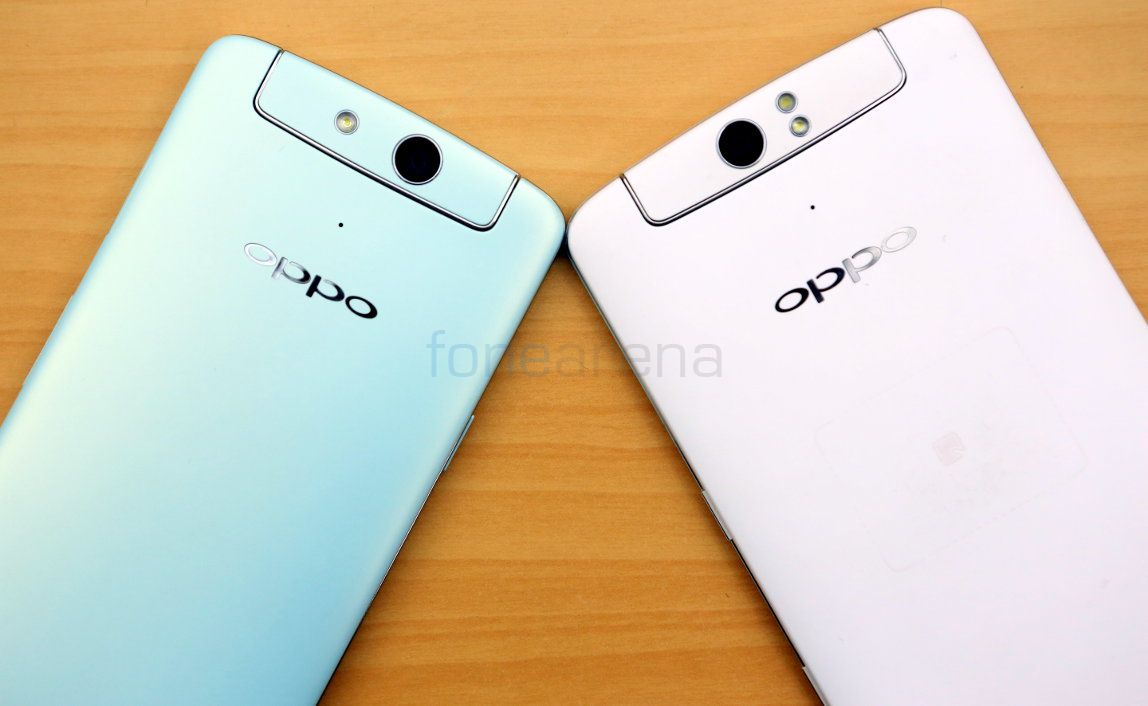 The Oppo N1 had dual LED flash, but the N1 Mini comes with single LED flash, and the placement of the camera and flash have also been changed. Otherwise, both these have  the same 13 Megapixel camera with 1/3.06″ Sony EXMOR RS sensor, six-element lens and an aperture of f2.0. Both these have 2GB RAM and 16GB of internal storage. The N1 also comes in 32GB variant, but both these lack a microSD expansion slot.

The N1 mini has the micro SIM slot and the volume rockers on the right side, while the N1 has the power button and volume rockers. Both these have chamfered edges.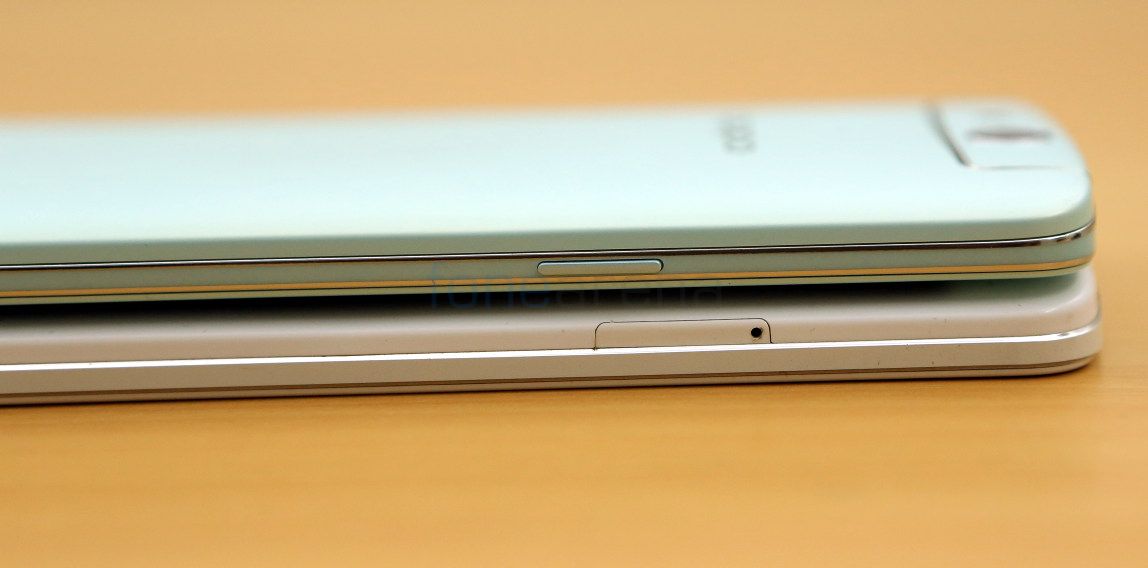 The N1 Mini has the power button on the left side, while the N1 has a micro SIM slot on the left. The N1 was 9mm thick, but the N1 Mini is slightly thicker at 9.2mm.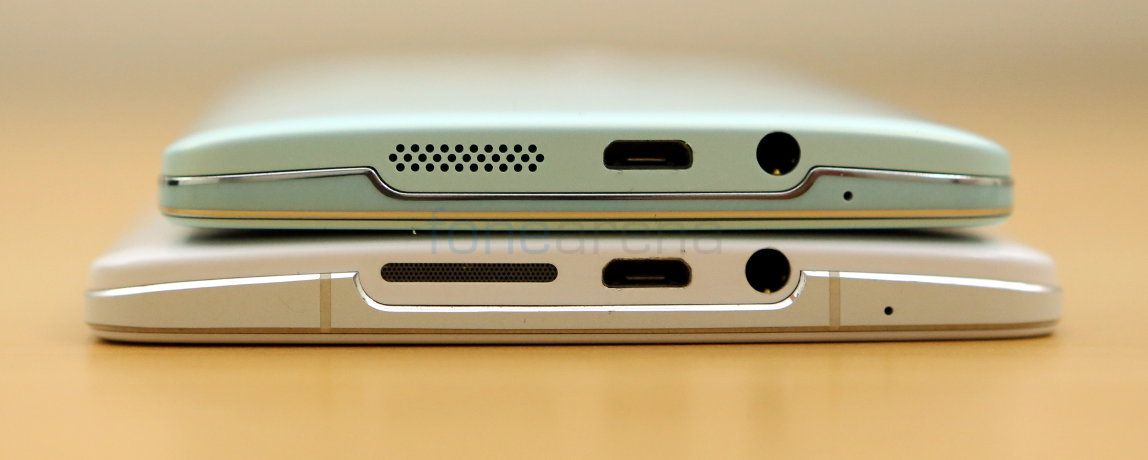 These have a primary microphone, 3.5mm audio jack , micro USB slot and a loudspeaker grill on the bottom. Apart from the change in the design of the loudspeaker grill, other things are exactly similar in both these smartphones.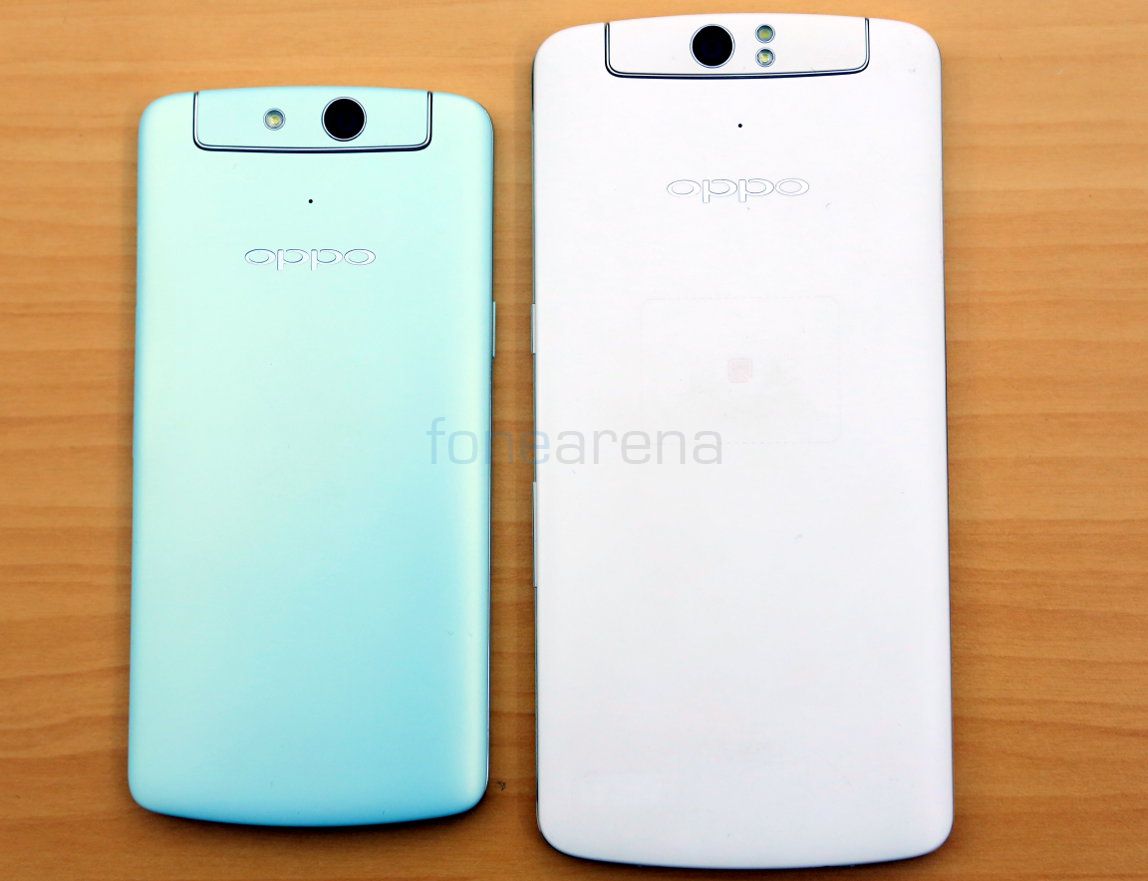 The 1.7 GHz quad-core Qualcomm Snapdragon 600 processor in the N1 has been replaced by a 1.6 GHz quad-core Qualcomm Snapdragon 400 processor. The N1 had O-Touch  rear sensor for single handed touch interaction, but the N1 Mini lacks it.