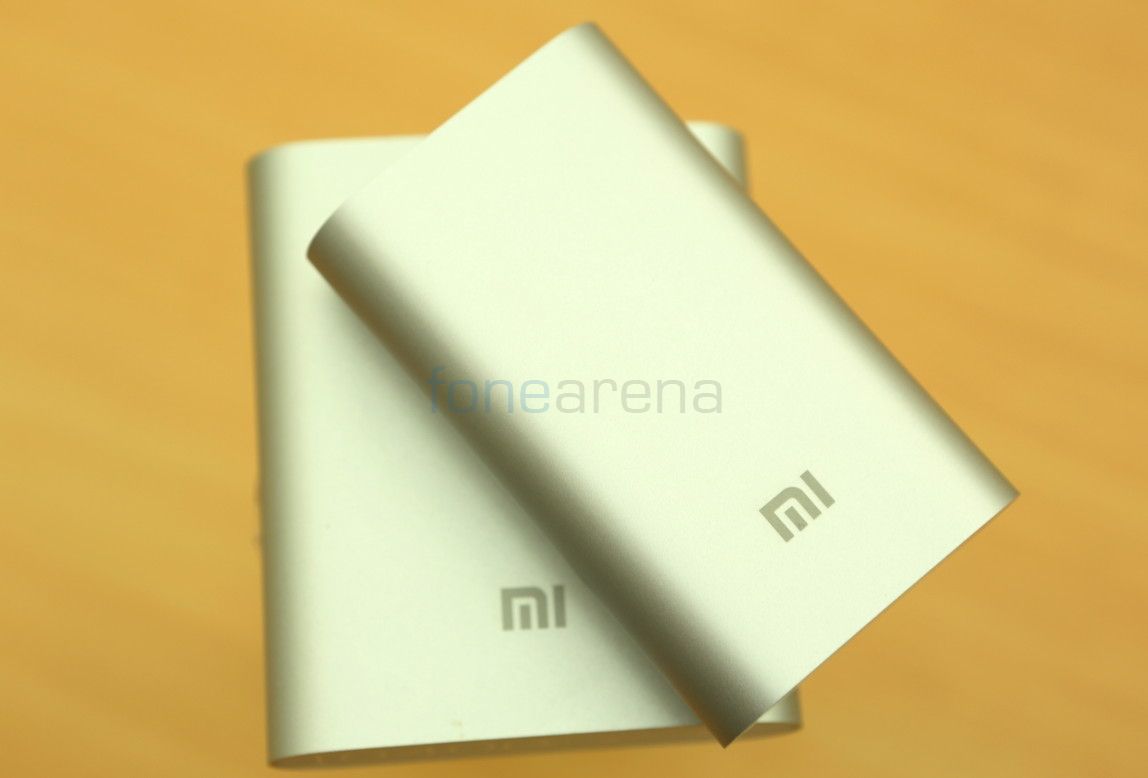 Xiaomi entered India with the Mi 3 smartphone last month. At the launch the company showcased several products, including the Mi Power Banks that come in 5200mAh and 10400mAh variants. These got priced on Flipkart few weeks back at Rs. 799 and Rs. 999, respectively and is went on pre-order recently. We already unboxed both the 10400mAh and the 5200mAh variants of the Mi Power banks, here we have the complete review.
Video Review
httpv://www.youtube.com/watch?v=g6f4gZPag2E
Design and build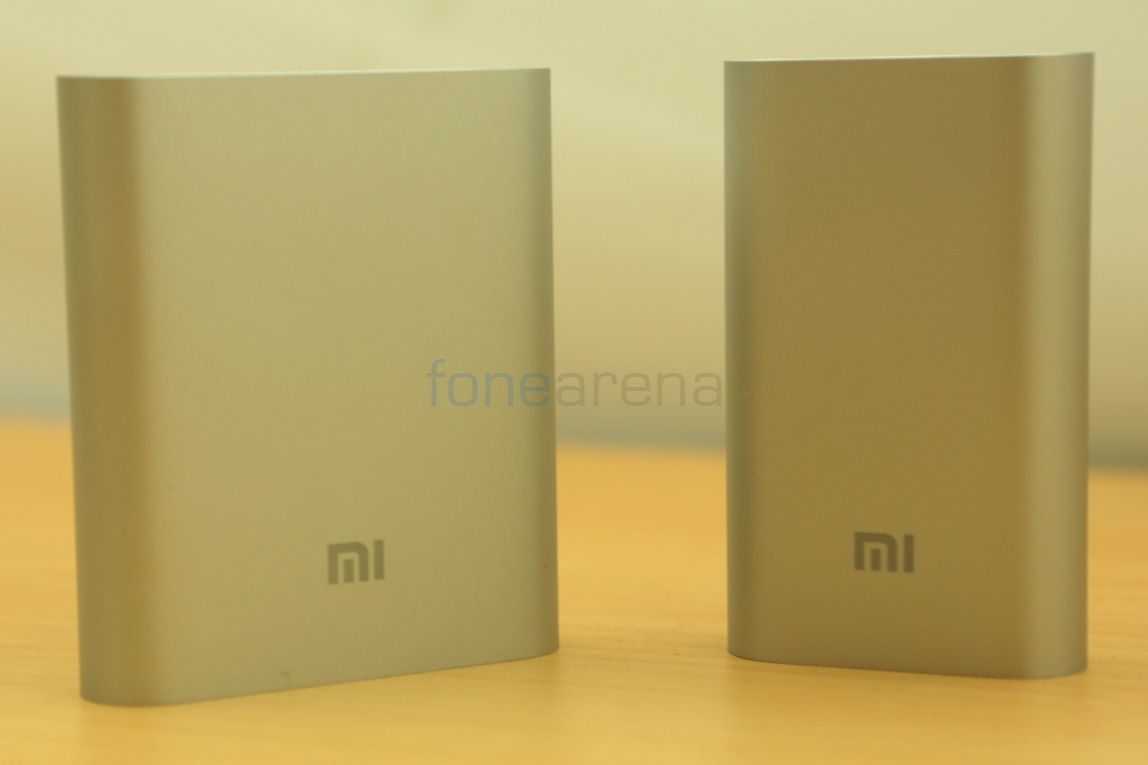 The Mi Power banks have anodized aluminum shell that gives them a premium look and a solid build quality that you don't expect in power banks in this price range. These have curved corners and have Mi branding on the front. The charging/discharging chips are designed by Texas Instruments and the cell is manufactured by LG or Samsung. India gets only the silver-colored variant, but in some countries like China it comes in different colors. These feel solid in hand and doesn't get scratched, even though it has smooth aluminium finish on the outside. Since it is in silver color, dust and stains are clearly visible. But these are water and corrosion resistant.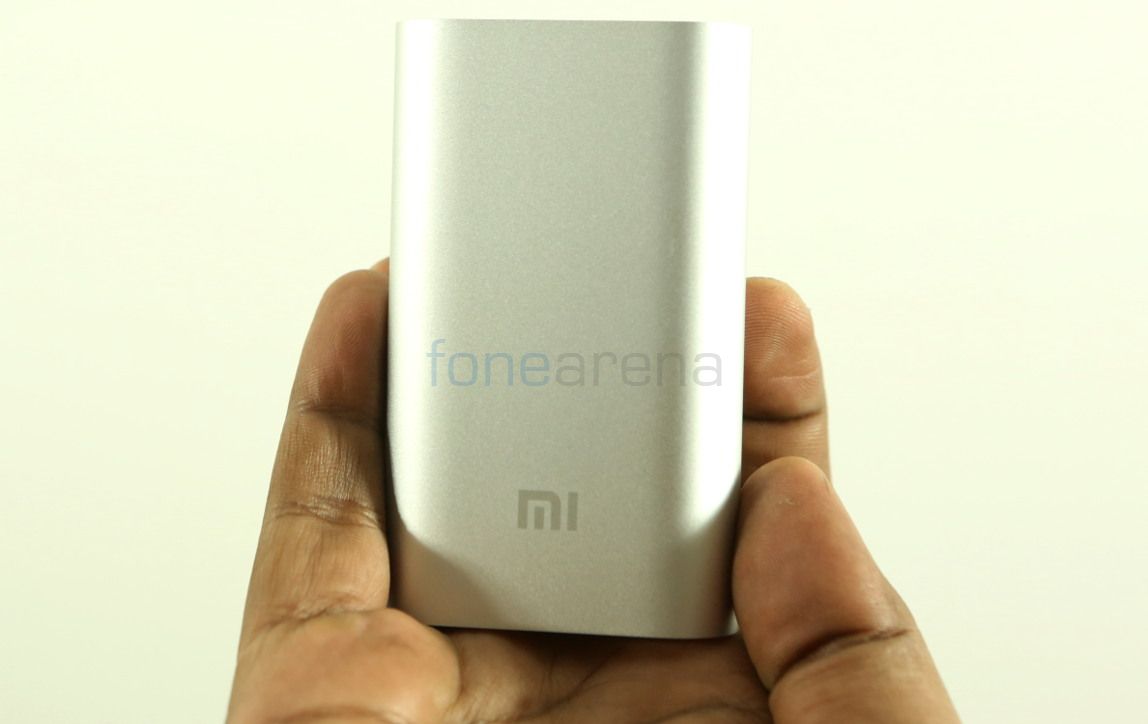 The smaller 5200mAh power bank is compact and can fit in your jean pocket easily since it is just 5.5 cm wide. It weighs 155 grams, about 95 grams lesser than the 10400mAh variant.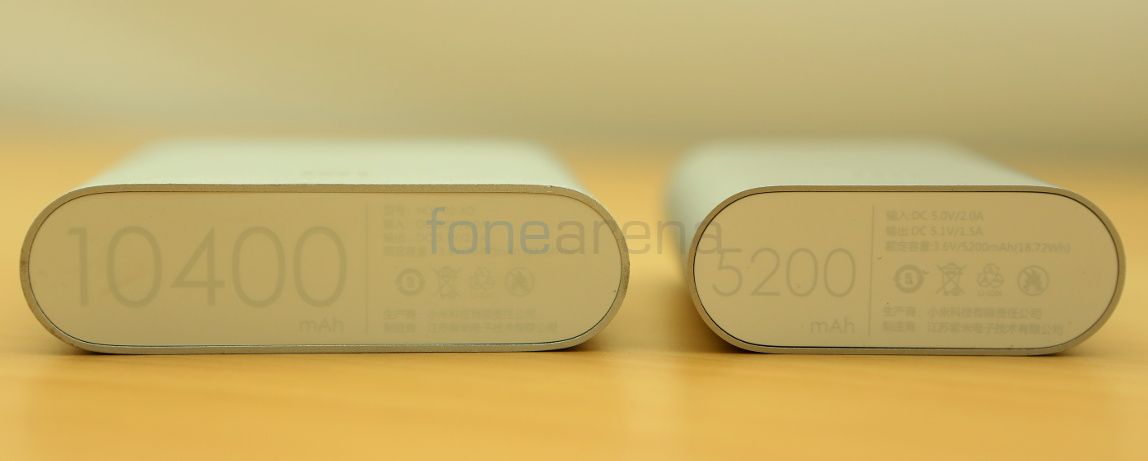 The 10400mAh power bank has 2.0A input and 2.1A output, so you can even charge an iPad, but the 5200mAh offers 1.5A output, which is not enough to charge an iPad. These power banks come only with a small USB cable. You need to get a wall charger separately to charge these power banks. Better use a 2A charger since it takes several hours to charge these power banks with an 1A charger.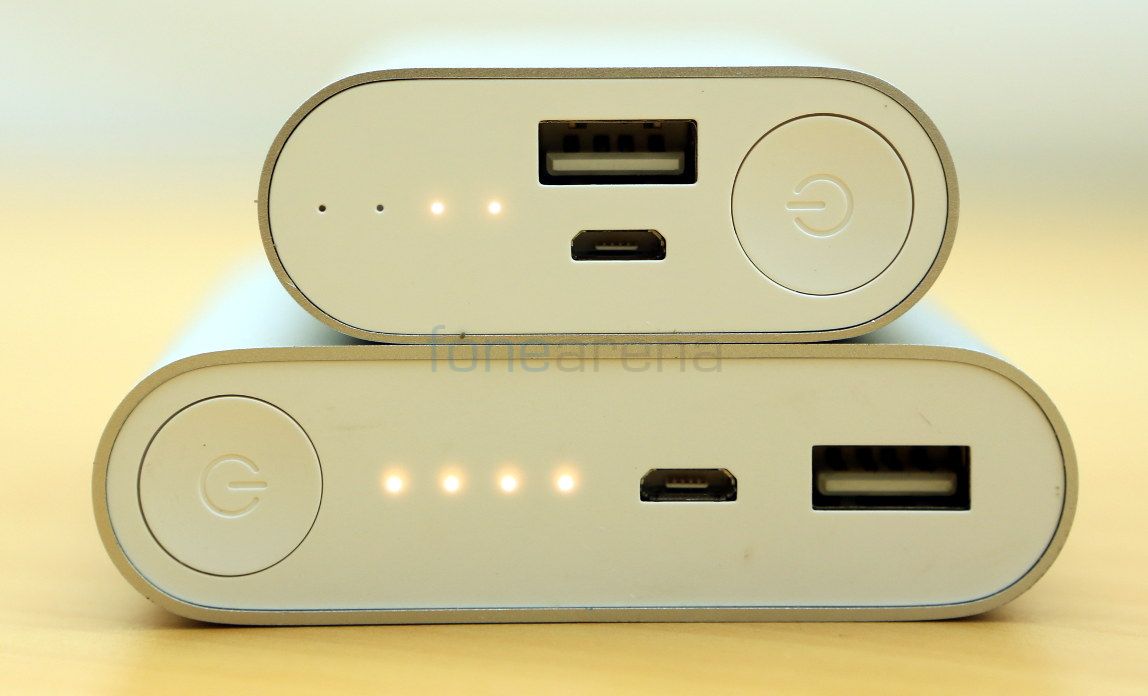 Both have LED indicators, standard USB slot, micro USB slot and a button on the top. The LED indicator shows the remaining battery left when you are using and the remaining battery that needs to be charged when it is charging. The LED indicator might be too bright in dark environment. It charges devices immediately when it is connected, pressing the button simply indicates the remaining charge left.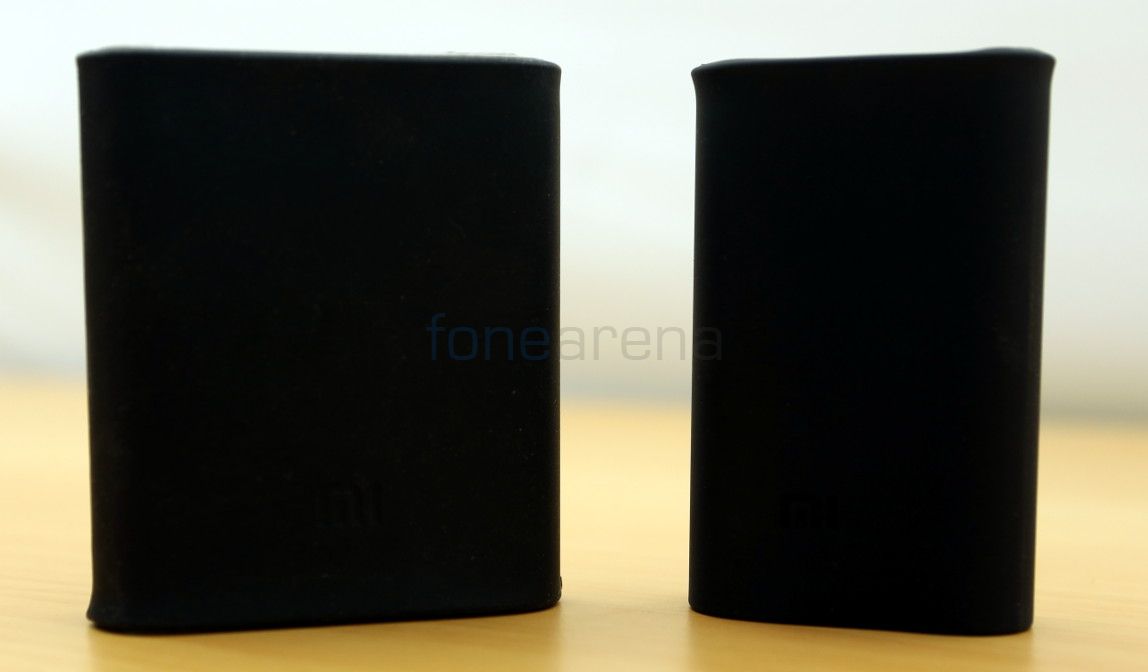 Even though these power banks feel solid and offers premium build, there are chances for the edges get chipped offer when it falls. The bundled rubber cover prevents these power banks from gathering dust and also protects the edges. These free covers might not come with the power banks that are sold on Flipkart.
Performance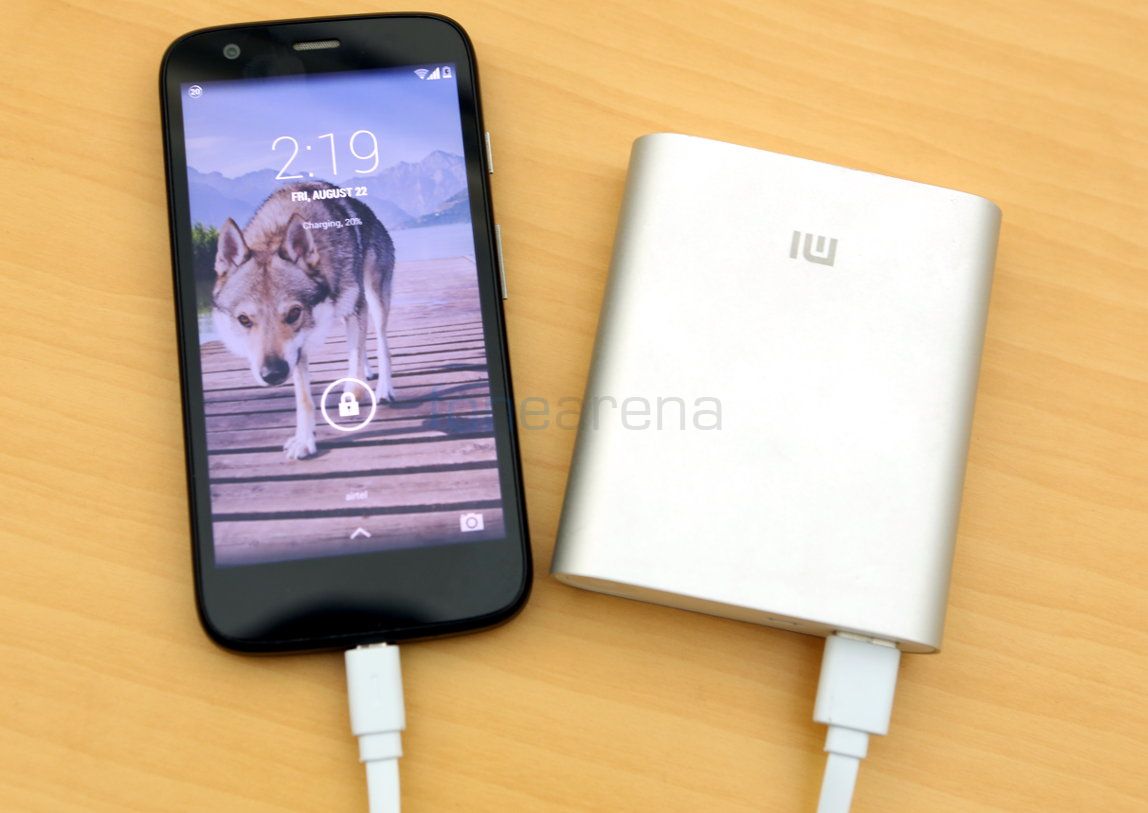 Coming to the performance, the 10400mAh power bank (3.6V for 37.44Wh) can charge the iPad Mini 1.5 times, Mi 3 about 2.5 times and the Moto G five times. The 5200mAh power bank (3.6V for 18.72Wh) can charge the Mi 3 about 1.5 times and Moto G 2.5 times. The 10400mAh power bank charges the devices faster since it offers 2.1A output. Power lost during voltage conversion is a common problem in power banks, and Xiaomi promises 93% charging conversion rate for the 10400 mAh power bank and 85% charging conversion rate for the 5200mAh variant. It also says that these have been tested to withstand 5,000 MicroUSB insertion or removal cycles and 1500 USB insertion or removal cycles.
These power banks doesn't get heated a bit even after hours of usage, compared to most other power banks with metal build. Lack of USB charger in the box is acceptable considering the price tag. Wish the 10400mAh power bank had an additional USB slot to charge another device. These have nine layers of circuit chipset protection, says the company.
Conclusion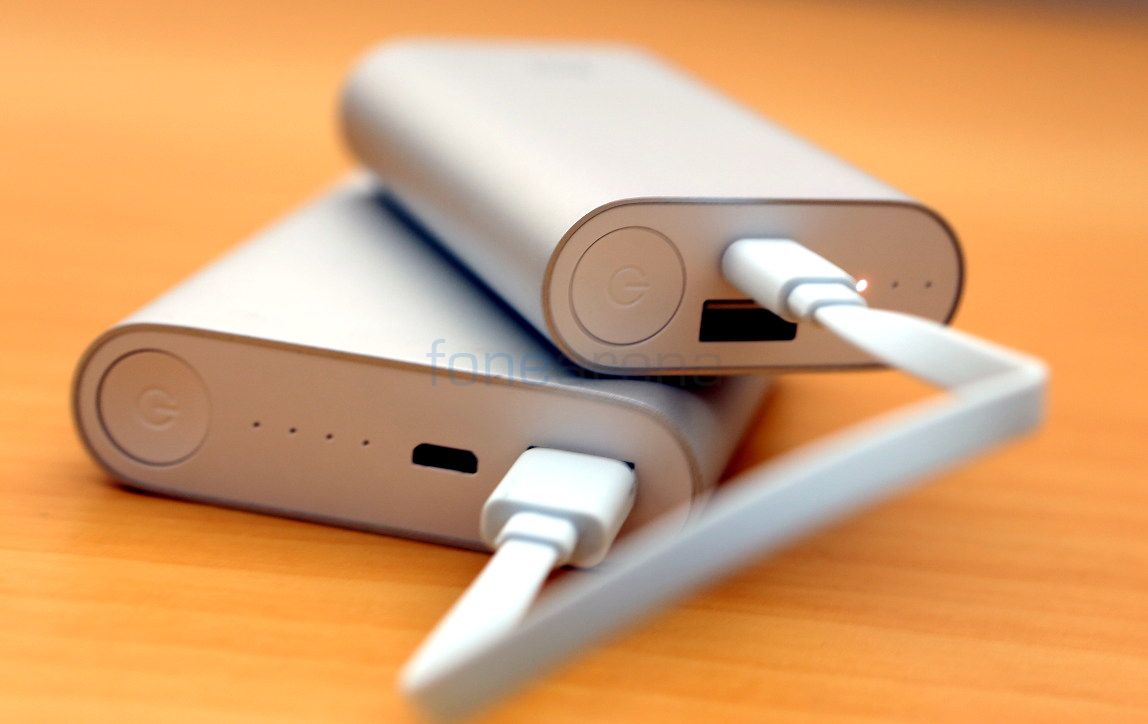 Overall, these power banks are highly recommended for the impressive build quality and affordable price tag. The 5200mAh power bank is compact and is easy to carry it in your pocket, but the 10400mAh power bank offers more value for money at just Rs. 999, and is more powerful to charge even an iPad. Even though these power banks went on pre-order last week, it is out of stock at the time of writing this review. Hope more stocks would be available in coming weeks.
Pros
Affordable price
Solid build quality
Compact size
Cons
Can charge only one device at a time