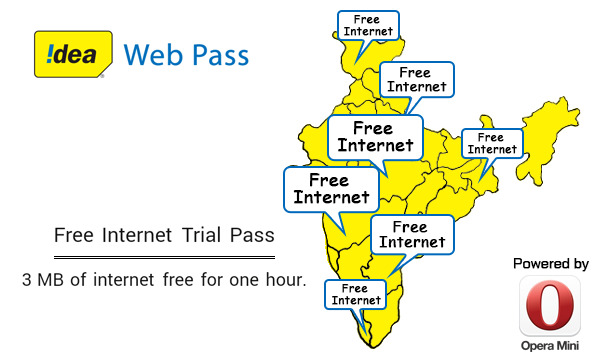 Earlier this year Idea Cellular tied up with Opera Software to launch Idea Web Pass that lets users enjoy customized, time-based mobile internet packages within the Opera Mini browser. Earlier this month Idea introduced Sponsored Web Pass that offered 10 MB of internet access for a day sponsored by Quikr. Today Idea has introduced a new Free Internal Trial Pass that offers their customers 200,000 hours of free internet access, over the next 20 days through the web pass service on Opera Mini.
Opera Mini users can go to Speed Dial page in Opera Mini and click on Idea Web Pass and select Free Internet Trial Pass (3 MB) from the list of web passes. Users can avail one web pass each during this campaign, which entitles them to one hour of free internet, upto 3 MB, during that day. The 200,000 hours of free internet are available for the next 20 days. On each day, the Free Internet Trial Pass can be availed by 10,000 users on a first-come, first-served basis.
This now move would allow non-data users to enjoy internet on their mobile phones.