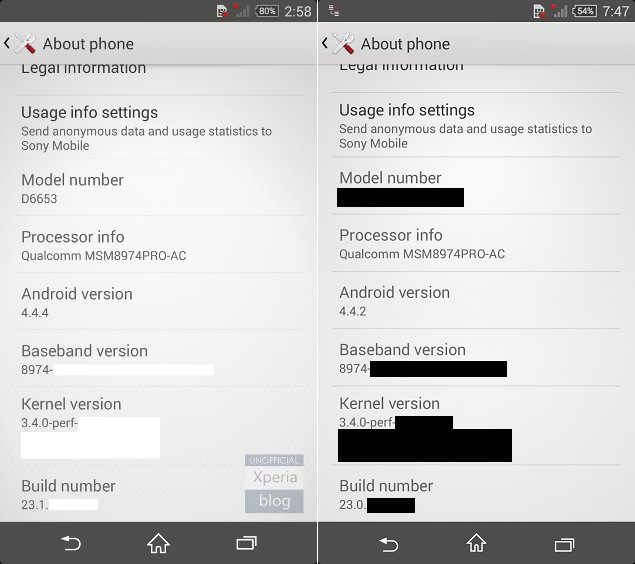 Sony unveiled the Xperia Z1 Compact and the Xperia Z2 earlier this year. Now alleged screenshots from the Xperia Z3 and the Xperia Z3 Compact has surfaced online. The Xperia Z3 screenshot shows the model number D6653 and the model number of the Z3 Compact is D58XX (D5833 likely). Both the screenshots confirm Snapdragon 801 MSM8974-AC chipset and run on Android 4.4 KitKat.
According to size of the screenshot, the Sony Xperia Z3 is expected to come with a 1080p resolution screen. Looks like its not going for a Quad HD screen like LG. According to Sony Xperia developer, who has shared specifications and a screenshot from alleged Sony Xperia Z3 Mini or Compact smartphone, it would come with a 4.5-inch 720p display, 2GB RAM, 20.7-megapixel rear camera and 2.1MP front-facing camera.
These are just rumors at the moment, so nothing can be confirmed now. Last year Sony launched the Xperia Z and the Xperia Z1, two flagship in a single year. Hope we can expect the Xperia Z3 and the Z3 Compact at the IFA 2014 in September.