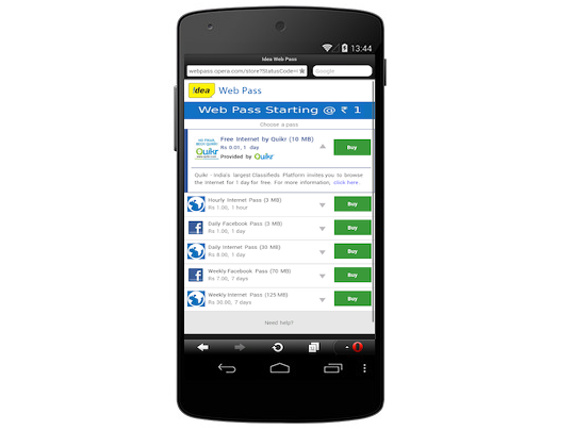 Earlier this year Opera introduced Sponsored Web Pass, new mobile internet packages to consumers that lets operators team up with advertisers to sponsor mobile internet access for a limited time, free of cost. Today Idea Cellular has teamed up with Opera Software and Quikr, popular online mobile classifieds portal to offer sponsored mobile data through Sponsored Web Passes for its customers in India. Idea tied up with Opera earlier this year to launch Idea Web Pass.
Opera's Sponsored Web Pass is being launched for the first time in South Asia. Opera had already tied up with several Indian operators to launch customized version of its Opera mini browser. Opera Web Pass that was announced back in 2012 lets operators offer time or site specific, mobile internet offerings to their users.
With Sponsored Web Pass, Idea subscribers can enjoy 10 MB of internet access for a day sponsored by Quikr. Idea users need to launch Opera Mini browser on the device and click the Idea Web Pass Speed Dial entry and select the "Free Internet by Quikr (10 MB)" web pass option. This page also has options to buy Facebook access for a day or internet access for an hour at just Re. 1.
This now move would allow non-data users to enjoy internet on their mobile phones, while also giving an opportunity to advertisers to gain instant connect with consumers using the mobile platform.