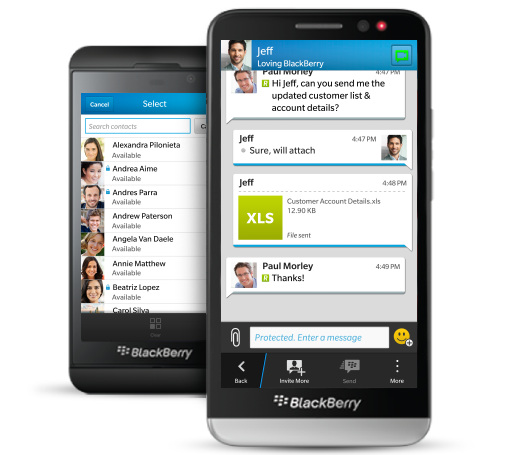 BlackBerry announced BBM Protected, secure and reliable instant messaging service at the MWC 2014 earlier this year. It even showed up in a demo video last month. Today BlackBerry has launched BBM Protected as the first solution in the eBBM Suite for secure enterprise messaging. This is built for business that brings convenience and usability of BBM with the additional security and compliance for enterprise customers.
For enhanced security, it uses FIPS 140-2 validated cryptographic library. This also lets employees chat securely with BBM Protected users at others companies too without needing to be on the same BES server and no federation between servers is required. The first time that two BBM Protected users go to establish a chat, they will be required to share a secret passphrase to authenticate their identities and generate the BBM Protected encryption key used to secure their chat.
BBM Protected is available BlackBerry smartphones running BB0S 6.0 or later or BlackBerry 10 in Regulated mode. BBM Protected for BlackBerry 10 smartphones using BlackBerry Balance and iOS and Android devices would launch later this year.