Qualcomm had announced the Snapdragon 800 and Snapdragon 600 SoC during CES 2013 and more than fifteen months have passed since a major announcement from the smartphone chip giant. Qualcomm is the current industry leader in the smartphone chip business with almost all the flagships using Snapdragon SoCs. Back in November, the company had announced the Snapdragon 805 SoC which was supposed to be the successor for the Snapdragon 800, but Snapdragon 805 devices are expected only in the second half of 2014. Until then, Snapdragon 801 would be the Qualcomm's flagship which the company announced at MWC 2014 earlier this year. A month later, the company from San Diego have revealed their plans for 2015 and in the process, have unveiled their next generation SoCs – Snapdragon 810 and Snapdragon 808.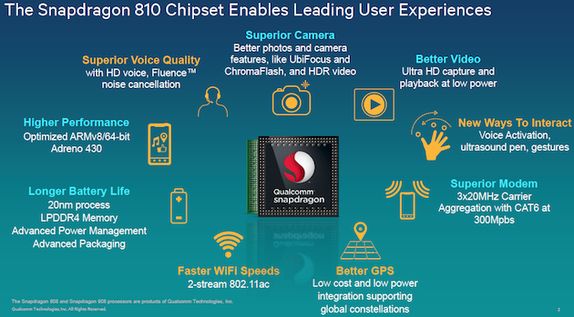 Qualcomm Snapdragon 810 and Snapdragon 808 are both 64 bit processors, but are not the company's first 64bit SoCs.Among the two, Snapdragon 810 is the higher end version and aims to power the 2015 flagship devices while the Snapdragon 808 is slightly lower powered and aims to appease the mid-range smartphones. Both the chips will be manufactured by the 20nm processor and hence, Qualcomm claims that they will be lighter, smaller and consume less power.
Qualcomm Snapdragon 810
The Snapdragon 810 is an octa-core processor that uses four powerful Cortex A57 cores for intensive tasks and four Cortex A53 for more moderate tasks. In terms of capabilities, Snapdragon 810 will have support for 4K displays, LPDDR4 RAM, dual Image Processors and voice activation. Snapdragon 810 will come with the all new Adreno 430 which is supposed to be 30 percent faster than the Adreno 420(Adreno 420 devices are yet to hit the market). Faster WiFi speeds because of 2-stream multi user MIMO and the Cat 6 LTE-Advanced modem is integrated directly into the chipset. The Qualcomm Snapdragon 810 is shaping up to one beast of a processor.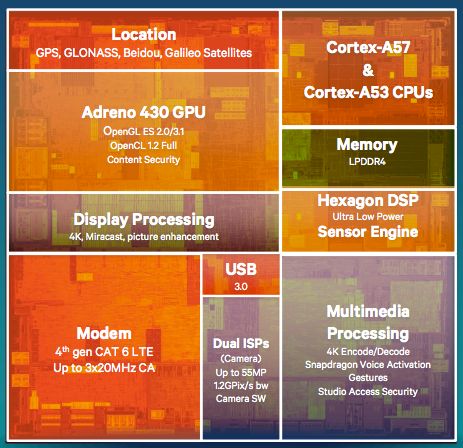 Qualcomm Snapdragon 808
Though not as powerful as its elder brother Snapdragon 810, the Snapdragon 808 has a few tricks of its own up the sleeves. The Snapdragon 808 SoC is a 64 bit hexa core processor that comes with a two Cortex A57 cores and four Cortex A53 cores. In terms of capabilities, it has a support for 2K displays (2560x1600pixels) and supports LPDDR3 RAM. It comes with Adreno 418 GPU, which Qualcomm says is 20% faster than the current generation Adreno 330 GPU. Since Qualcomm already has announced the Snapdragon 610 and 615, we are assuming the Snapdragon 808 will be placed between the Snapdragon 810 and Snapdragon 610 SoC.
Qualcomm has just revealed the details for its processors and expects sampling to start in the later part of 2014. Devices with Snapdragon 810 and Snapdragon 808 are expected in the first half of 2015.