Home » 3G, Airtel, India
Airtel 3G Services now in Gujarat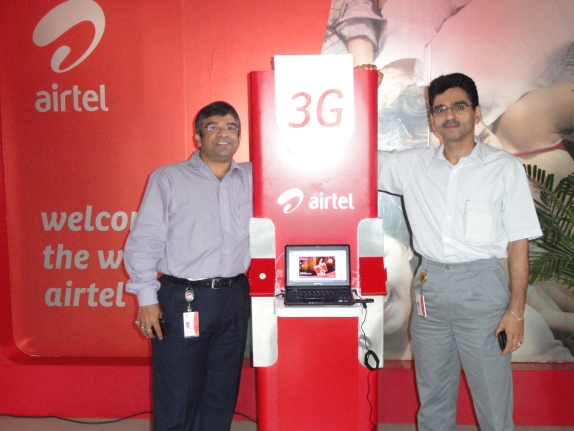 Airtel is continuing to roll out 3G service in various parts of India. Gujarat is the latest state to get Airtel 3G services with most majors parts of the state getting it. Ahmedabad, Baroda, Rajkot, Surat, Gandhinagar, Bhavnagar, Nadiad, Anand, Bharuch, Ankleshwar, Amreli, Chikli, Dahej, Daman, Gandhidham, Godhra, Jamnagar, Junagadh, Porbander, Silvassa, Valsad, Vapi, Rajula, Diu, Una and Verawal are included in the rollout. Are you from Gujarat and waiting for Airtel to launch 3G services ? Let us know if you will opt for the service. You can check out the Tariffs and Plans here
Airtel 3G services foray in aapnu Gujarat
• Invites Airtel mobile customers in the state to enjoy a host of innovative 3G capabilities including fast mobile internet access, mobile TV, video streaming and video calls
• Targets offering a seamless 3G experience for its customers across Gujarat
• Introduces simple and intuitive 3G tariff plans with personalised data usage limits for customers

Ahmedabad, 28th June 2011: Bharti Airtel, a leading global telecommunications company with operations in 19 countries across Asia and Africa, today announced the availability of its 3G services in one of India's most progressive states — Gujarat. With this, Airtel's 66 lakhs plus customers across the state will now be able to enjoy a host of exciting 3G capabilities including fast mobile internet access, video streaming, video calling, Mobile TV, social networking on-the-go and high definition gaming. Airtel 3G services at Gujarat will go live from midnight of 29th June'11.

Commenting on this much awaited launch, Mr. Shivan Bhargava, COO – Gujarat, Mobile Services, Bharti Airtel said, "Having successfully launched Airtel 3G services in 50 plus towns across India, we today have over 3 million customers that are enjoying the Airtel 3G advantage. As we extend the promise of Airtel 3G services to Gujarat, we are delighted to invite our mobile customers in the region to experience the power of high speed internet and enjoy a host of innovative application capabilities from their mobile devices – anywhere, anytime. We believe that Airtel 3G will lead the data and internet revolution in aapnu Gujarat, bringing our customers in the state closer to an all new world of possibilities."

Delivering a seamless experience to customers, Airtel 3G services will be available across all major parts of Gujarat including Ahmedabad, Baroda, Rajkot, Surat, Gandhinagar, Bhavnagar, Nadiad, Anand, Bharuch, Ankleshwar, Amreli, Chikli, Dahej, Daman, Gandhidham, Godhra, Jamnagar, Junagadh, Porbander, Silvassa, Valsad, Vapi, Rajula, Diu, Una and Verawal.

The launch of Airtel 3G gives customers the power to enjoy multimedia services, high speed mobile broadband, videos on phone, live TV, video calls and much more – all at speeds never experienced before. With this, Airtel 3G customers will be able to receive updates on stock market, commodities, food, entertainment, health and utilities – at the click of one button.

Airtel 3G customers can enjoy the benefits of 3G speeds on the device of their choice – be it their mobile handsets, laptops or tablets. 3G services can be enjoyed seamlessly as Airtel provides its customers with timely updates and alerts on their data usage – helping them control their expenditure on 3G. The company has also introduced a first of its kind 'internet usage calculator' available online to help customers analyse their current internet data usage and choose an Airtel 3G plan accordingly.

To know more or join Airtel 3G services – customers can visit http://www.airtel.in/Airtel3G/ or call 12134 (tollfree) or SMS '3G HELP' to 121.