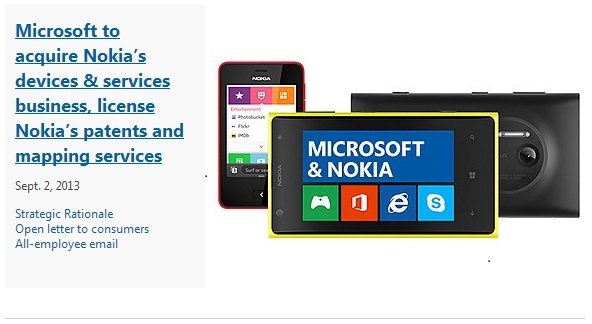 In a deal that would surprise noone in it's happening but everyone in it's timing, Microsoft will be acquiring Nokia's Devices and services division in addition to licensing a significant portion of Nokia's patents in addition to their mapping services. The deal in it's entirety amounts to 5.4 Billion Euros paid in cash, 3.79 Billion for devices and services 1.65 Billion for the associated patents.
The transaction will see 32,000 Nokia employees transitioned over to Microsoft including 4,700 in Finland and 18,300 employed in manufacturing positions worldwide. In addition, a significant number of senior executives are expected to be transferring to positions within Microsoft, including Stephen Elop, Jo Harlow, Juha Putkiranta, Timo Toikkanen, and Chris Weber.
This is an absolutely monumental transaction and will go a long way towards shaping the smartphone landscape for years to come.  We will keep you updated with any details as we receive them.