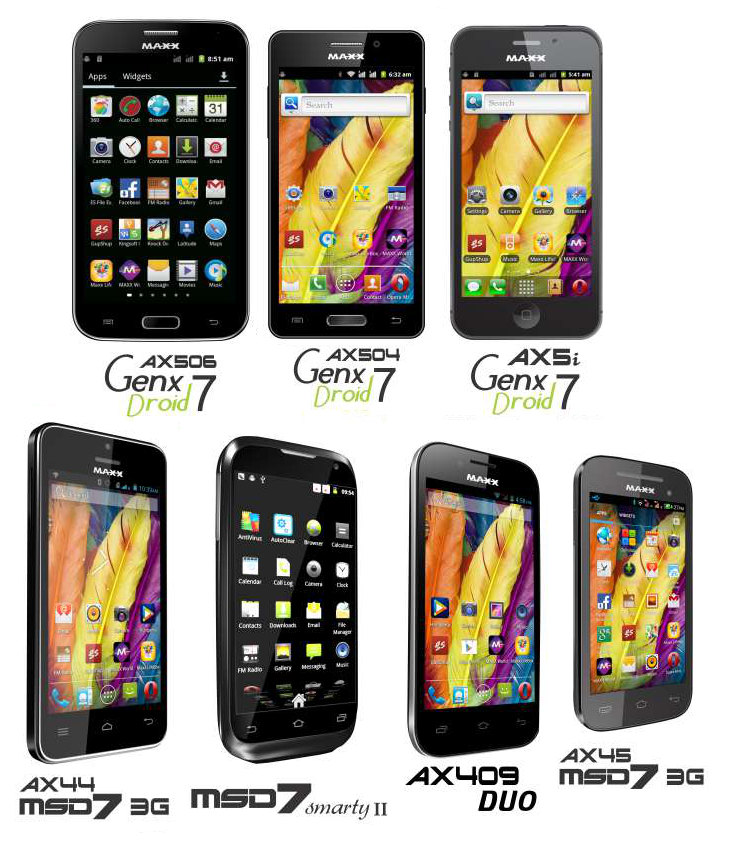 Maxx Mobile has launched 26 new handsets on the occasion of India's 64th Republic Day, which includes 19 feature phones and 7 smartphones. These handsets are priced between Rs. 1,100 and Rs. 7,777. These are affordable and also offers value for money, says Maxx Mobile.
The Android smartphones include, AX44, AX 45, AX5i, MSD7 Smarty II, AX506, AX409 and AX504. The company did not reveal the complete specifications of these devices , but it has announced that the Android smartphone range has phones running Gingerbread and Jelly Bean, 256 MB to 512 MB RAM, up to 2 MP primary camera, LED flash and up to 1600 mAh battery.
The 19 feature phones include, MX180, MX422, MX187, MX12, MX444, MX105, MX125, MX553, MX472, MX168, MX467, MX445, MX11, MX103, MX254, MX255, MX433, MX442 and MT352. This segment would include 1.8-inch to 2.8-inch screen, dual SIM support, GPRS, security features such as anti-theft and privacy protection, up to 8 GB worth of expandable memory and up to 2500 mAh battery.
Commenting on the launch, Ajjay Agarwal, CMD & Founder, Maxx Mobile, said,
We are pleased to announce the launch of 26 models on this occasion of great national importance. We had launched 15 models on 15 Aug 2013 and now are launching 26 models on 26 Jan offering the consumer freedom to choose his handset. With this our total new handsets launched during FY 2013-2014 till date is 105, of which 75 are Feature Phones,28 are Android Phones and 2 are tablets. Being a homegrown company, we understand the pulse of Indian consumers and make phones that suit the needs and budget of every handset user.
We will bring you more details about these smartphones once we get them.