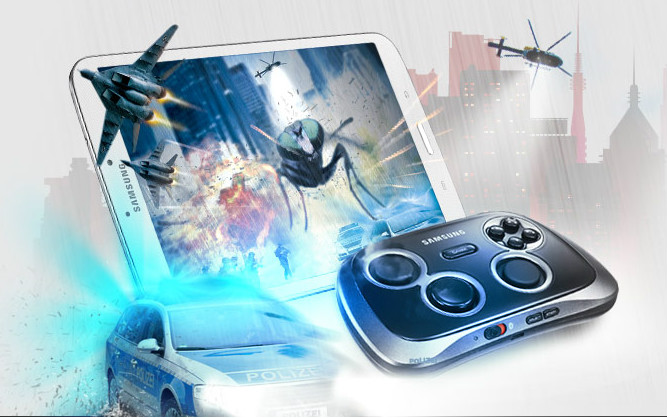 Earlier this week Samsung unveiled the Smartphone Gamepad, a gaming controller for smartphones to improve the gaming experience. Samsung Galaxy Tab 3 Game Edition with GamePad bundle has been outed by a German website, AllaboutSamsung.de, who got hands-on the retail box. Even though Samsung announced that the GamePad has been optimized only for Android 4.3 devices like Galaxy S4, Galaxy S3, Note 2 and Note 3, the Galaxy Tab 3 Game Edition is likely come with Android 4.3 (Jelly Bean) out of the box.
The Galaxy Tab 3 Game Edition would have similar specifications of the Galaxy Tab 3 8-inch WiFi tablet . Since the GamePad dock has been designed only for phones with screen size ranging between 4 and 6.3 inches, it will not fit the tablet. The tablet connects to the GamePad over Bluetooth and also comes with an HDMI adapter in the box so that you can connect it to a TV.
We already know that Samsung Smartphone GamePad is priced at 79.99 GBP (Rs. 8,140 approx), but pricing for the Samsung Galaxy Tab 3 Game Edition is not available.