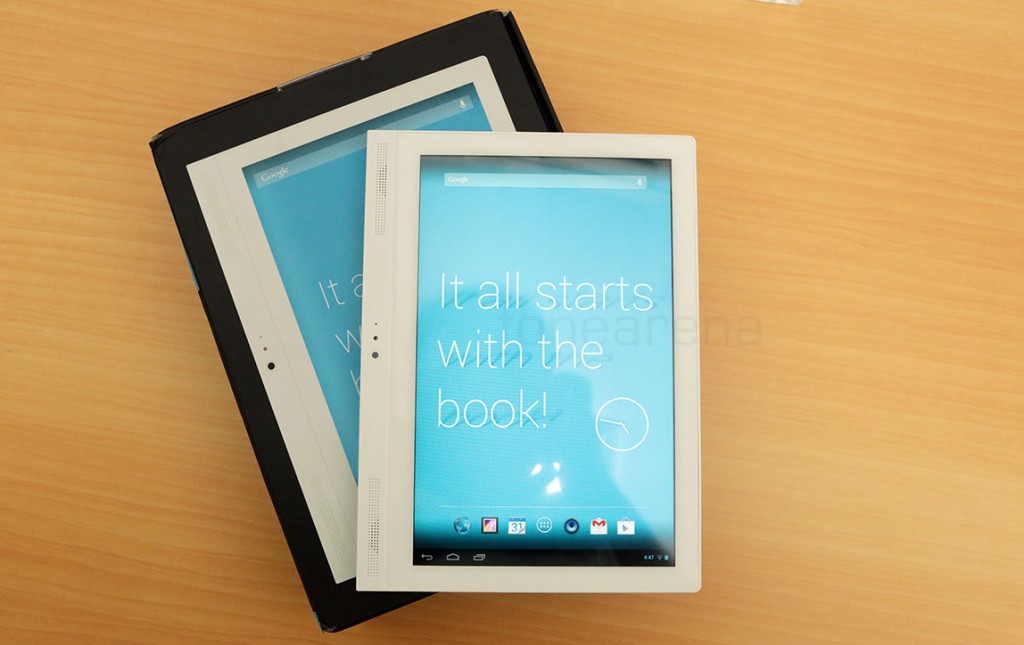 Notion Ink Adam II Unboxing
Notion Ink Adam, the tablet with a tumultuous past had died down after riding the initial hype wave. People called it vaporware due to the massive launch delay, but the tablet did eventually launch, but again, was marred with hardware issues. The company aims to wash away the past with a new refreshed sequel – the Notion Ink Adam II. It has been re-designed from the ground up and it now looks like a text book, which is really interesting. The box and the tablet's default wallpaper says "It all starts with the book!" indicating that a human's tryst with knowledge starts with a book, and may be now, it's with a tablet, especially when the Notion Ink Adam II, which the company hopes, is an evolution of that. That's the hope and promise the Adam II seeks to deliver. We start to find out if it does, with an unboxing and overview of the product in our labs –
The Notion Ink Adam II comes in a big box, and with it comes the standard set of accessories one would expect with a 10 inch tablet.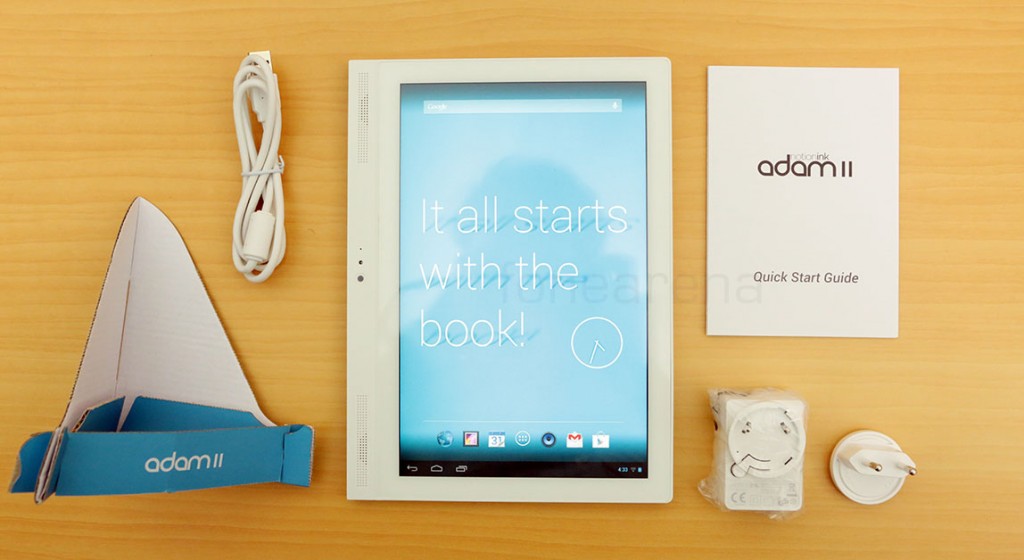 Box Contents –
Tablet – Notion Ink Adam II
Wall charger – with Indian plug
Micro USB cable
DIY cardboard Kick Stand
Quick Start guide and info on how to make the kick stand
Cleaning cloth
The only item missing from the picture above is a cleaning cloth which comes in really handy because the tablet's screen is indeed a fingerprint magnet. Another interesting addition is that the box's insides can be cut out and turned into a DIY kickstand if needed. It's made of card board, so, not the ideal kickstand one would want, but it is foldable and sorta works as a kickstand.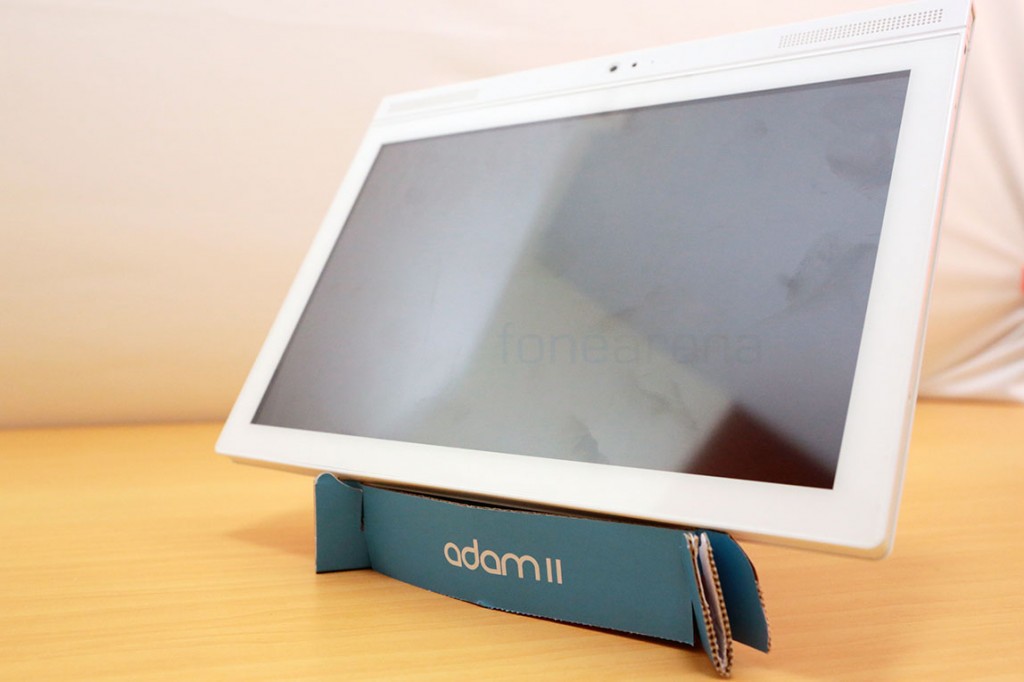 There hasn't much revealed about the tablet's specifications, so lets take a look at them first –
| | |
| --- | --- |
| CPU | 1.5Ghz dual-core Cortex A9 |
| GPU | Quad-core Mali 400 |
| Display | 10.1″, 1280×800 IPS LCD |
| Secondary Display | STN, resolution 100×5 |
| Touch Panel | Capacitive, Multi-touch, Asahi scratch resistant glass |
| WiFi | 802.11 b/g/n |
| BlueTooth | 4.0 |
| 3G | Optional |
| Internal memory | 8GB |
| RAM | 1GB DDR3 |
| External Memory | Micro-SD card slot, supports up to 32GB |
| Camera | 3.15MP, back and front, 720p video recording |
| Sound system | 1.0W dual front facing speakers |
| Mini-HDMI | 1.4b |
| Headphone Jack | 3.5mm |
| USB | High speed micro USB 2.0(OTG) |
| Battery | 6000mAh Lithium Polymer ion |
| Operating System | Android 4.2.2 |
| Audio playback | MP3,FLAC,AAC, WAV |
| Video playback | 1080p, MP4, H263, MPEG-4, MKV |
As you can see above, this is a 10.1 inch Android tablet with a 1280×800 16:10 resolution and is meant to be held in portrait. Immediately we were left wanting a 7 or even 8 inch version of this form factor because the design and the build quality are perfect for a smaller screen size, in our opinion. Talking of design and build quality, the Notion Ink Adam II is surprisingly well designed and built. It's meant to look like a book, and it definitely does, with a larger bezel on the left when held in portrait. Makes holding the device very easy on one hand, and that's also largely thanks to the weight.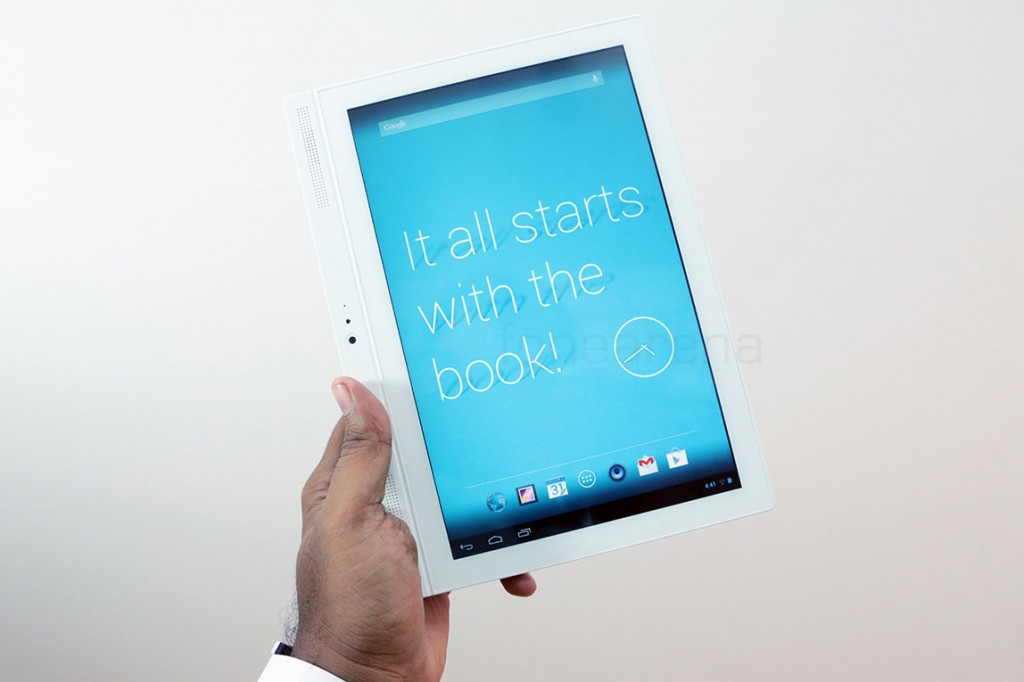 The materials used for this device are predominantly metal and it makes the Adam II a very premium product. The whole frame and the back are made of aluminium, with a matte finish to complement its unique looks. It's also very minimalistic in terms of design, with white all over the tablet, and less coming in the way, like a small logo, thin fonts for ports and more.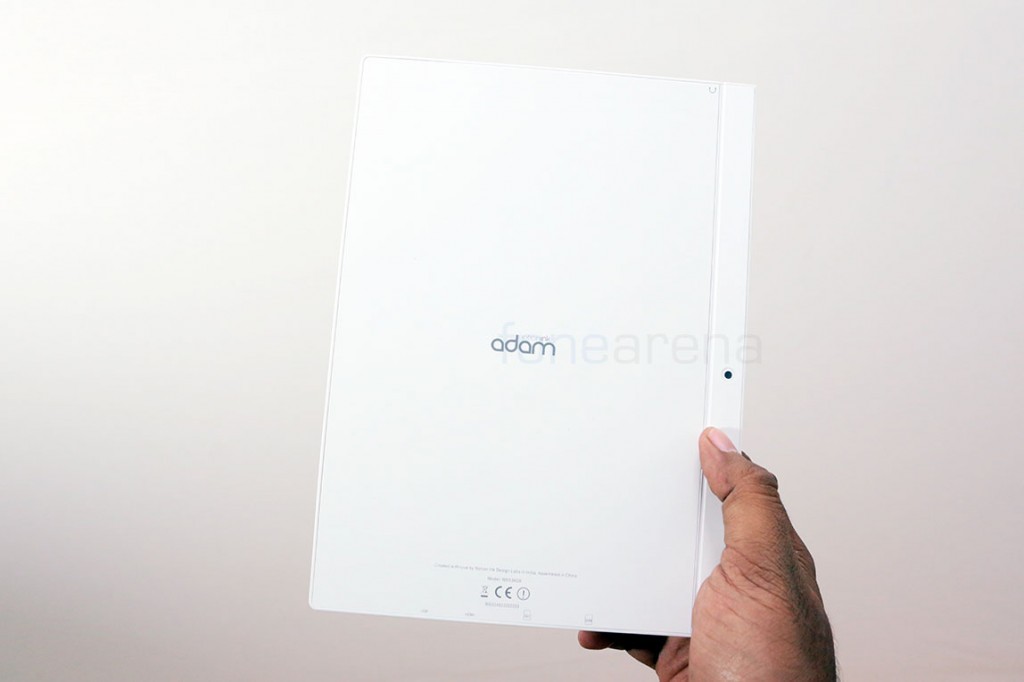 At 584g, the tablet is surprisingly easy to hold in portrait but weighs considerably more when held in landscape, which might also be due to the thick and straight edges of the tablet. The tablet runs stock Android AOSP 4.2.2 with slightly modified controls for better ergonomics. Minimal changes aside, the software is completely devoid of modifications and will be certainly welcome for a lot of people. The tablet also features a SIM card slot in the 3G version, which along with mini HDMI, micro USB with OTG and micro SD makes for compelling connectivity options.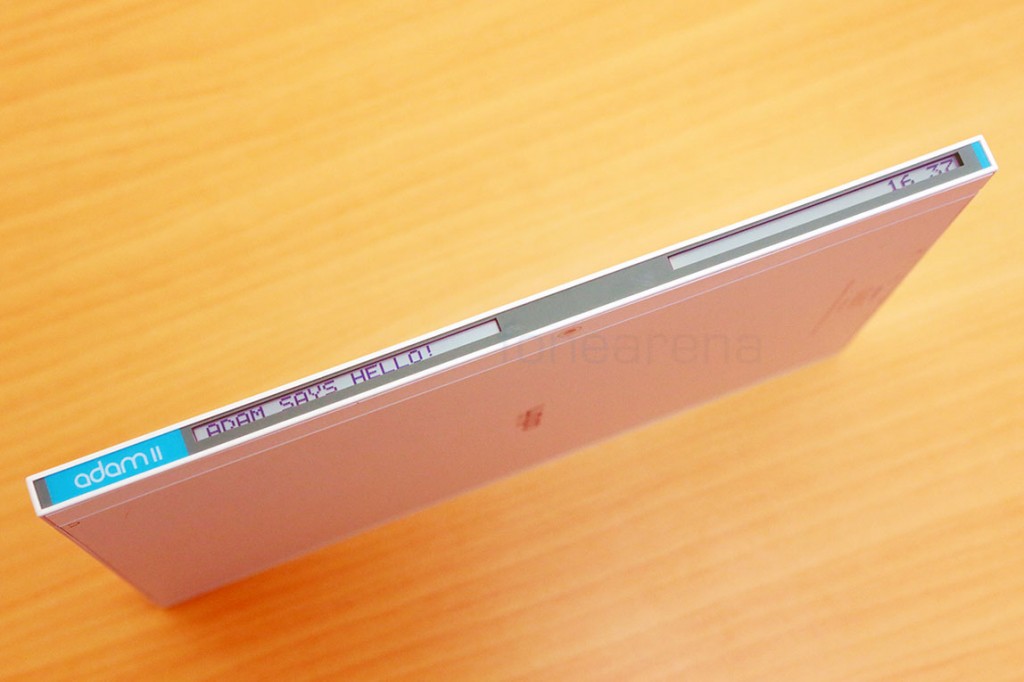 One unique feature of this tablet is its secondary display on the Spine. It always stays on, even when the tablet is turned off and constantly display a custom message and time. When configured, it can also display notifications and makes at-a-glance information interesting and easy. To be really honest, our first impressions are overwhelming. The tablet is uniquely designed to be like a digital text book, it has very premium looks with a superb metallic build and finally has a great accessible price.
The WiFi version is available for Rs. 16,499 while the 3G version costs Rs. 18,999. But of course, the display is of lower resolution for a 10 inch screen and the other aspects like performance and usability are still a concern for us personally, but we will be finding out if the pros outweigh the cons in our full in-depth review, soon. Make sure you keep checking the blog and our YouTube channel for more information regarding the Notion Ink Adam II.
More photos of the box contents –