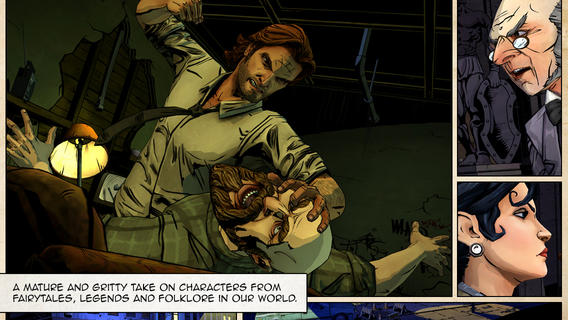 TellTale games, the developers of the "Game of the Year 2012 – The Walking Dead", had released their next game based on the Fables short stories, "The Wolf Among Us", for console and PC earlier. It is now also available for the iPhone and iPad on the app store. This is keeping up with the tradition of releasing their game on the most popular mobile platform(for games), as they had done the same with The Walking Dead. With cell shaded graphics and an amazingly immersive story line that changes based on the decisions you make, The Wolf Among Us seeks to continue the awesome story telling that TellTale is known for. It has received rave reviews from critics all around, and in the mobile form, the point and click game should be as good as how the Walking dead game was, or at least we hope.
Download The Wolf Among Us($4.99) from the app store
Set in a Neon-filled fictional city, the game reminisces characters from the Aesop's Fables short stories, like the pigs, the wolf and more and intricately spins a detective story line around these characters. It definitely makes for a fun experience, and some times even nerve wracking, as your decision making sometimes can change a character's longevity in the story.
As Bigby Wolf – THE big bad wolf – you will discover that a brutal, bloody murder is just a taste of things to come in a game series where your every decision can have enormous consequences.
You play as the Bigby Wolf who is investigating a bloody murder, trying to unravel the mysteries of the world and its characters as the game progresses. The game, which is a series, is styled like a TV show and has a total of 5 episodes for the first season. This is certainly a new way of story telling, and naturally with this amount of quality comes a cost. It costs $4.99 for the first episode and you can then purchase the season pass with a 25% discount or wait till each episode is released and then buy it.