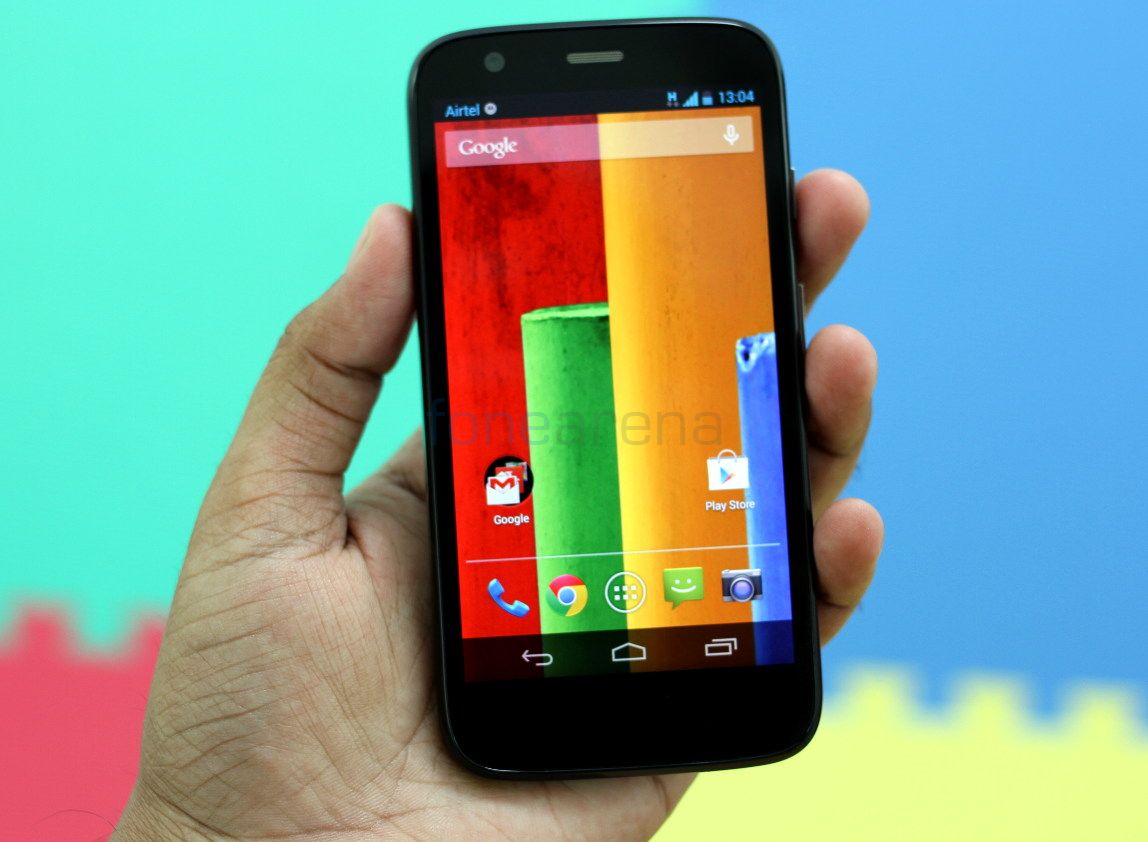 Motorola unveiled the Moto G, the company's latest budget smartphone at an event on November 13th. We already brought you the unboxing, benchmarks, photo gallery, camera samples, and also cleared your doubts about the device in a live chat. Here we have the complete review of the device. The Motorola Moto X that was launched back in August is only available in the U.S, but the Moto G is already available in range of countries and would also launch in India early January. The Moto G would be the first smartphone from the smartphone maker to launch in India after almost one and half years. The Razr Maxx that was launched in India back in June 2012 was one of the popular smartphones from the company, known for its marathon battery. The Moto G starts at $179, which is definitely great pricing based on the specifications. Did it live up to its expectations? Should you get the phone once it launches in India? Let us find out in the detailed review.
Unboxing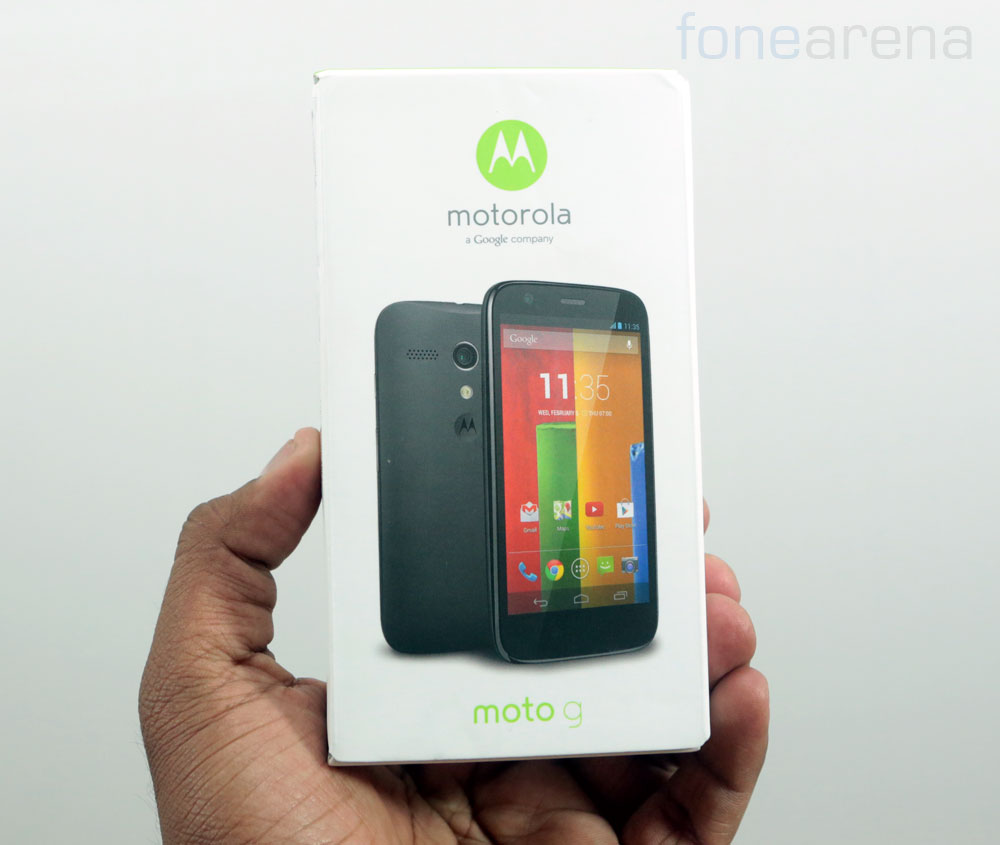 We unboxed the smartphone last month, check out the unboxing video below.
httpv://www.youtube.com/watch?v=E_Ha4RD3cG0
Box Contents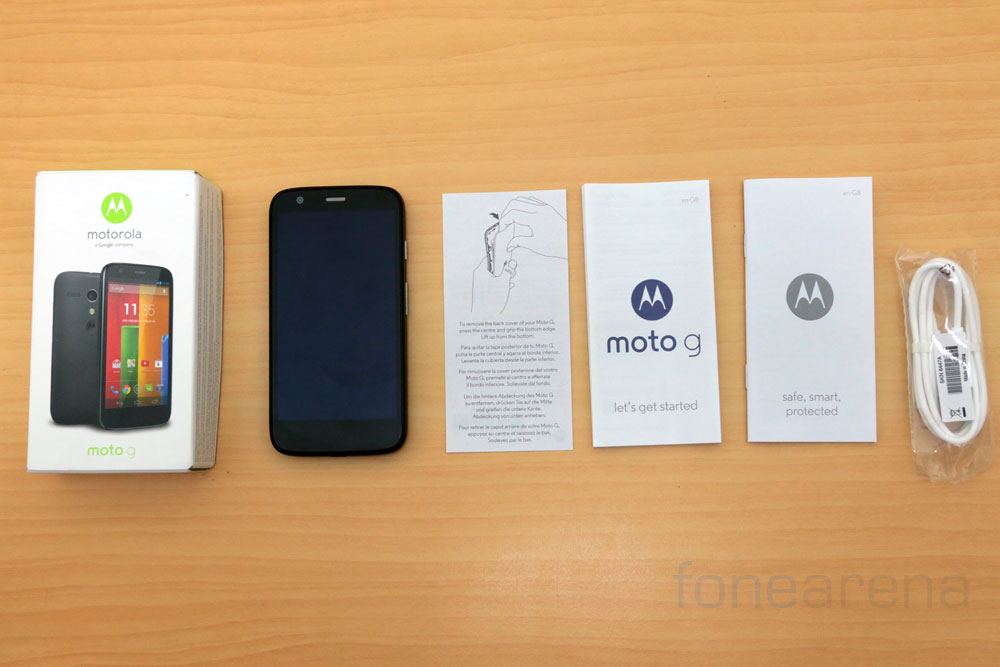 The box contents include a
Motorola Moto G smartphone
micro USB cable
User manual and warranty information
The Moto G doesn't come with a charger or a headset. The Indian retail unit might come with these in the box when it launches in January. If at all it does, the price of the phone would be definitely higher than usual.
Video Review
httpv://www.youtube.com/watch?v=srxqwXDNdTI
Design and Hardware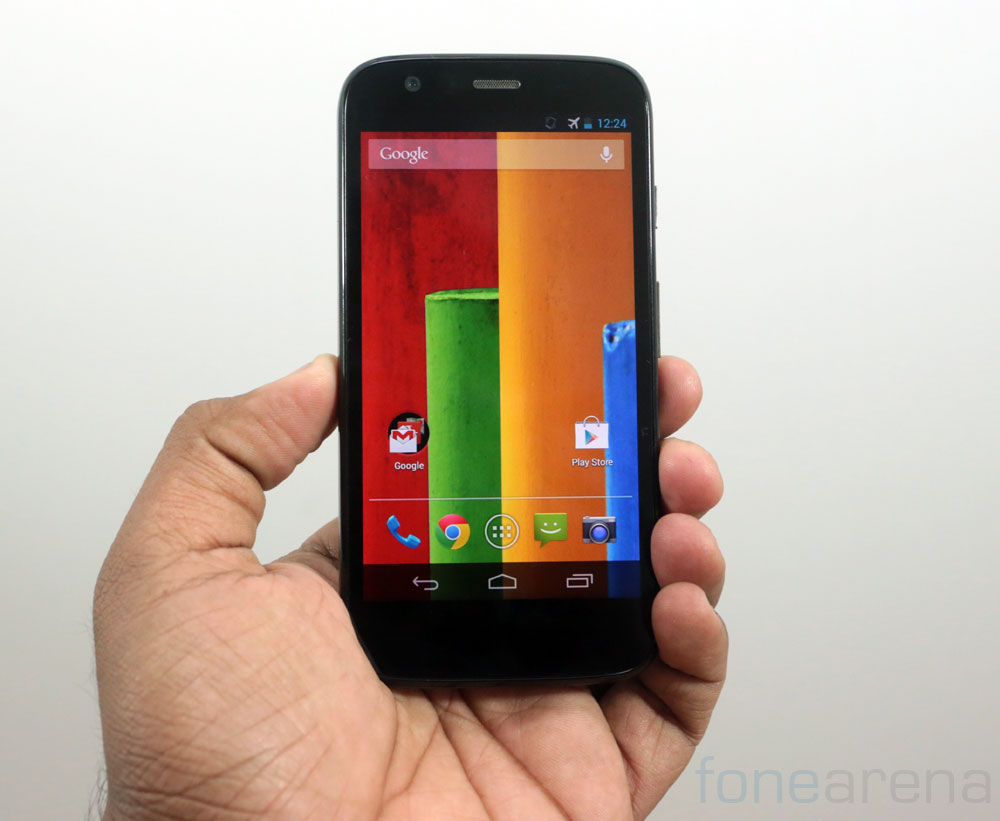 The Moto G has a 4.5-inch (1280 x 720 pixels) edge-to-edge display at 329 ppi with scratch-resistant Corning Gorilla Glass 3 protection. The display is one of the best we have seen on a budget smartphone. It offers vibrant colors, has great viewing angles and also has good sunlight legibility. The phone has curved corners with a tiny bezel on the sides. The screen is prone to smudges, but it is hardly noticeable.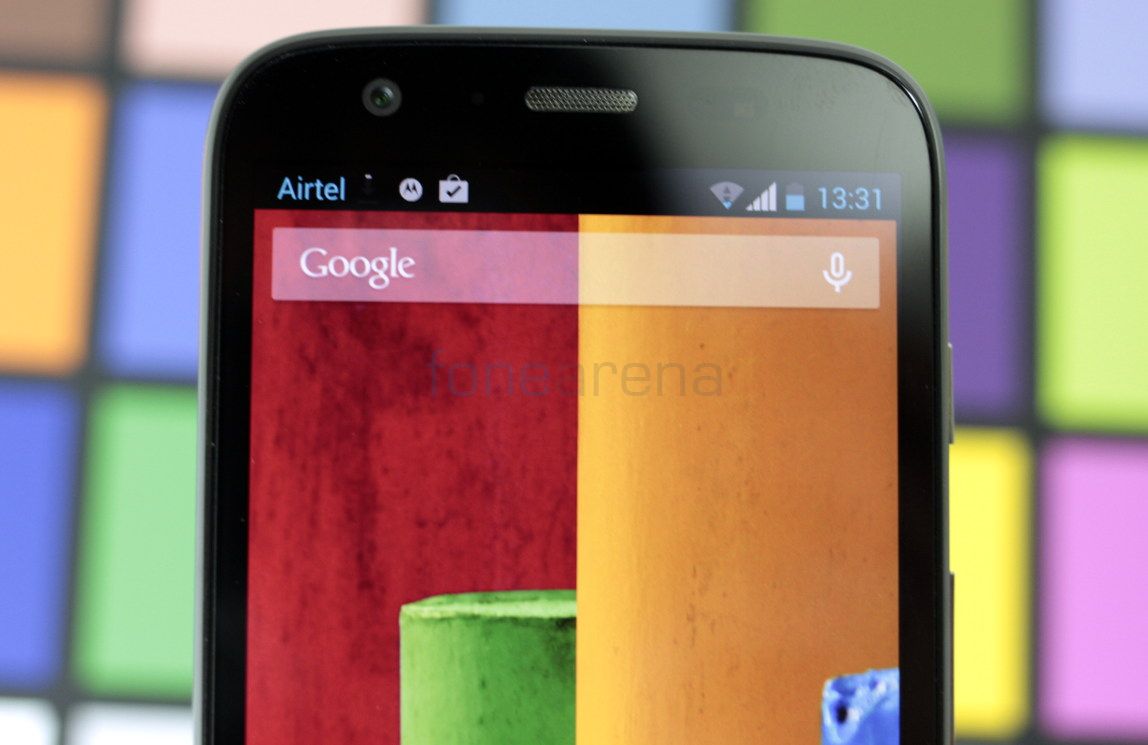 There is a 1.3-megapixel camera on the top left corner that can record videos at 720p HD resolution. There is a tiny LED notification light next to it. It is just a white LED light, and not multi-colored. On the other side there are the usual proximity and ambient light sensors.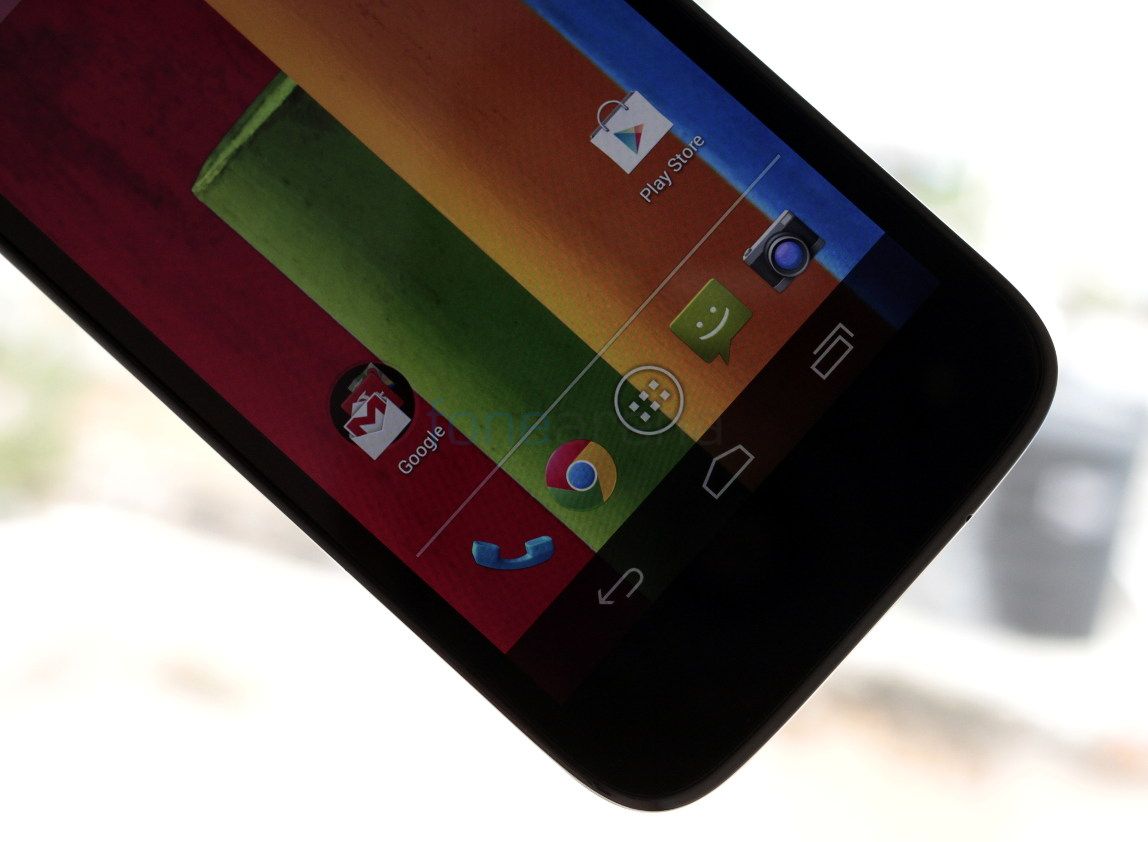 You don't have capacitive touch buttons on the bottom, instead you have on-screen touch buttons similar to the Nexus devices.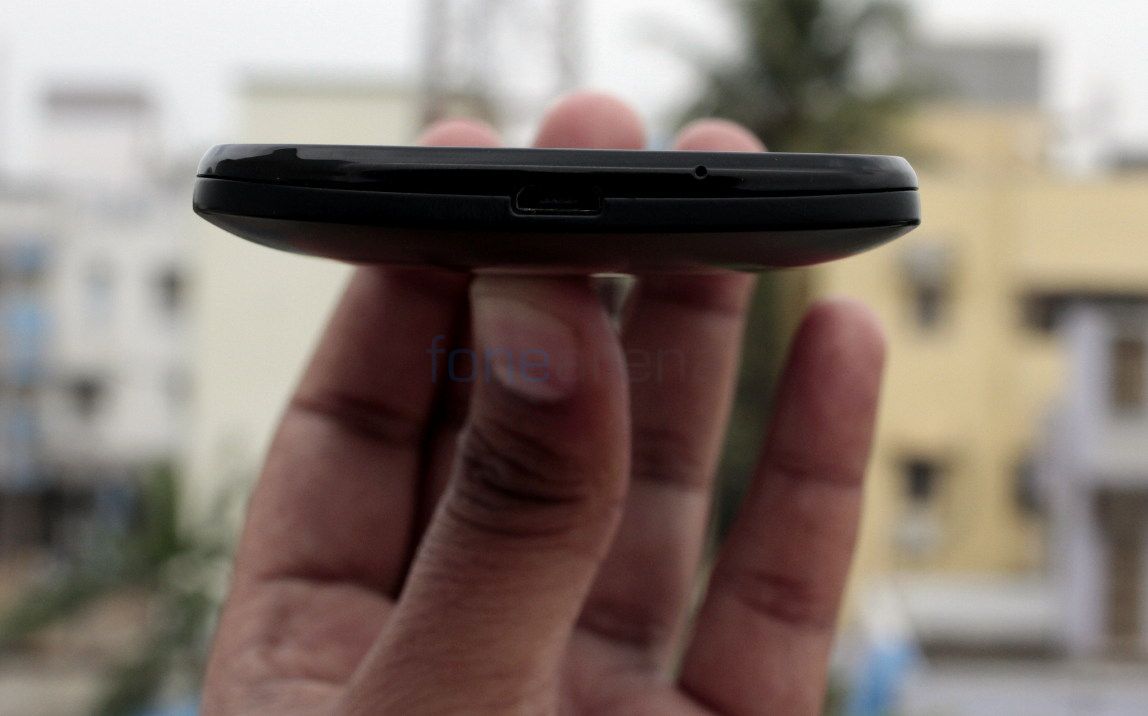 On the bottom there is a micro USB slot and a tiny microphone hole.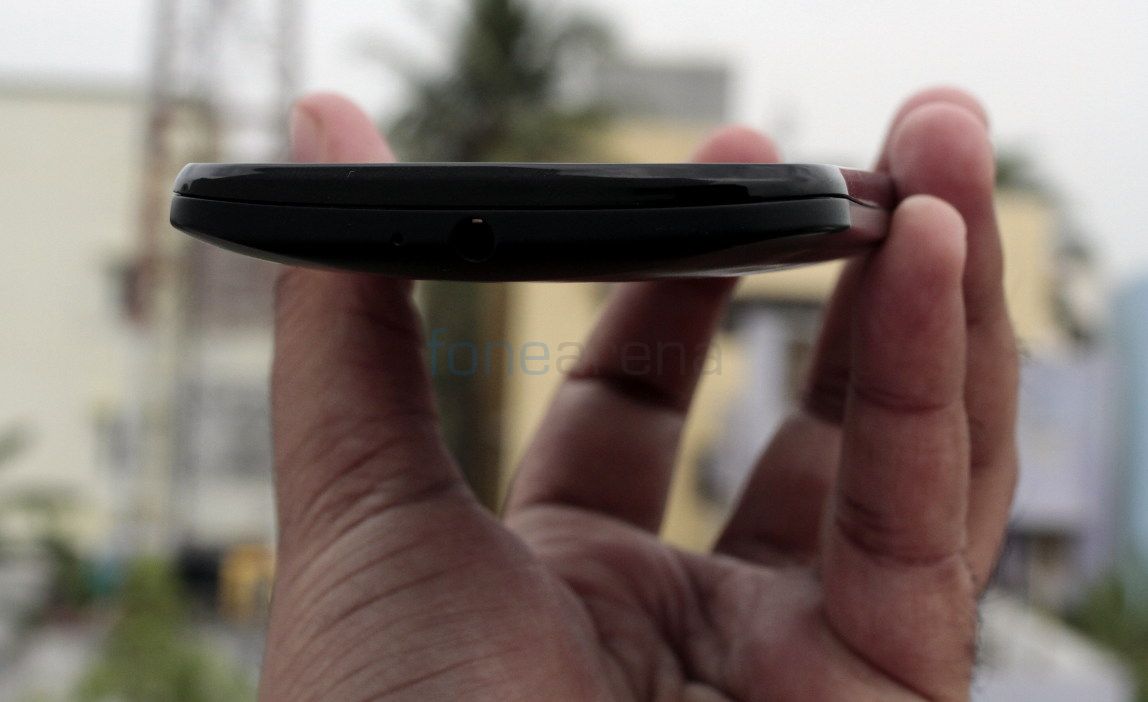 On the top there is a 3.5mm audio jack along with a tiny secondary microphone hole.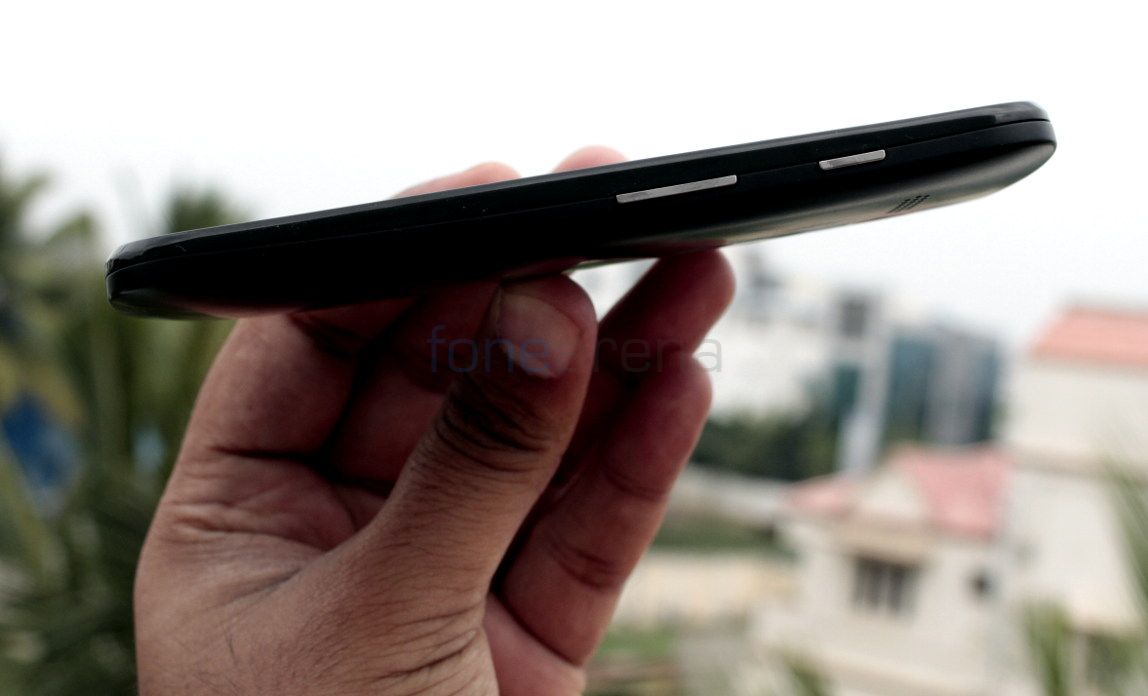 On the right side, you have the power button and the volume rocker.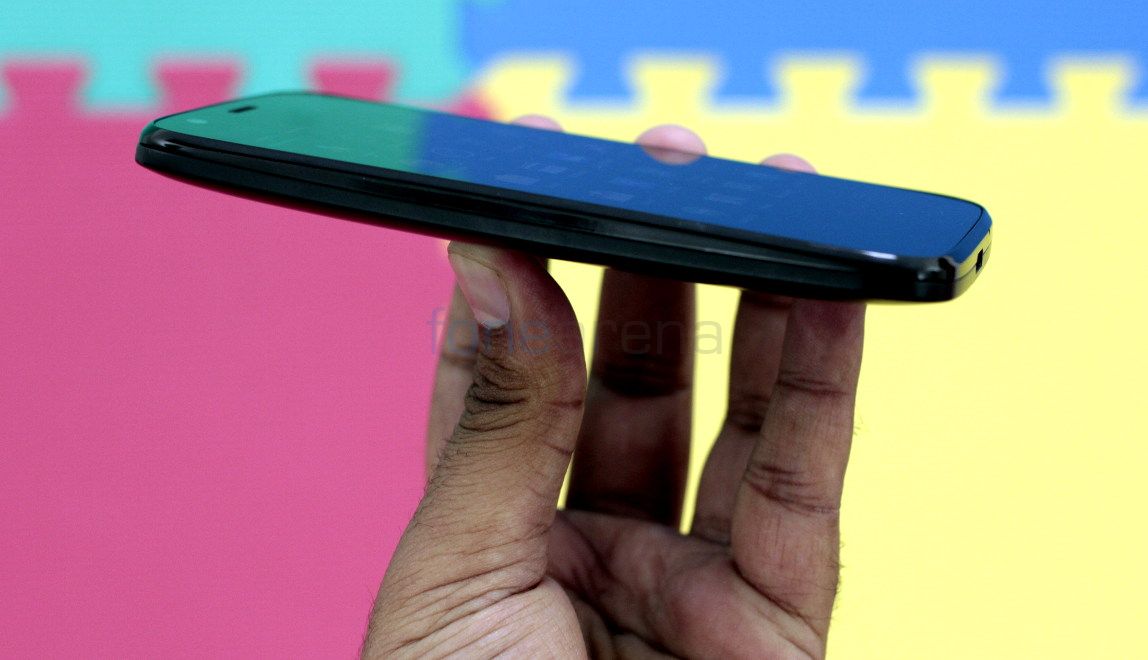 As you can see from the above image, the sides of the phone is also curved. The phone is 11.6 mm on its thickest part and is just 6 mm thick at its thinnest. There is nothing on the left side. The sides are divided into two parts, the front plastic part is shiny and the other part is actually the back cover.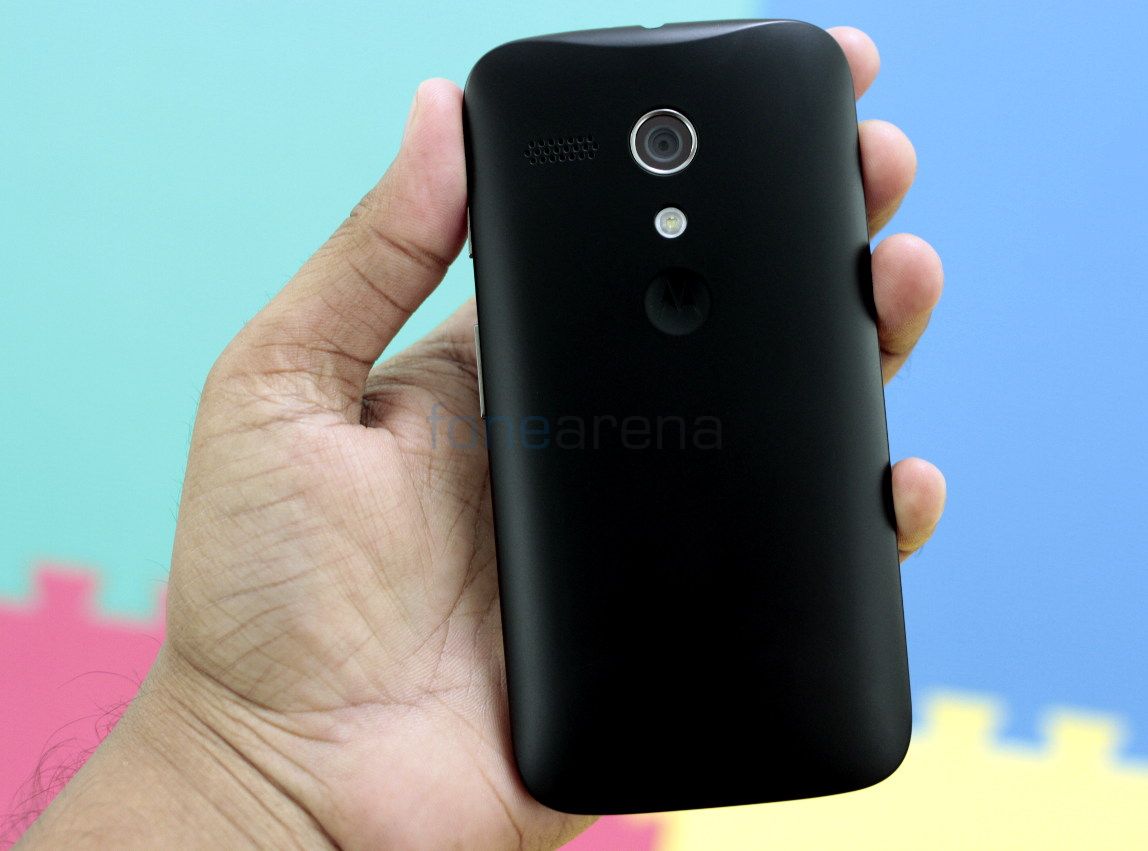 You don't have any premium kevlar back like the Moto Razr. The cheap plastic back cover has a soft matte finish, which is prone to smudges, but again you can't expect much from a budget device.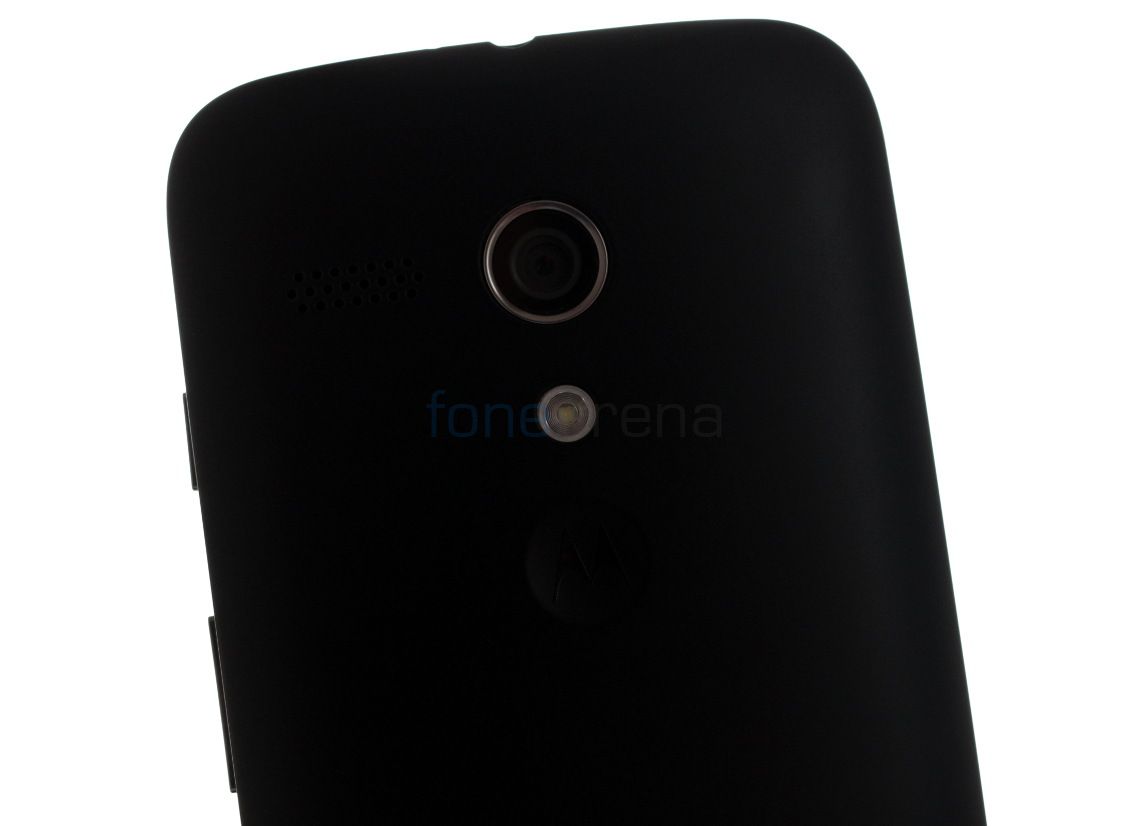 There is a 5-megapixel auto focus camera on the back with a chrome ring around it. There is a single LED flash below the camera. There is a Motorola logo below the camera module. Loudspeaker grill is also present next to the camera.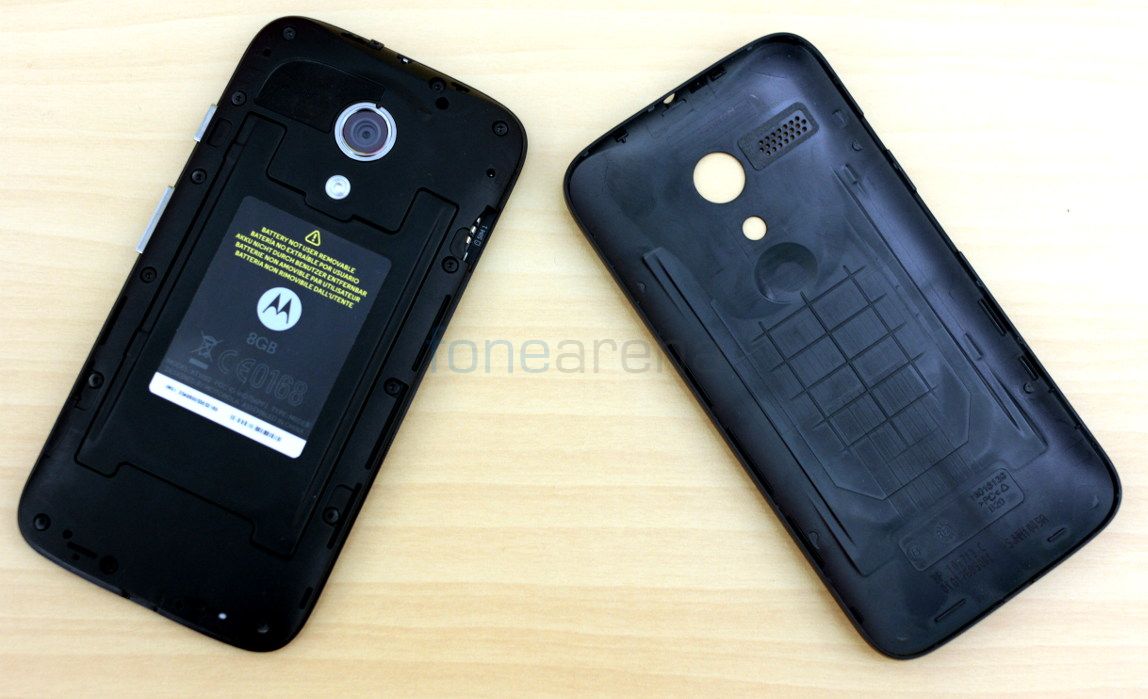 The cover is a bit hard to remove and feels cheap. Even though the back cover is smooth, it is not slippery. Motorola sells back covers and flip covers separately in a range of colors including, Chalk, Black, Violet, Royal Blue, Turquoise, Lemon Lime and Cherry. These cost $14.99 each, that started shipping earlier this month in several countries. Motorola also plans to sell grip shells for the phone in January which has a rubberized frame that also protects the phone against impact. This is a nice move to sell these back covers separately, to make users replace the cheap back cover.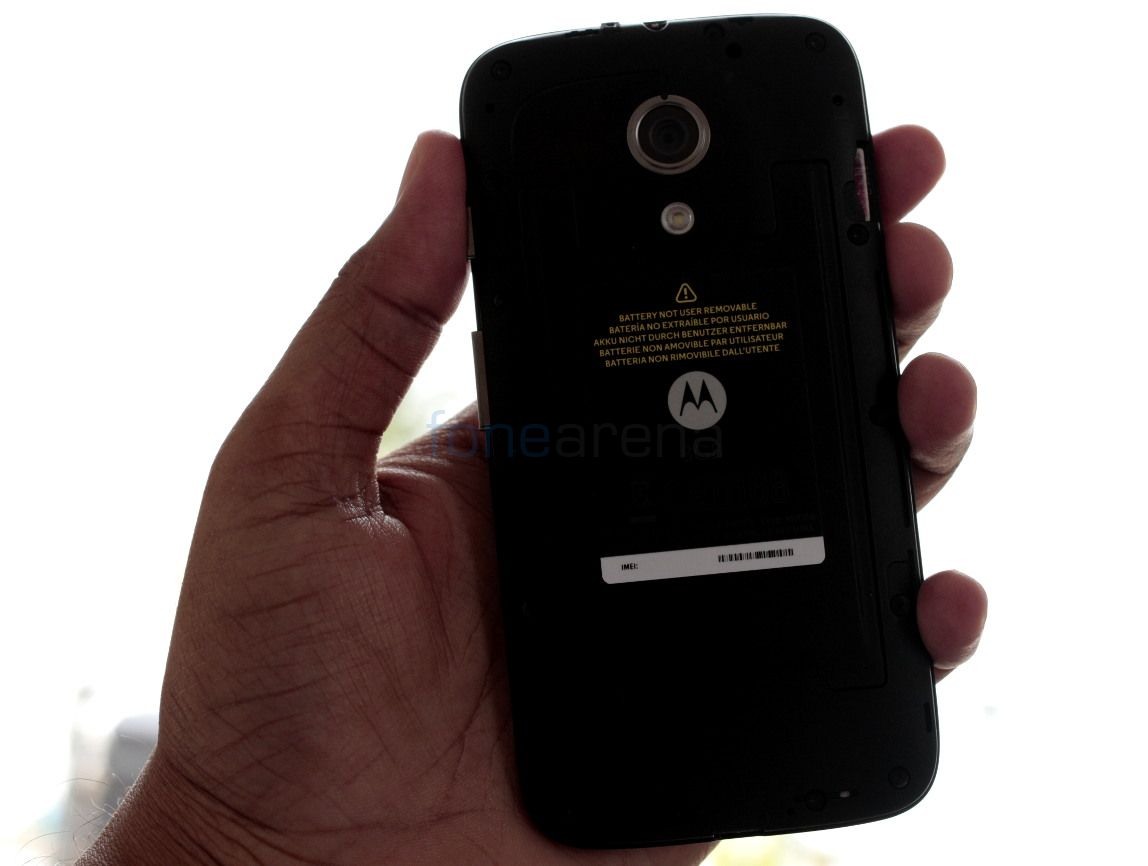 You need to open the back cover to insert the micro SIM card, but the battery is not removable.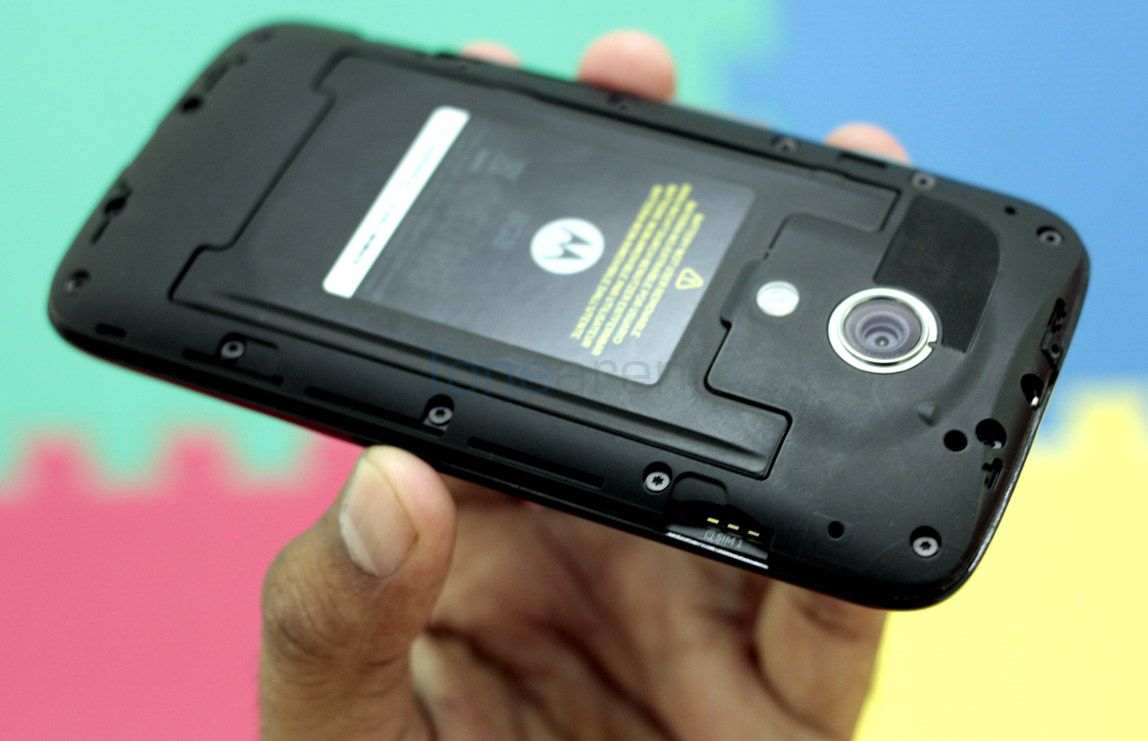 The SIM card slot is located on the right corner of the phone. As you can see, the wordings mention the slot as SIM 1, so it is clear that Motorola is working on a dual SIM variant of the phone already. The phone lacks a micro SD card slot, and the 2070 mAh lithium-ion battery is not removable, which is disappointing. That is it for the hardware. Motorola gains full marks for the display and design, but the build quality is just average, mainly because of the cheap back cover.
Camera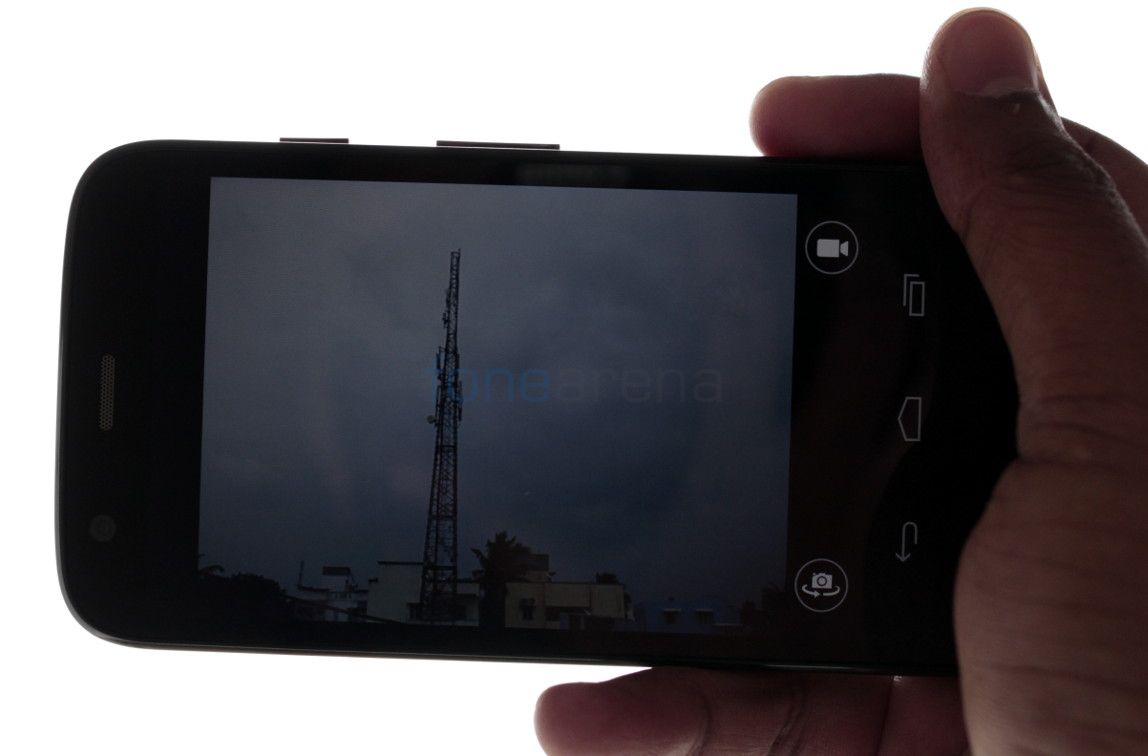 The phone packs a 5-megapixel unit with a single LED flash. The lens has a f/2.4 F-Stop/Aperture, but details about the sensor is not clear. The camera UI is very simple and is similar to the Moto X. You can slide from the left edge to toggle HDR, Flash, Touch to focus and set exposure, enable SLO (Slow motion video), take Panorama images , enable GPS location for images, adjust the aspect ratio (16:9 or 4:3) and enable or disable camera shutter tone. You don't have any other features such as option to adjust the ISO settings, White Balance etc.
HDR images are decent with bright colors, but it takes time to process and has shutter delay.You can use HDR mode for static shots, if you need good images, but dynamic shots end up blurry. Images shot in daylight with HDR turned OFF lack details and colors. You can set HDR to Auto, which automatically capture images in HDR mode when you take static shots. Check out some HDR samples below and also the comparison between HDR and normal images.
Macro shots are a bit hard to capture, since it takes time to focus. Even macro shots lack details. There is no touch to focus option, unless you enable "Touch to Focus and set exposure" option that lets you drag the bracket to a particular point where you want to focus and set the exposure. Check out some macro shots.
Low light shots have a lot of noise such as color noise and white noise and completely lack details. Check out a couple of low light image samples below.
Flash doesn't help in low-light shots, so the output is just average. Check out some images with flash.
The phone can record videos at 720p HD resolution at 30 frames per second. Recorded videos are stored in .MP4 format and uses H.264 codec.Video is decent, but it does lack details and is under exposed in brightly lit conditions. Audio output is good, thanks to the secondary microphone. Check out the HD camera sample below.
httpv://www.youtube.com/watch?v=SHDse5tbKbc
The phone can also record slow motion videos once you enable SLO mode. It takes videos at 720p HD resolution at 60 fps and reduces the frame rate to 1/4th from the original video to 15 fps. You don't get audio in the slow motion videos. Check out the slow motion video sample below.
httpv://www.youtube.com/watch?v=7A-DGjmWBj4
Check out the camera review to get a clear idea about the Moto G's camera in detail.
httpv://www.youtube.com/watch?v=Z_DaBWRL3KE
Software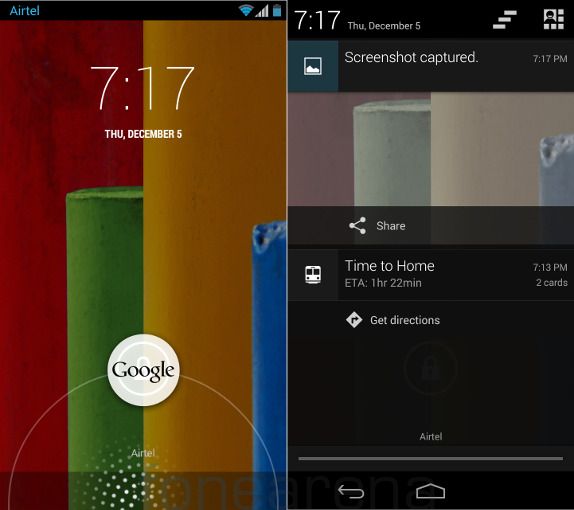 The Moto G runs on Android 4.3 (Jelly Bean), which is completely stock. Even though it doesn't run Android 4.4 (KitKat) out of the box like the Nexus 5, Motorola has promised to roll out an update in January, so by the time it launches in India, it should come with KitKat. Motorola rolled out the Android 4.4 OTA update for the Moto X recently, so you can definitely expect them to keep their promise. Even though Android 4.3 is not a major update compared to the Android 4.1, it did bring a lot of new features including Bluetooth Low Energy / Bluetooth Smart support to connect to devices that uses very little power, such as smartwatches. It also brings OpenGL ES 3.0 support, so that games with the latest OpenGL support would be much smoother and faster.
Compared to Android 4.2, the Android 4.3 feels much faster and smoother. Since the OS is completely stock, you can launch Google Now from anywhere by sliding up from the home button. You also get a range of features including lockscreen widgets, option to launch the camera directly from the lockscreen and lots more. Moto X did not get the new Android experience launcher, so the Moto G would also lack this feature.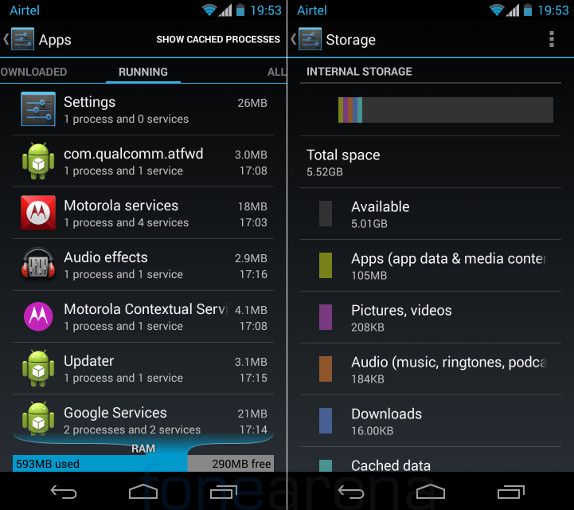 Out of 1GB of RAM, you have 882 MB of usable RAM. Out of which 290MB of RAM is free when the phone is idle. We have the 8GB version. Out of 8GB of internal storage, you get 5.25GB of usable storage.
Apps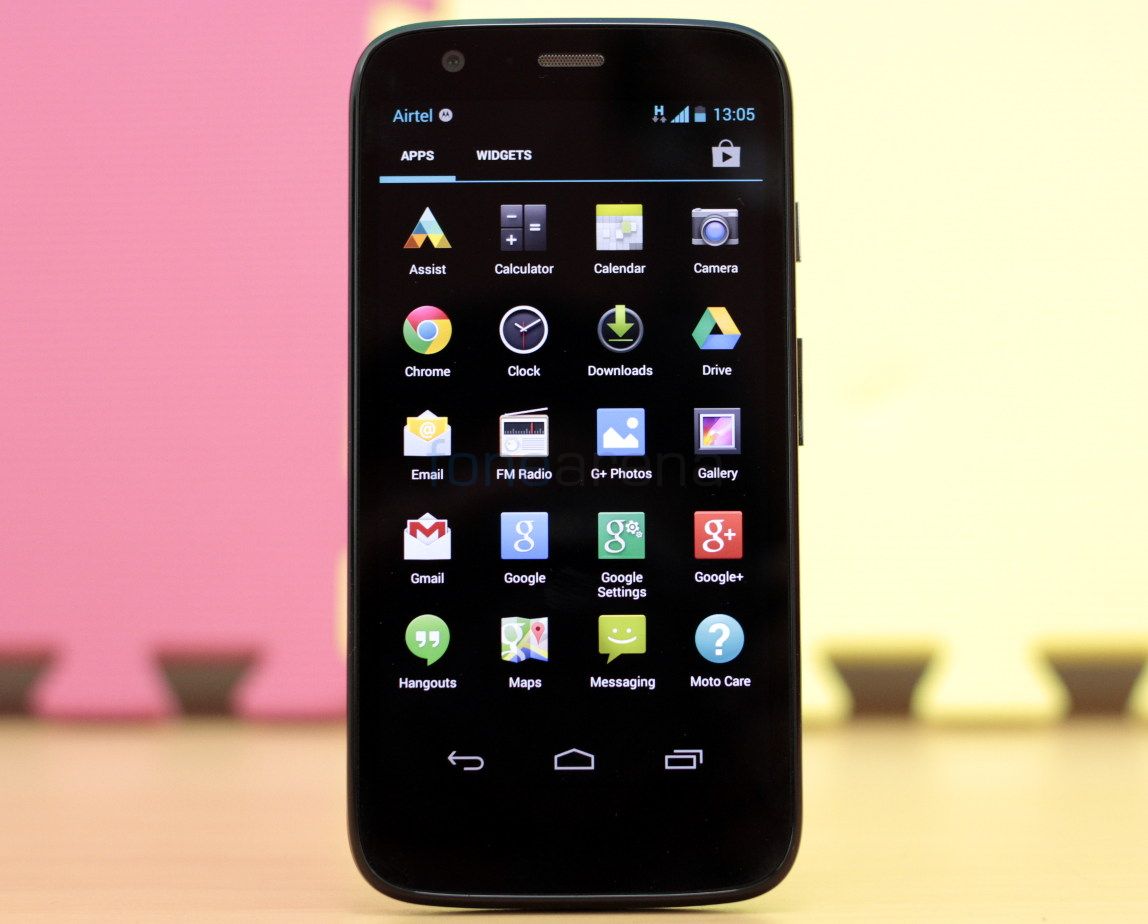 Since the OS is stock, you don't get any unwanted apps like the old Motorola phones. You get the usual set of Google Apps and utility apps pre-installed.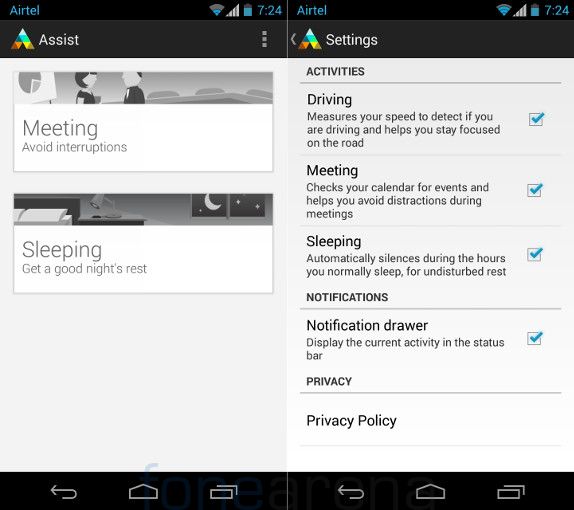 You have Moto Assist, which is the one of the few additional apps present in the phone. Remember the Smart Actions app from the Razr and the Razr Maxx? The Moto Assist is similar to the Smart Actions app, but with limited actions. You can set a particular time in the sleeping mode so that your phone switches to silent mode automatically when you are sleeping. Based on your calendar entries the app will automatically learn that you are at a meeting and automatically turns on the silent mode and also auto replies to text messages. It also automatically detects your driving speed and lets you stay focused on the road. Wish it had charging alert to notify you when the battery is fully charged, like the Smart Actions app.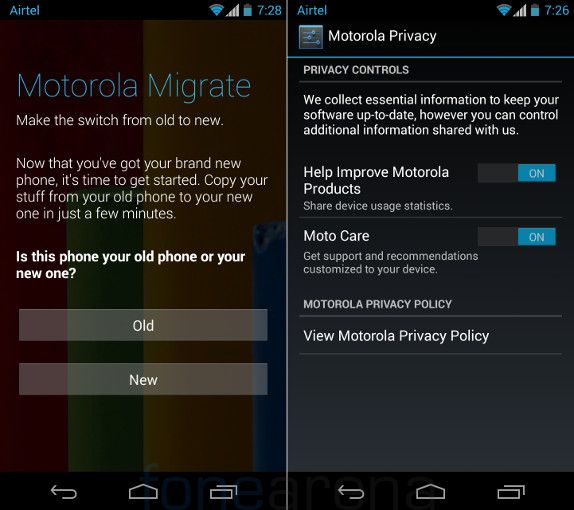 Other app that comes pre-loaded on the phone is Motorola Migrate, that lets you migrate media, call, text messages and SIM contact from your old phone or move these to a new phone. The Moto Care options inside privacy settings lets you chat or talk to Motorola customer care executives if there is a problem with your device. The Moto Care app might not be available in all the countries.
Music Player, FM Radio and Video Player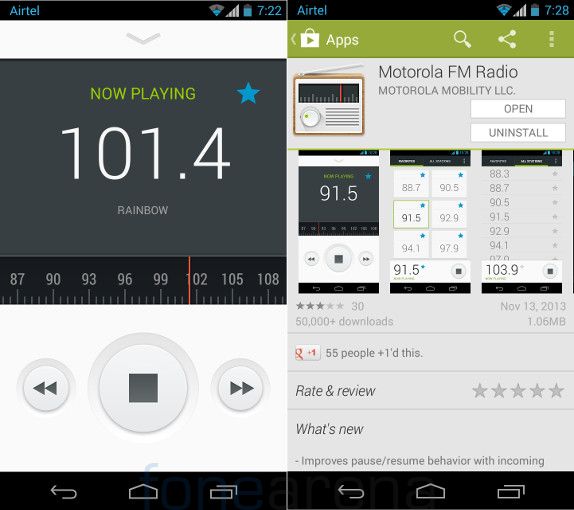 Just like stock Android, Google Play Music is the only app you have to play audio. The phone can play a range of audio formats including AMR, AAC, AAC+, MP3, PCM, FLAC, MIDI, QCELP, EVRC, OGG/Vorbis. Loudspeaker output is excellent. It is quite loud without any distortion even at full volume. Motorola doesn't bundle headphones in the box, but it sells SOL REPUBLIC JAX Headphones separately priced at $39.95.
One thing that requires headphones is FM Radio, which is rarely seen on devices running on vanilla. Motorola has added a FM receiver chip and has developed a separate app for FM Radio. Yes, Motorola FM Radio is a separate app that receives updates through the Play Store. You can set favorite channels and just touch saved channels to switch to it. The FM UI is clean and simple. A recent update brought improved pause/resume behavior during calls and improved play/pause button in wired headset. It has RDS support, but you can't play the FM Radio through internal speakers and it also lacks recording option. Hope Motorola would bring these features in the future.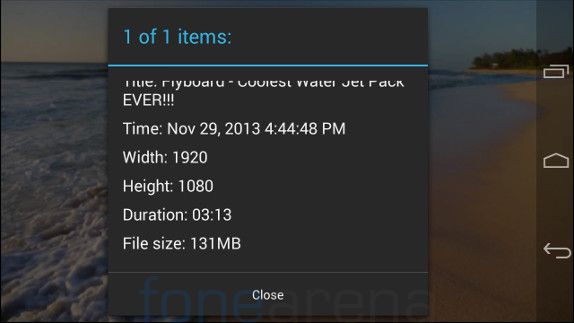 Motorola says that the Moto G can play 720p HD videos at 30 fps in a range of codecs (MPEG4, H.263, H.264, VP8), but we tried 1080p full HD video in .MP4 format, and it did play fine. You can always try external video players to play other formats.
Connectivity
You have the usual set of connectivity features including 3G HSPA+ support up to 21 Mbps, WiFi 802.11 b/g/n, Bluetooth 4.0 and GPS, GLONASS. HSPA+ and Bluetooth connectivity are good, but WiFi connectivity is bit choppy, which drops down few bars at times once you move to another room. This might be fixed through a software update. We did not face any issues with GPS. The phone has USB on-the-go (OTG) support. Check out the USB OTG demo below.
httpv://www.youtube.com/watch?v=J7T2EtkpH3I
Performance and Benchmarks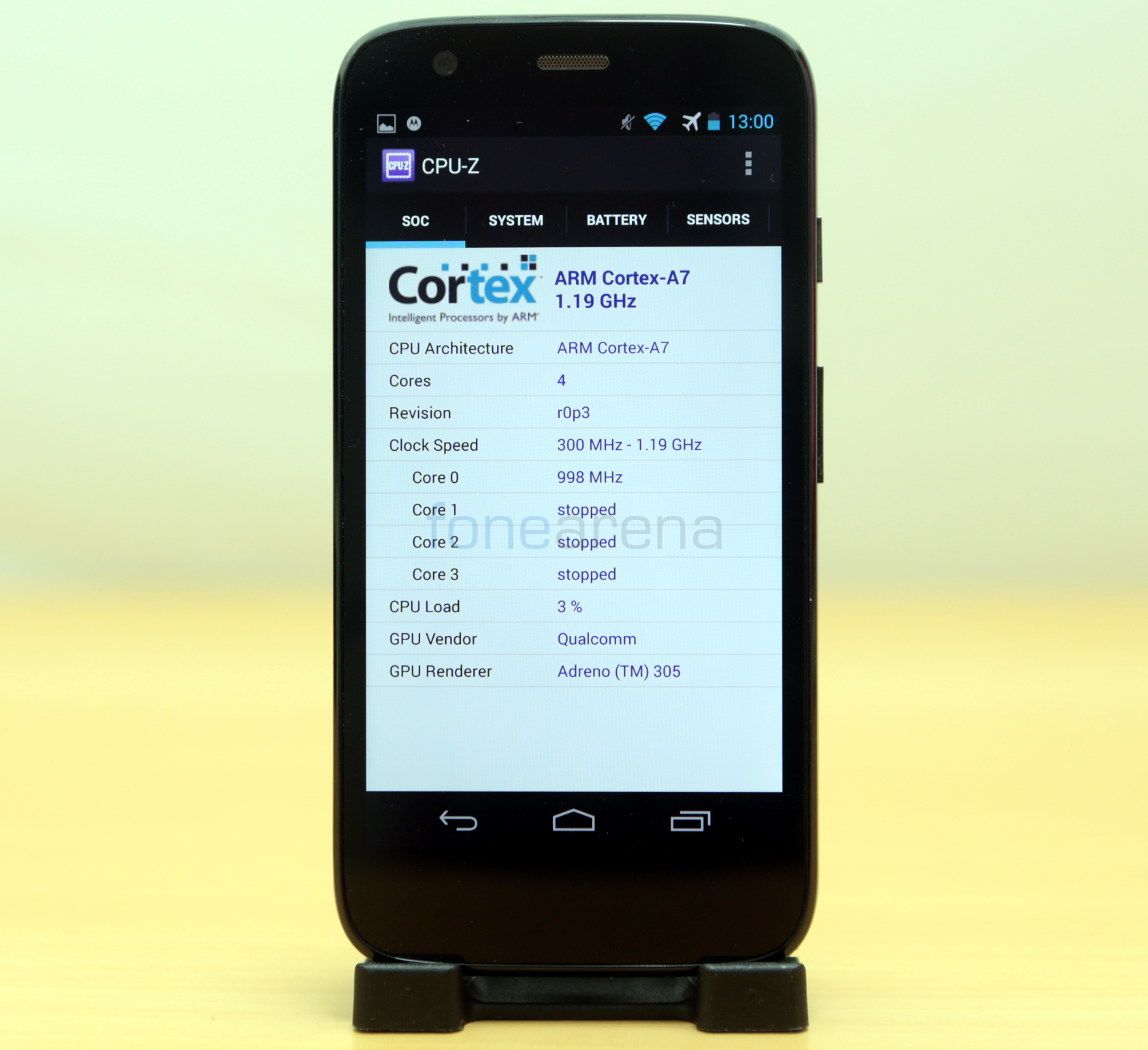 The Moto G is powered by a quad-core Snapdragon 400 (MSM8226) ARM Cortex-A7 processor clocked at 1.2 GHz with Adreno 305 GPU. The chip is much better than the MediaTek MT6589 processor that is also based on ARM's Cortex A7 cores. We did not experience any lags when multitasking. Thanks to 1GB RAM, which is sufficient to run a lot of apps in the background without slowing down. Check out some benchmark scores below.
Quadrant Benchmark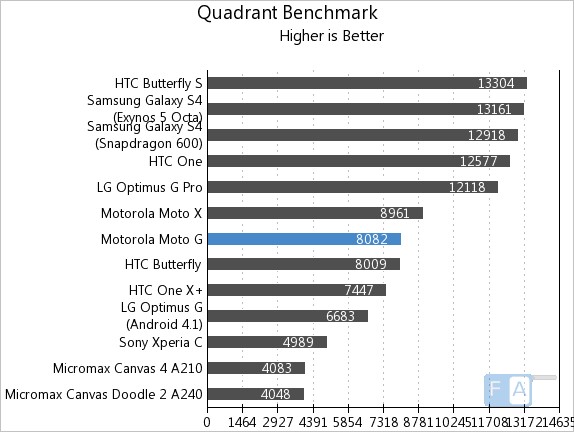 The Moto G scores over 8000 points in the Quadrant benchmark.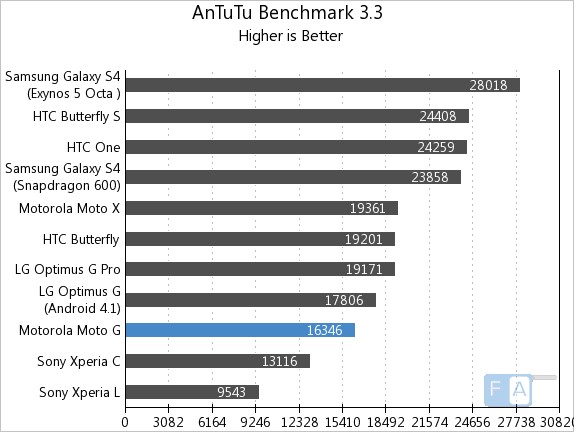 In the AnTuTu Benchmark 3.3, the Moto G scores better than the Xperia C.
AnTuTu Benchmark 4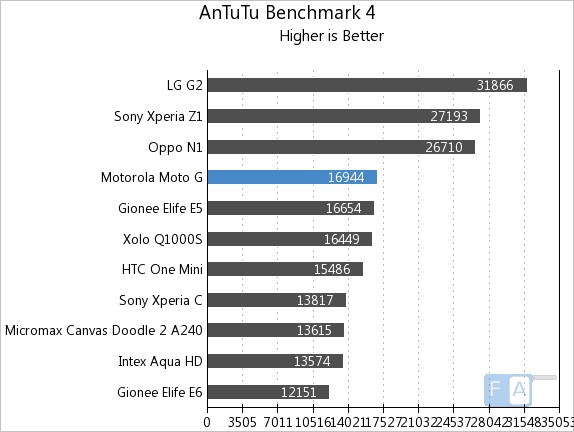 In the AnTuTu Benchmark 4, the Moto G scores 16944 points, better than the quad-core MediaTek-powered devices.
Check out the complete set of Motorola Moto G Benchmarks here.
We did try a lot of games including some high-end games such as N.O.V.A 3, Dead Trigger 2, Shadow Gun and Riptide GP2. The gameplay performance was good, but these games did lack details since it uses a mid-range Adreno 305 GPU and also took some time to load. The phone doesn't support Sony PS3 controller even though it has USB OTG support.
Here is the N.O.V.A 3 Gameplay
httpv://www.youtube.com/watch?v=c2UCNdICGB0
Here is the Riptide GP 2 Gameplay
httpv://www.youtube.com/watch?v=mciEB5O_Ttg
Check out the gaming review of the Motorola Moto G to get a clear idea about the smartphone's gaming performance in detail.
httpv://www.youtube.com/watch?v=y0tlcbfls6g
Battery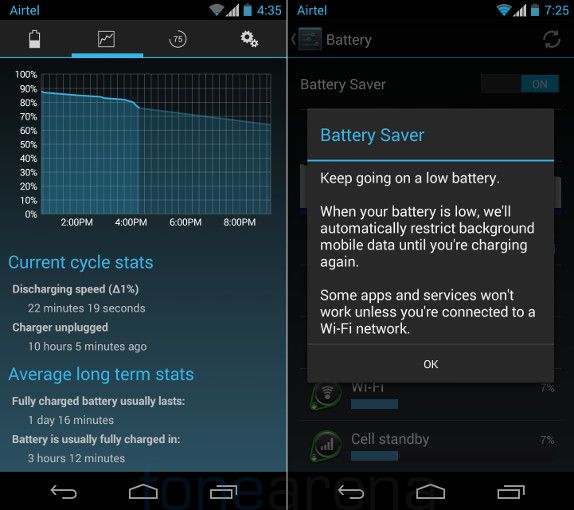 Coming to the battery life, the 2070 mAh lithium-ion battery offers great battery life, that you hardly see on budget smartphones. With 3G always ON, it will last for 24 hours even with heavy use. For an average user it lasts for 2 days with mixed usage including couple of hours of music playback, some image captures, an hour of video playback and some gaming with screen time of about 3 and half hours. You have a battery saver option that saves battery by turning off the background data and WiFi when the battery is low.
Conclusion
At a starting price of US$179, Moto G is an ideal budget smartphone with pure Android for those who cannot afford the Nexus 5. Even though the company doesn't promise instant updates like the Nexus devices, Motorola would roll out future Android updates faster than other OEMs since it is owned by Google. Since the 8GB version has less memory, we recommend you to go for 16GB version (costs US$199) when it launches in India.
Update 5th Feb 2014: We reviewed the single SIM version. Motorola has launched the Dual SIM version of the Moto G in India today, priced at Rs. 12,499 for the 8GB version and Rs. 13,999 for the 16GB version. This is great pricing for the Indian market, compared to the price of single SIM variant in the US.
Pros
Competitive price tag
Brilliant display
Excellent battery life
Cons
Camera is below average
Comes only in 8GB and 16GB variants without SD card slot
Average build