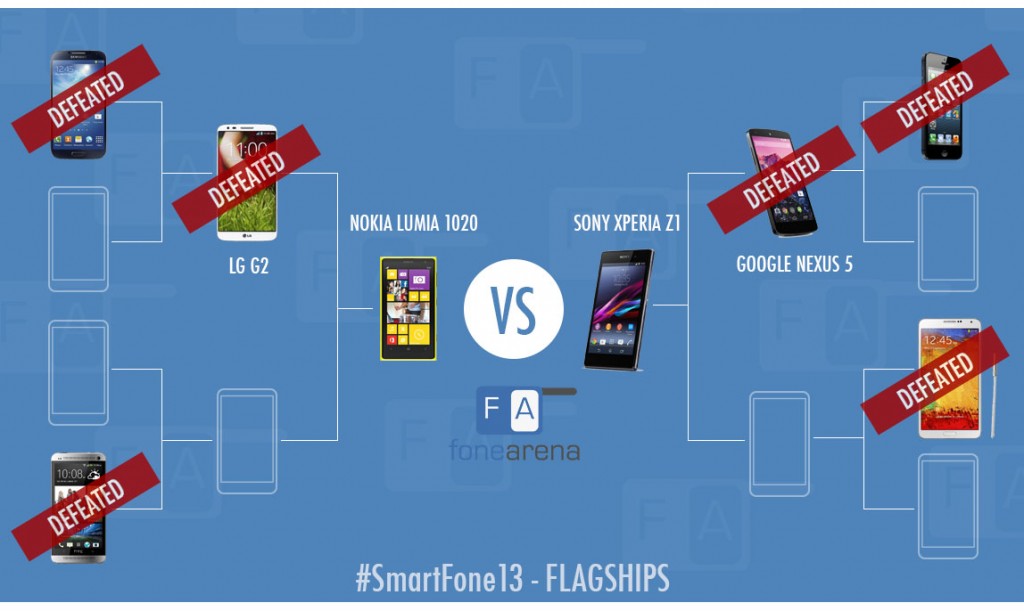 Remember "Battle of the Flagships 2012" that we conducted last year? Well, it's back this year, only in a different name. Yes, we have another set of eight devices that launched this year, which have not only served as the respective companies' flagships but also have been iteratively innovative in most of the cases. We have carefully selected these eight devices, which we personally think have a chance at the best flagship device title, so which one would you vote for? Dive in below for more.
Check here for the best budget smartphones of 2013
This year, we saw the entry of full HD displays on the market, when CES started in January. Sony Xperia Z was one of the first 1080p screened device, and ever since it released, we have seen every other manufacturer follow this trend by releasing their own full HD device, with update internals and so on. Every flagship except an iPhone and a Lumia has a 1080p display as one of its highlights in hardware. We have also seen faster chips in the market, like the Qualcomm Snapdragon 800, Apple A7 and even more number of cores, with the Exynos 5 Octa. More megapixels with the Xperia Z1 and the evolution of the Nokia PureView on the Lumia 1020, with 41 megapixels of RAW imaging and OIS have made sure that the camera part too, has been given more importance than last year. Batteries have gotten bigger, and so have the screens, with almost all the flagships reaching 5 inches or above. Software too has seen innovation in the form of new major updates to iOS, with the controversial iOS7 and Android 4.4 KitKat, but curiously Windows Phone is still a slow poke with GDR3 only rolling out slowly. Certainly a lot to look forward to next year. Anyways, these are the devices that we have selected for this year's SmartFone 2013 polls –
With several positive points backing each device up, we have randomly paired them to make things interesting. So here's how it goes down. We will be starting directly with the Quarter Finals knock out stage, where all these devices will competing in the polls. Today, two of these competitions will have its polls open, with the other two starting tomorrow. The Round 1 will be live for about a week, the time till which you can vote for your favourite device. The losers of this round will be eliminated and carried over to the penultimate and the ultimate rounds respectively. Lets start with the polls then!
Round 1 –
Samsung Galaxy S4 vs LG G2 (Winner – LG G2)
Samsung Galaxy Note 3 vs Sony Xperia Z1 (Winner – Xperia Z1)
Apple iPhone 5s vs Google Nexus 5(Winner – Google Nexus 5)
Nokia Lumia 1020 vs HTC One(Winner – Nokia Lumia 1020)
That concludes the Round 1 of the year-end SmartFone 2013 championship and as you can see above, the four phones that have won the round 1 are now in contention for the next round.
Round 2 –
LG G2 vs Nokia Lumia 1020(Winner – Nokia Lumia 1020)
Google Nexus 5 vs Sony Xperia Z1(Winner – Sony Xperia Z1)
Final –
Nokia Lumia 1020 vs Sony Xperia Z1
What are you waiting for then? Go ahead and vote for your favourite device in the polls! So, which one of the above device is your favourite? Which one would you want to see, winning the title in the end? Let us know in the comments section below, and share this with your friends so they can vote too!
Note: This post will be continuously updated with new polls and the results once they are out, so don't forget to bookmark this!