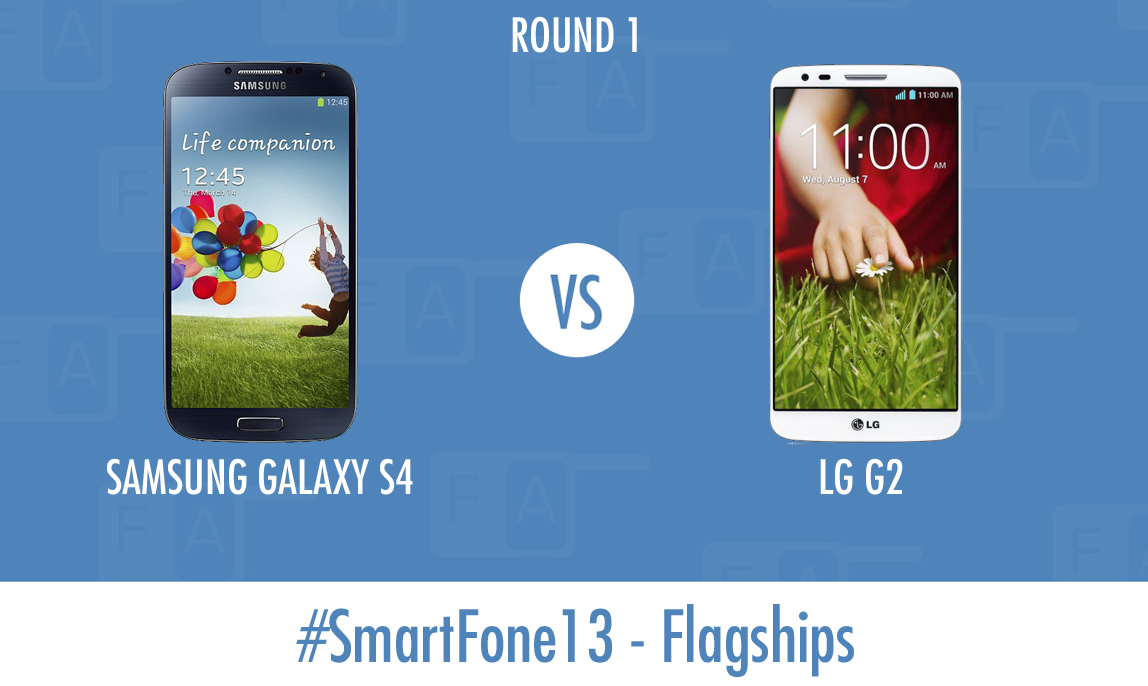 As a part of the SmartFone 2013 competition, which we are running for flagships and budget devices simultaneously, today marks the initiation of the Round 1 polls. Over here at the flaghips side, we have the polls between the two Korean consumer electronics conglomerates – Samsung and LG. Wanting to be in every household, these devices from the world's largest consumer electronics companies tick every check list item for a flagship device, with one of them even bucking the trend with weird back facing buttons. So, which one these two is your pick? Vote in our poll below.
The Samsung Galaxy S4 was announced back in March while the LG G2 was announced in August, and both are clearly positioned against each other. This game has been going on for a while, in fact right from the Galaxy S, these companies have been always releasing competing devices with almost the same specifications, with Samsung edging LG out through its slightly better specs and marketing muscle, but the former has changed this time around. Here is a quick look at the specs of both the devices –
Samsung Galaxy S4 Specifications
5-inch Full HD (1920×1080 pixels) Super AMOLED display at 441ppi
1.9 GHz Quad-Core Processor / 1.6 GHz Octa-Core Processor
Android 4.2.2 (Jelly Bean)
13MP rear camera with LED Flash, Zero Shutter Lag, BSI and Full HD video recording
2MP front-facing camera
7.9 mm thick and weighs 130 grams
2GB RAM, 16GB / 32GB / 64GB internal memory,  expandable up to 64GB with microSD
Infrared LED for smart TV remote
4G LTE LTE Cat 3 100/50Mbps) / 3G (HSPA+ 42 Mbps), Wi-Fi 802.11 a/b/g/n and a/c, Bluetooth v 4.0, MHL 2.0, GPS/GLONASS and NFC
2600 mAh Battery
LG G2 Specifications
5.2-inch (1920×1080 pixels) Full HD IPS display at 423 ppi
2.26 GHz quad-core Snapdragon 800 (MSM8974) processor with 480 MHz Adreno 330 GPU
Android 4.2.2 Jelly Bean
Dimensions – 138.5 x 70.9 x 8.9mm, weight: 140g
13MP rear camera with LED Flash, OIS, 1080p video recording at 30 fps
2.1 MP front-facing camera
2GB DDR3 RAM, 16GB / 32GB of internal memory
4G LTE / 3G HSPA+ 42Mbps, WiFi 802.11 a/b/g/n, Bluetooth 4.0 with A2DP, GPS / aGPS
3000 mAh battery
You can check our reviews for more information – Samsung Galaxy S4 review, LG G2 Review
As you can see above, the differences are pretty distinctive this time. The G2 has a slightly larger display, but manages to keep the dimensions similar in terms of width and an edge-to-edge display. And yeah, there are those buttons on the back too. The LTE version of the Galaxy S4 is  Snapdragon 600 while the G2 comes with Snapdragon 800 by default. The Snapdragon 800 is much faster than both the Exynos Octa and the Snapdragon 600, giving the LG G2 a slight edge. Also, we have a better camera with OIS, a bigger and longer lasting battery. So hardware wise, the LG G2 pretty much speaks for itself. It is worthy to mention that the G2 has one of the best LCD displays too, making the AMOLED counter argument futile. Software wise both were similar on release but the S4 has already got the 4.3 update while G2 hasn't got it yet. LG's track record in software updates is pretty disappointing so we don't even know what to expect.
Anyways, both the Galaxy S4 and the LG G2 have their own advantages and disadvantages, but which one is your favourite? Vote for which one of them you think is better, here –
 The LG G2 wins this round by a huge margin!
You can check here for the current standings and all the information on the #SmartFone13 for flagships. Do let us know what you think in the comments section below, and share this with your friends so they can vote too!