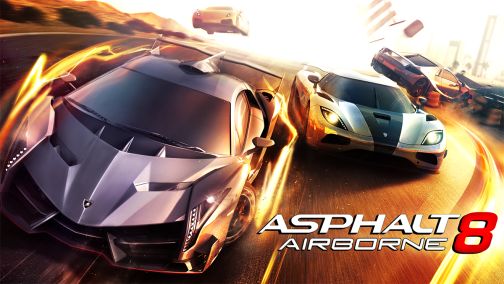 Earlier this year, it was announced that the very popular game, Asphalt 8, would be making its way over to the Windows Phone 8 platform soon. The arcade racing game is now available on both the Windows Phone 8 and Windows 8 platforms. The USP of the driving game is the ability to perform dynamic, high speed aerial stunts in an intense driving experience. 
Feature of Asphalt 8: Airborne
Drive 47 high-performance cars (80% New!) from Lamborghini Veneno, Bugatti Veyron, Ferrari FXX and Pagani Zonda R
Newly recorded high-fidelity motor sounds for realistic audio immersion.
Hit the ramps and take the race upward, Perform barrel rolls and wild 360 degree jumps and Maneuver through the air while pulling off stunts
9 different settings like Venice, French Guiana, Iceland, the Nevada Desert & other exciting locations!
8 seasons & 180 events in the Career mode
Stunning visuals with next-gen shaders, real-time geometry reflection & other amazing effects
Simultaneous multiplayer action for up to 8 opponents!
Tracks from Bloc Party, Mutemath & The Crystal Method!
The game has been priced at Rs. 55 for Windows Phone 8 while the Windows 8 version is available for Rs. 100. You can get the Windows Phone 8 and Windows 8 versions of Asphalt 8: Airborne by clicking through.