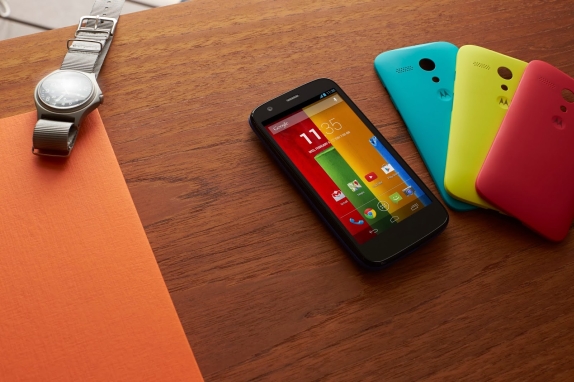 Motorola just officially announced the Moto G at an event in Sao Paulo in Brazil and also holding a satellite event in London where we should be getting our hands on the Moto G shortly. The company has also confirmed that the Moto G is indeed coming to India as soon as January 2014. The device is priced at an aggressive $179 price  for a 8GB unlocked version in the US without any contract of any sort. The 16GB version costs just $20 more at  $199. The India pricing is not yet available but we expect it to be announced closer to launch and hopefully under Rs.12500 which is probably one of the cheapest Android phones from an international handset maker.
The main features of the Moto G include
4.5 inch 720p HD display
Qualcomm Snapdragon 400 Quadcore processor
Customizable back covers
Water resistant coating
5MP Camera
FM Radio
8GB/16GB internal memory
Ships with Android 4.3 Jellybean and 4.4 KitKat update coming in Jan 2014
As you might be aware Motorola Mobility is owned by Google and Motorola pulled out of India some time back after the acquisition. I know that Motorola still has plenty of fans in India but would you buy a Moto G ? Can Motorola make a comeback in India with the Moto G?  Stay tuned for our upcoming editorial about it.