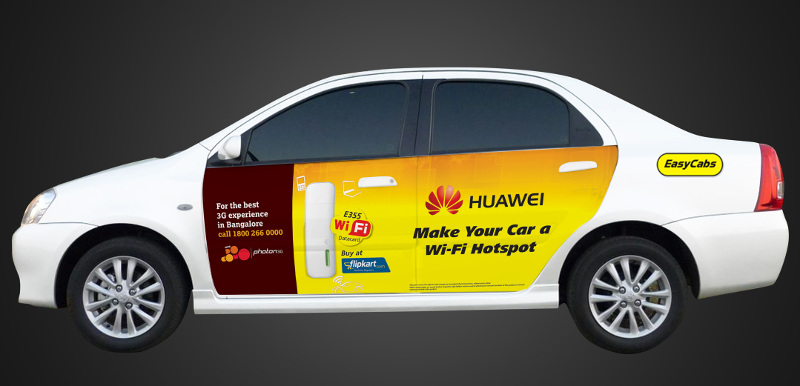 Huawei, popular for its smartphones and data cards in India has partnered with Tata Docomo to offers free Wi-Fi in-cab connectivity for the passengers of EasyCabs Bangalore at no charge. This lets users enjoy Wi-Fi using Huawei's E355/ E8131Wi-Fi data card with Tata Docomo Photon 3G while on-the-move.
The Huawei E355 data card was launched in India last year. The E355 and E8131 supports WiFi creates WiFi hotspot when plugged into laptops, wall power mains or in car chargers.
 Last year GoCarz partned with Airtel to offer free in-cab Internet.
Announcing the consumer initiative, Victor Shan Huawei Device India President, said
Internet access is becoming mainstream as people are spending more time on their mobile devices and exploring new possibilities. At Huawei, we aim to foster connectivity and help consumer access information in the most convenient way. Taking a step in this direction, we are happy to announce Free Wi-Fi connectivity on the go in Easy Cabs, powered by Tata Docomo Photon 3G and enabled by Huawei E355/ E8131 WiFi data card.
Talking about this alliance,  Sunil Tandon, Head-Non Voice Services, Tata Docomo said,
Tata Docomo has been at the forefront of providing a superior internet experience to its customers. Through Huawei's data card services available in EasyCabs across the city, the commuters can experience wi-fi using Tata Docomo Photon 3G, on-the-move and at no charge. With this, consumers can download movies, watch videos, watch live TV, make video calls, access high speed internet and enjoy seamless live streaming.
Passengers in Bangalore can avail this offer in 100 EasyCabs at present, which would be expanded gradually. The offer would be valid for a period of 90 days starting today, in Bangalore. Huawei has partnered with Flipkart to sell their data cards in over 200 cities and towns across India.