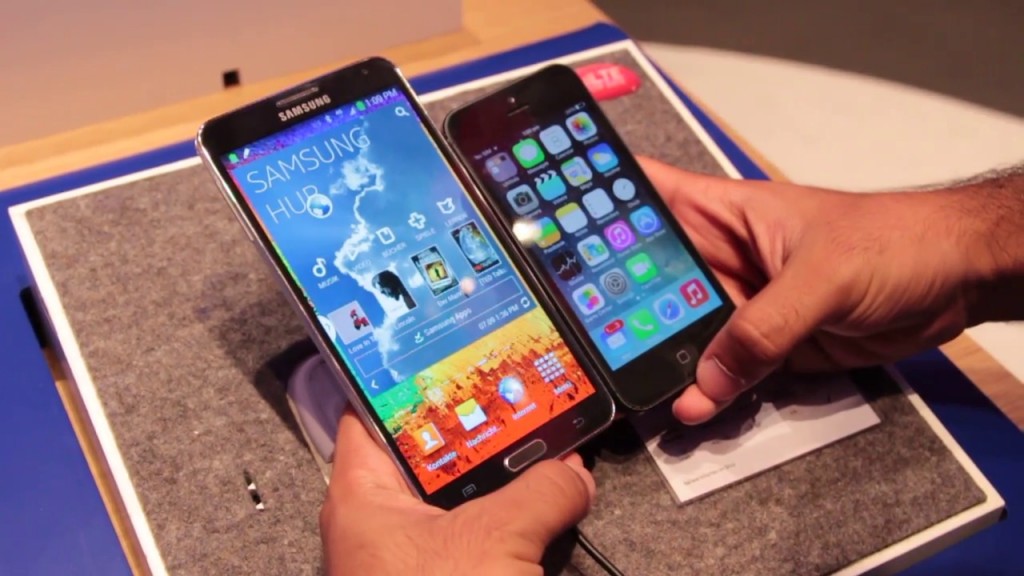 With the next iPhone(s) scheduled to launch in just a few hours, we took the liberty of comparing the Apple iPhone 5 with the just launched Samsung Galaxy Note 3, because for all you know, the 5S might just be a slight upgrade over the 5. That said, the Galaxy Note is possibly the most technologically(read: hardware) advanced smartphone right now, so how does it fare in comparison with the most popular smartphone on the planet? Watch our video for a quick hands on comparison.
httpv://www.youtube.com/watch?v=xc9PcQRkMHk
As you can see from the video above, the size comparison is really mind blowing. The Note 3 with its huge 5.7 inch full HD screen is massive, making the iPhone look like a small toy. But talking of toys, the glossy glass and the plastic sides make the Note 3 a bit cheap in comparison with the iPhone 5's beautifully built metallic body. But of course durability on the Note 3 is better, especially thanks to the replaceable faux-leather back. Oh, and removable back cover means removable battery and micro SD card slot, both of which have been absent on the iPhone since time immemorial.
The specifications are also massively apart in terms of generation on both the phones, but they are very capable no doubt. The Note 3 has 3 times the RAM as the iPhone 5, and the resolution too is higher, so it kinda balances out between the both. The iPhone 5 with its lower resolution screen can still produce stunning graphics thanks to the powerful GPU, much like the Note 3 and its Mali 6XX/Adreno 330 combination.
The software running on both the OSes is also poles apart. One is constrained and the other is extremely feature rich and extensible. Guess it is just a matter of choice when it comes to operating systems. Some prefer the no-fuzz UI and the still one-up count in the variety of apps available for the iPhone, and with iOS 7 bringing in better design and more features, it is going to be exciting to see how it fares in the real world vs Android. The Note 3 runs on the latest version of Android though, 4.3, one of the first OEM devices to do that, but with Google just announcing Android 4.4 KitKat, we feel it might have to catch up yet again.
Alright, that's it for our quick hands on comparison. We obviously have more to say, but given the lack of time, we decided to do it when both the devices get to our labs. By that time, may be we will test it with the new iPhones, may be. so, stay tuned to our blog, and await the new iPhone announcement tonight. Let us know if you have any questions in the comments section below.