The two current flagships from their manufacturers, the Sony Xperia Z1 and the Lumia 1020 put up a good fight against each over photography. Sony announced their flagship, Xperia Z1 at the IFA 2013 in Berlin earlier in the month while Lumia 1020 was launched in July. You can check out our quick hands-on comparison video of the Xperia Z1 and Lumia 1020 right below.
httpv://www.youtube.com/watch?v=XsZilVUVUd8
Sony Xperia Z1 comes with a 20.7 MP camera supported by Bionz Image processor and comes in package that is not so different from the Xperia Z. The Lumia 1020 on the other hand comes with a 41MP PureView camera and looks quite similar to the other Lumia phones in the series. The USP of both these devices is there camera and each of them are equipped with amazing cameras. Like previous Sony flagships, the Xperia Z1 is water and dust resistant.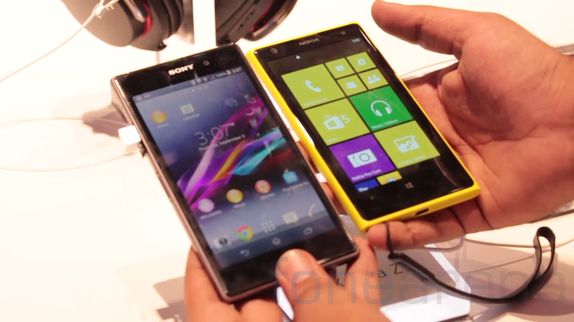 Sony Xperia Z1 runs on Android 4.2 Jellybean while the Lumia 1020 runs on Microsoft Windows Phone 8 OS. Both the OS are very different in terms of UI and features. Sony's Xperia Z1 is powered by a 2.2GHz quad-core Snapdragon 800 SoC, Adreno 330 and has 2GB RAM while the Lumia 1020 has 1.5GHz dual-core Snapdragon processor, Adreno 225 GPU and 2GB RAM. Xperia Z1 comes with 16GB internal storage and microSD card slot while the Lumia 1020 has only 32GB internal storage and no microSD card slot. Xperia Z1 has a very big 3000mAh battery when compared to Lumia 1020's 2200mAh battery.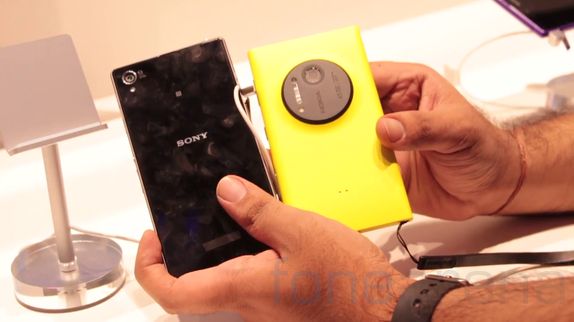 What do you think of both the phones? Which one would you prefer? Do let us know in the comments below.
Video credits to Varun