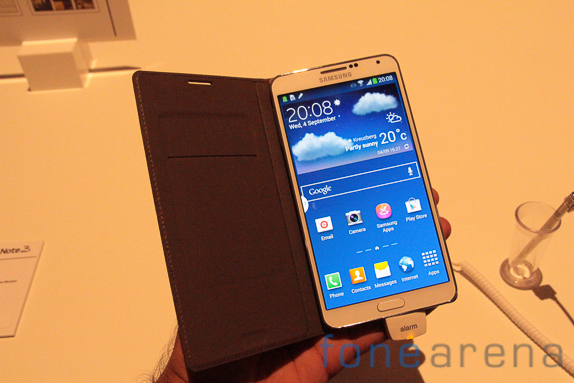 Samsung today unveiled the next chapter of its Galaxy Note line of devices. With an even larger display stuck inside a shell that is the same size as before, Samsung has some interesting industrial design going here. Over at the back is a faux leather material that makes it a bit more comfortable to hold.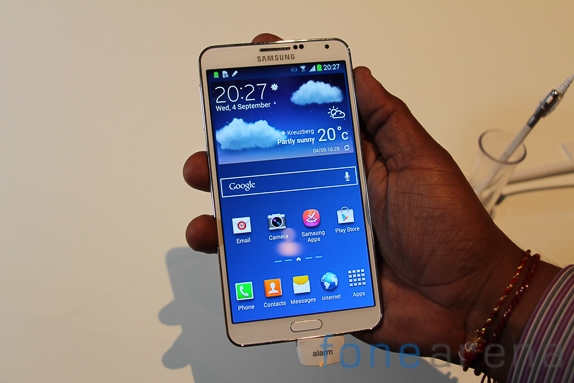 The front of the device is dominated by its 5.7 inch display. The screen is of the AMOLED variety and has a resolution of 1920 x 1080. Below it is a hardware home key that has capacitive buttons flanking it on either side. Over on the top is 3.5mm audio jack alongside the iR port while on the right side of the handset is the power key. The volume rocker on the other hand is placed on the left side of the handset.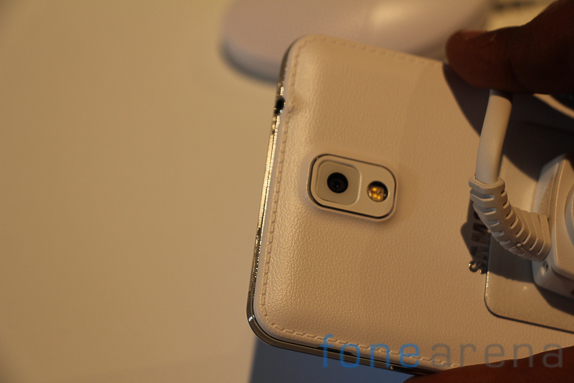 The back of the phone has a faux leather material with a 13MP camera onboard. There's a single LED flash below it. The Note 3 is one of the first devices to be able to capture video in 4K resolution. This is facilitated by the Snapdragon 800 processor onboard clocked at 2.3 Ghz. Accompanying it is 3GB of RAM which is perhaps the highest we've seen yet on a mobile device. The love-hate relationship with TouchWiz continues though this time the OS under the hood is Android 4.3. The handset will retail in 32 and 64GB variants and it is possible to expand that storage via the microSD card slot built in. We'll have our hands on report shortly but in the meanwhile here are some additional images for your viewing pleasure.