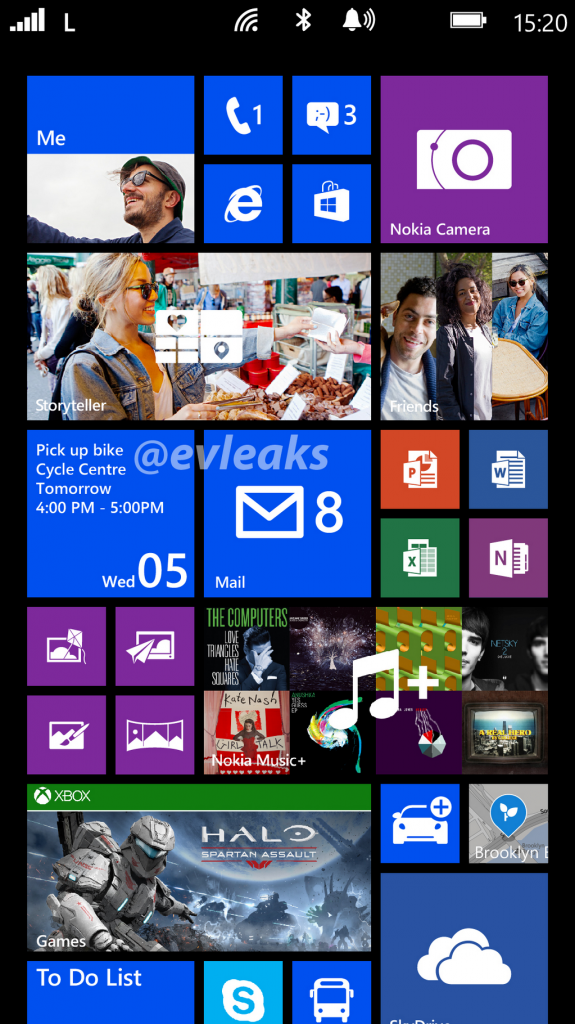 EVLeaks, the guy known for most leaks these days has revealed yet another interesting bit of information today, pertaining to the future of Windows Phone. On the day of the huge Microsoft-Nokia announcement, this leak comes as something to look forward to, but then after taking a single glance at it will be quite the opposite of a reaction. Yes, what you see above in the leaked image is an indirect confirmation of the existence of Nokia Lumia 1520 codenamed "bandit" and a quick look at the cluttered look of the Windows Phone GDR3's 1080p supported start screen.
At first glance, you can notice that the cluttered start screen has an extra column of medium sized tiles that occupy the screen. The screen comes at a resolution of 1920×1080 which confirms the fact that Windows Phone GDR3 exists and is in the works, and also tells us that it might not be easy on the eyes. There is an overload of information on that screen in our opinion, but that's quite subjective we agree.
Other things that you can notice on the start screen are the new pinnable Office apps, Word, Excel, and Powerpoint, along with one other new app called the Story Teller. Other than that, the audio icon seems to have a change, but otherwise we can't find anything to be really excited about. Might be the fact that we are just grumpy after the whole Microsoft Nokia announcement this morning.
Anyways, can you find anything else? Are you really excited for a 6 inch Lumia 1520, even after today's announcement? Let us know in the comments section below!
Source Evleaks