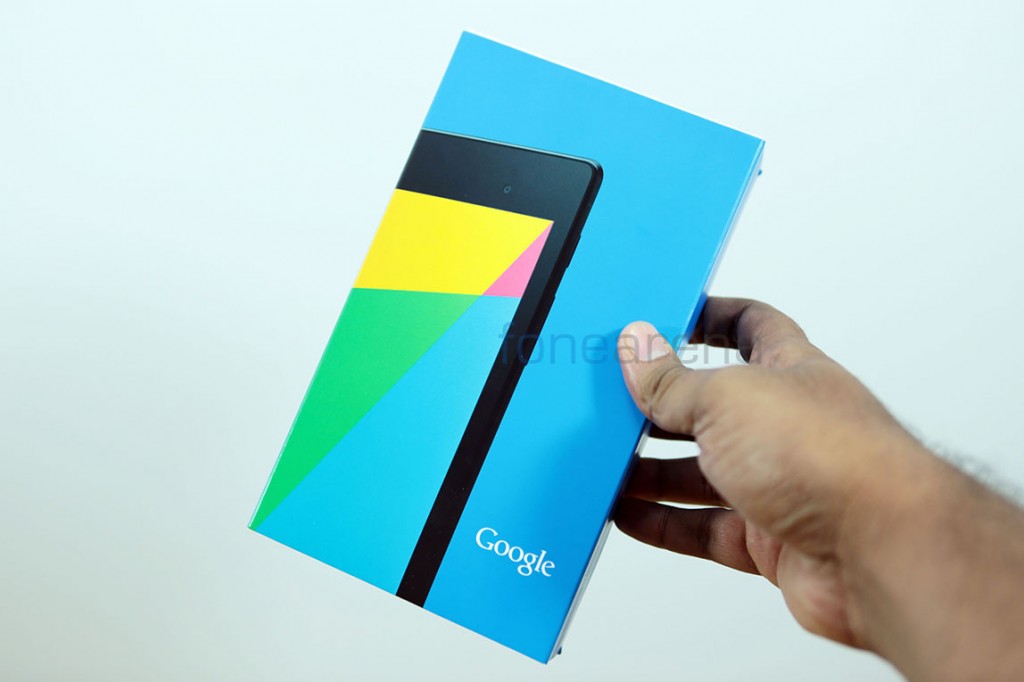 The all the new Nexus 7 2013 edition just landed at FoneArena and we thought we will bring you one of the first unboxings from India.The new Nexus 7 is priced at $229 and has gone on sale in the US and is expected to come soon to India but not in the immediate future.Like the previous Nexus 7 , this tablet is also manufactured by Asus for Google and sold by Google directly.The main highlights of the 2013 Nexus 7 are the design including the massive Full HD display and the change from a Nvidia Tegra 3 processor to a Qualcomm Snapdragon S4 Pro processor. This Nexus 7 is the first Android device to ship with Android 4.3 JellyBean out of the box which is now also available for several other devices.
Here is the video of the unboxing below
httpv://www.youtube.com/watch?v=Fh93yB3mktw
The packaging is pretty simple but strikingly different from the previous gen Nexus 7. The box has blue written all over it and it is also a lot thinner than the previous Nexus 7 box.
Box Contents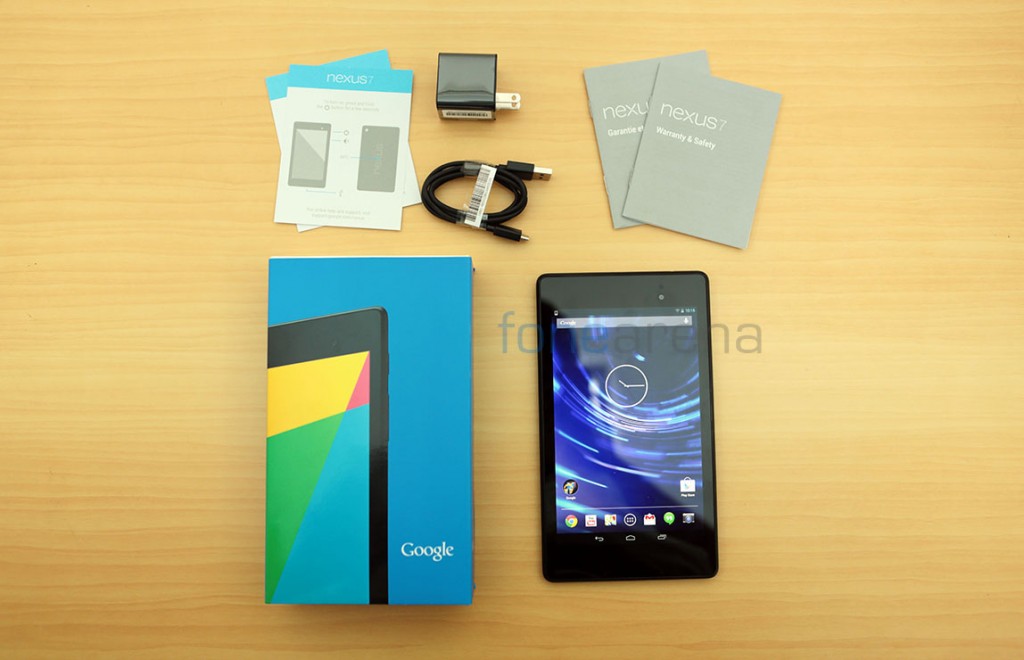 Nexus 7 with 3950 mAh battery and 16GB of internal storage(11.9GB usable)
AC adapter
microUSB cable
Warranty and Safety information in both french and english
Initial Impressions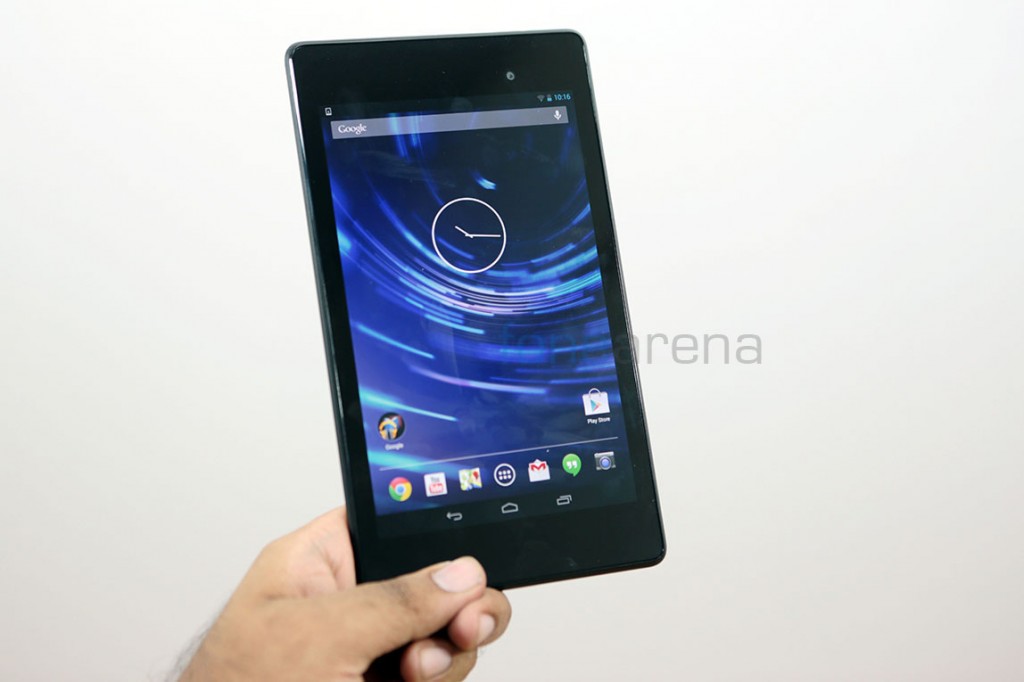 The device totally feels like an improved Nexus 7 and this is evident from the jaw dropping display and the faster processor and the slimmer design.The pixel density is crazily high at 323 PPI considering it is a 7inch display with a 1920×1200 pixel resolution.It is barely 8.65mm thick and weighs just 290g which is a welcome change from the bulky and heavy previous gen device.
The CPU has gotten a switch to Qualcomm Snapdragon S4 Pro from the previous Nvidia Tegra 3 so we could expect better battery life and overall performance.11.90GB out of the 16GB of inbuilt  16GB of storage is user accessible.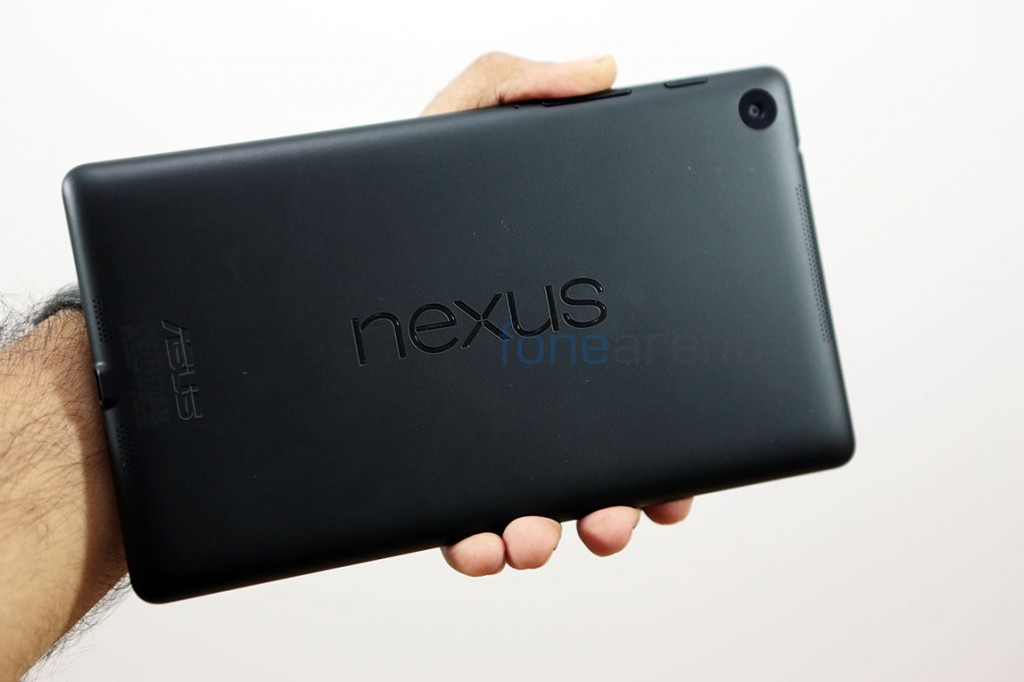 Wireless charging is a nice bonus considering a tablet finds its place on a desk for the most part.The dual speakers on this tablet produce some quality audio output and it is definitely a lot better than the output of the Nexus 7 2012 . While the unit we are playing with is a WiFi only version, there is a LTE version which is in the works and expected to go on sale soon. If you are road warrior and don't have easy access to a WiFi network , we would recommend you to wait for the LTE version to come out as it would support 3G in most places.
The new Nexus 7 is one hell of a device for the price of $229 . It is worth buying just for that awesome looking screen and stock Android / Nexus experience but we would exploring the device throughly in our review , so stay tuned !
Here is the photo gallery with some more photos