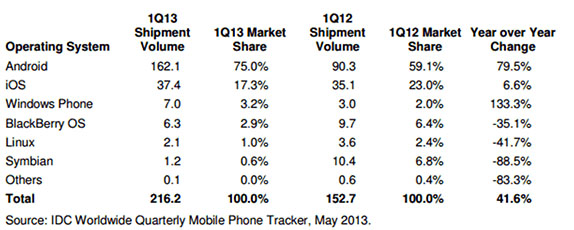 Previously, a month ago, IDC released statistics for the whole mobile phone market, which highlighted the smartphones overtaking feature phones for the first time ever in the first quarter of 2013. Now, they have revealed the marketshare of smarphone platforms, which makes for a very interesting analysis altogether. Android has kept on soaring with a 79.5% change YoY, and a massive 75% marketshare, a number even the yesteryear Symbian failed to achieve with its massive presence. The total shipments of 162.1 million devices is in line with what Google announced last night, of the 900 million activations till date.
Apple, while at a distant second place with just 17.3% marketshare rules the smartphone market together with Android, taking over 92.3% of the whole smartphone market. The surprising addition and change here is from Windows Phone, which has finally leapfrogged BlackBerry with a measly 3.2% marketshare and a whopping 133.3% growth change YoY.
It looks like Windows Phone has grown at the expense of BlackBerry and the overall growth of the Smartphone market which has grown 41.6% YoY. Symbian has taken a huge hit from, as expected with shipments coming to a halt, almost. At 3.2% and steadily growing, Windows Phone is probably cementing its place as the third ecosystem now. It is a testament to the Nokia Lumia sales which have been strong even in the usually dull first quarter of an year. It is curious to see Apple has lost a lot of marketshare owing to lack of quick updates and generally lagging behind Android in terms of features and general perceived "cool"ness.
With iOS7's impending release, will Apple make gains in the 3rd quarter? Time will tell. Also, will Windows Phone maintain the lead over BlackBerry? The next few months should be exciting as ever, let the games begin!