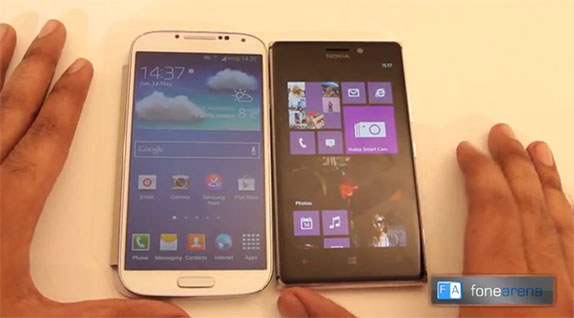 As you know by now, we are live from the Nokia Lumia 925 launch event in London, and we have had some hands on time with the device today. After we were done with the Nokia Lumia 925 photo gallery, we thought it might be fun to compare it with the other leading flagship devices like for example, the Samsung Galaxy S4. So, yes, we did compare the Nokia Lumia 925 with the Samsung Galaxy S4 and this is how it turned out –
httpv://www.youtube.com/watch?v=7tKw40HHZSk
Moving from a strict polycarbonate diet, the Lumia 925 is thin and light and is now made of an aluminium frame and a polycarbonate backing. Compared to the Galaxy S4, the Nokia Lumia 925 feels far more premium with better materials overall. With a volumetric thickness of 8.5mm and weighing 139g, the device is almost equally thin as the Galaxy S4, which at 8mm of thickness and 133g of weight is slightly thinner and lighter. Both are impressive OLED displays, with the Galaxy S4 sporting a full HD Super AMOLED 1920×1080 display at 441 ppi while the Nokia Lumia 928 sports a 4.5 inch OLED at 1280×768 resolution and around 332 ppi.
Probing into other aspects of the design, we feel that the Samsung Galaxy S4's removable battery cover is a bit of an advantage, while the non removable back cover gives more rigidity to the Lumia 925. Inside those covers reside the batteries, of which the Lumia 925's has a 2000 mAH capacity while the Galaxy S4 has a 2600 mAH battery. On the software front, both are vastly different, with the Lumia 925 running on Windows Phone 8 and the Galaxy S4 running on Android 4.2.2 Jellybean.
The camera on both these phones are good. The Lumia 925 has a 8.7 megapixel camera with dual LED flash, OIS and full HD video recording while the Galaxy S4 has a 13 megapixel camera, with a dual LED flash and full HD video recording. The 925 is slightly updated from the 920 with maximum ISO of 3200 and a 6th physical element added to the lens.
We are stopping here, as we have a lot more to talk when we try out these devices again for an in-depth comparison. So, stay tuned for more Lumia 925 coverage from us, till then, keep looking at the Lumia 925 photo gallery, eh?
Credits to Varun Krish for the video