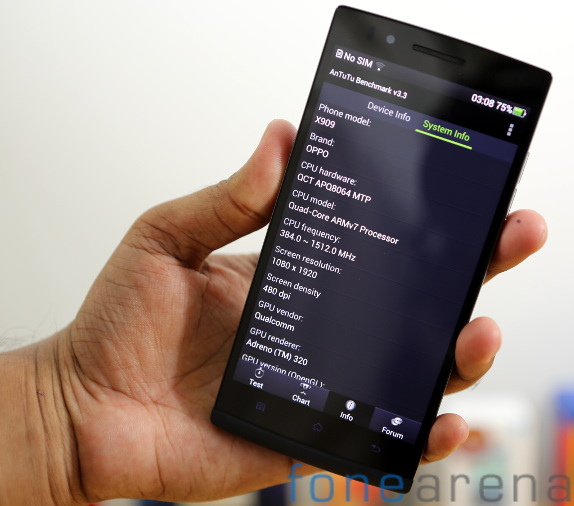 Note: The scores below are based on pre-release firmware. We will update the scores when the final firmware is out.
Oppo unveiled the Oppo Find 5 (X909), one of the first smartphones with a 1080p display back in December 2012. It is powered by a quad-core Qualcomm Snapdragon S4 Pro APQ8064 processor clocked at 1.5 GHz with Adreno 320 GPU. It runs on Android 4.1 (Jelly Bean). We got some hands-on time with the device at the MWC 2013 earlier this year, and brought you the unboxing earlier today. Here we have the benchmarks of the devices. Let's see how it performs when compared to other quad-core Android smartphones.
Quadrant Benchmark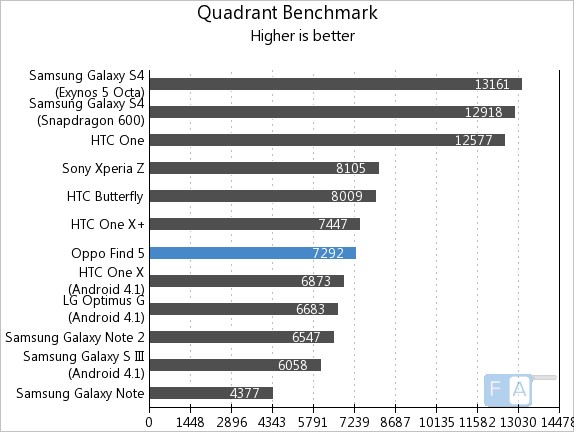 The Oppo Find 5's performance is better than the Optimus G, but it couldn't beat the HTC Butterfly. All these phones are powered by the same Snapdragon chip.
AnTuTu Benchmark 3.3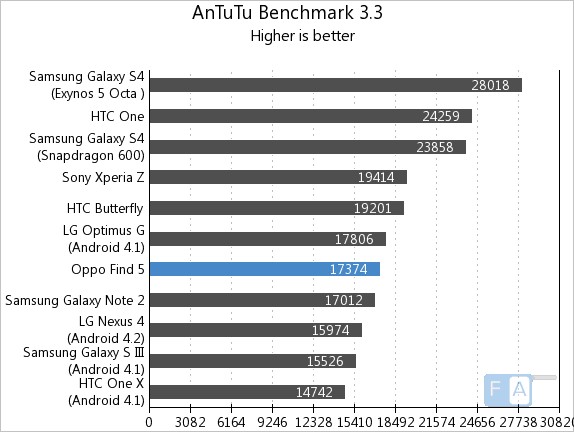 Here the Optimus G has an edge over the Find 5 by few hundred points.
Vellamo 2.0 (HTML5)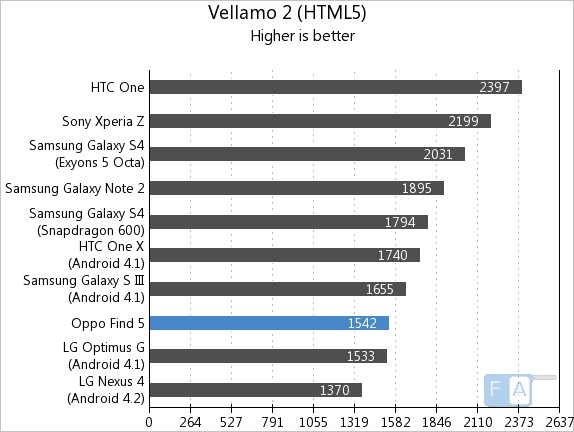 The Oppo Find 5 scores 1542 points to the Vellamo HTML5 browser bechmark.
Vellamo 2.0 (Metal)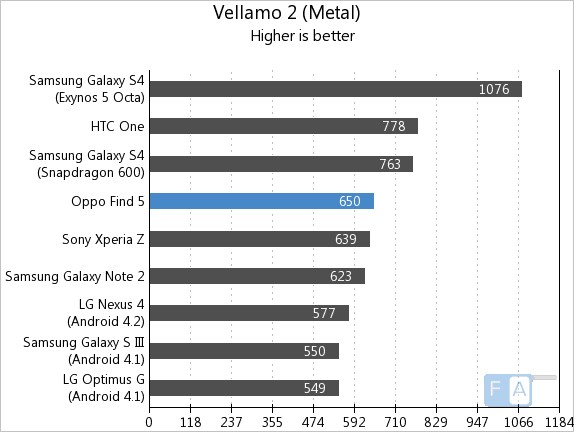 The Find 5 is in the 4th place with 650 points in the  Vellamo Metal CPU subsystem performance benchmark.
Linpack (Single Thread)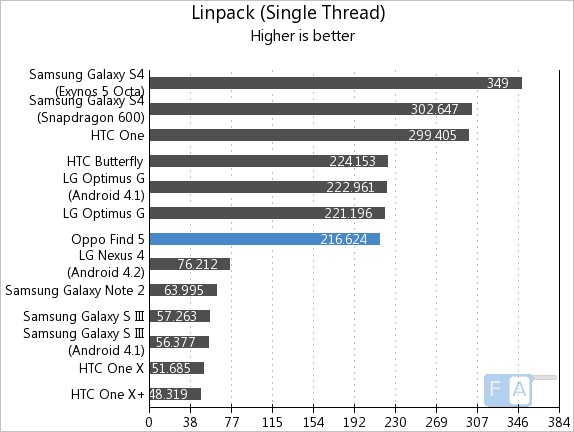 Here the performance of the Find 5 is similar to the Optimus G and the other Snapdragon S4 Pro-powered devices.
Linpack (Multi-Thread)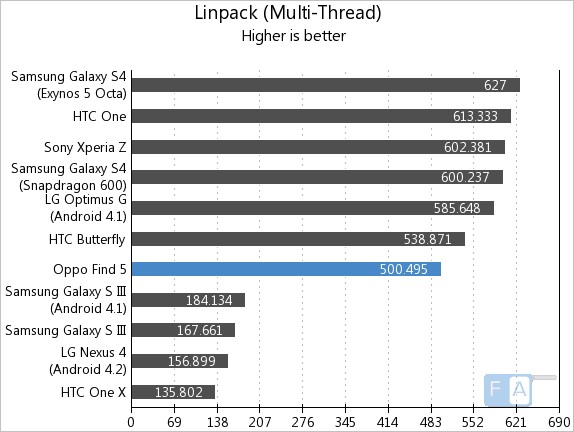 In the Linpack multi-thread benchmark, the Find scores 500 points .
NenaMark 2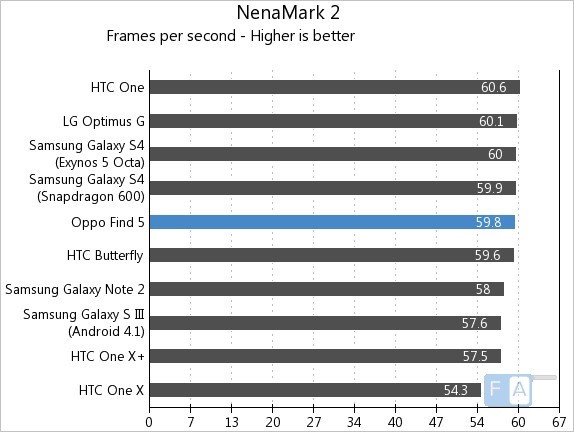 The phone clocked 59.8 fps in the Nenamark 2 GPU benchmark.
Basemark X (On screen)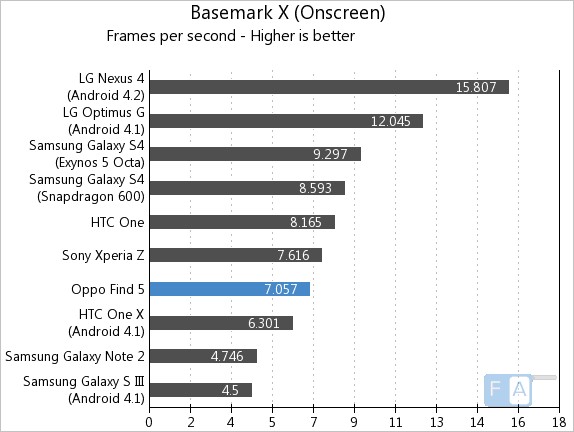 The Basemark X onscreen score is better than the HTC One X.
Basemark X (Off screen)
The Basemark X offscreen score is better than the Xperia Z.
GLBenchmark 2.7 T-Rex HD (On Screen)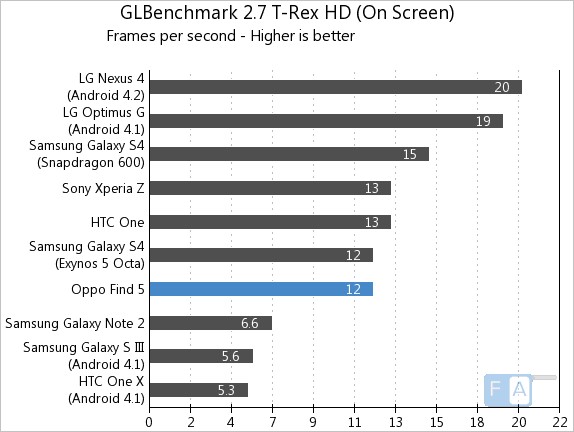 The phone has managed to clock 12 fps in the GLBenchmark T-Rex GPU benchmark.
GLBenchmark 2.7 Egypt HD (On Screen)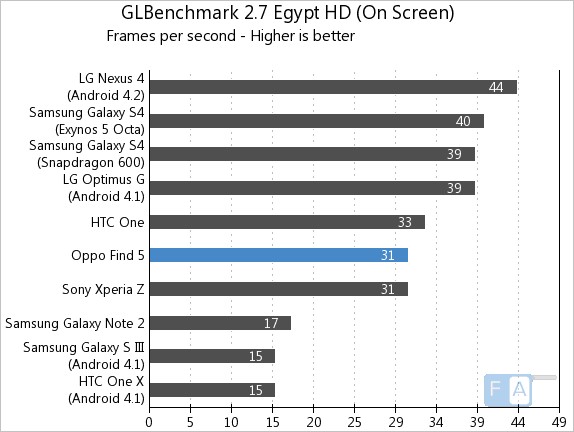 The GPU performance in the GLBenchmark Egypt Onscreen test is similar to the Xperia Z.