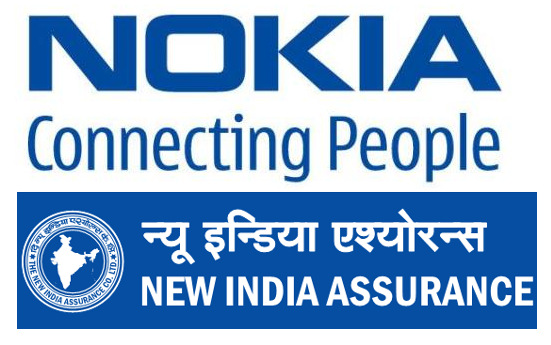 Nokia India has partnered with New India Assurance (NIA), a leading global insurance group, wholly owned by the Govt. of India to launch handset insurance plan. This would let you safeguard your device against thefts, burglary, malicious acts, riots among others, as well as damage. It starts at minimum insurance premium of just Rs. 50, and the plan will cost 1.25% of the purchased handset's value. Consumers purchasing their handsets from a Nokia Branded Retail Store can provide their personal details and receive their insurance certificate, handout and payment receipt to avail this plan.
The plan covers Nokia devices against
Third party threatening to use violence resulting in damage or theft of device
Accidental damage to the exterior/interior components.
Damage caused by external impact on the device due to dropping and/or other deliberate action by third party.
Damage caused by accidental entry of fluid in the device's internal circuitry
Theft & Burglary
Loss of device through housebreaking.
Loss of device riots, strikes and other malicious acts
Theft of device from locked or unattended building, room or vehicle
New India Assurance and Nokia have mutually agreed and tied up with an IRDA Licensed Insurance Broker, which would offer several Value Added Services exclusively to Nokia consumers at a additional fee of Rs. 50 per device irrespective of the device cost.Customers can contact the call centre managed by the Insurance Broker to report claims.
This Value Added service is available in 6 cities including Delhi & NCR, Mumbai, Bangalore, Hyderabad Chennai and Kolkata that includes pickup (within 24 hours of a call being registered) and drop facilities. In case of thefts, consumers will need to file a written report with police authorities and report the loss of SIM to the concerned network service provider and acknowledgement to be furnished.
Cashless service will allow claimants to submit their devices at the nearest authorized service center and have their claims processed. If the damage is within purview of Insurance, the device will be repaired and be delivered back to the consumer at his door step. In the interim period, consumers will also be provided with standby handsets and chargers.
The plan will be available from March 14, 2013 on all Nokia devices purchased through Nokia Branded Retail stores. It would be initially available in Delhi and the National Capital Region, Jaipur, Mumbai, Ahmedabad, Pune, Kolkata, Chennai, Hyderabad, Bengaluru and Cochin.