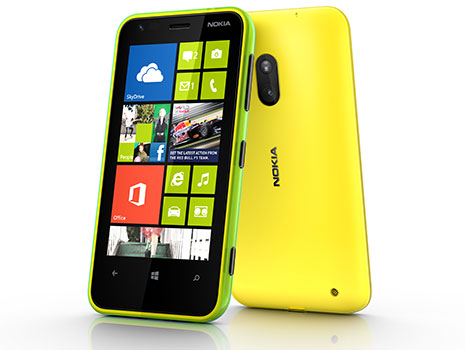 At a press conference in New Delhi, Nokia has launched the much awaited mid end Windows Phone 8 Lumia 620 in India. Nokia had announced the Lumia 620 at the Le Web Conference in Paris last month, and it was the first affordable Windows Phone 8 device from Nokia. The device, with pretty great specs for a mid end device was a surprise announcement at Le Web, and comes with sweet dual coloured polycarbonate variations. It was revealed to the world by Marko Ahtisaari, the principal design head of Nokia.
The highlights of this device are –
3.8 inch WVGA 800×480 TFT display with CBD technology
Seven colours, exchangeable just like the 820
Snapdragon S4+ MSM8227/8627 with Adreno 305 GPU and 512 MB of RAM
8 GB of mass memory and expandable with a Micro SD card slot
5 MP AF camera with 720P video recording and HAAC Audio recording(Rich Recording)
NFC, 3G, Bluetooth with file transfer
Runs Windows Phone 8!
The Nokia Lumia 620 will come in magenta, yellow, cyan, white and black colours. Unfortunately no green and orange colours yet. They are all exchangeable so one day you might get them as an accessory and just slide it on. This is supposed to be the Windows Phone 8 successor of the Lumia 610, which was a sizable hit in India, but came with rather crippled hardware, but the Lumia 620 fixes everything, has double the RAM, a way better processor and graphics, and the most important thing is it runs Windows Phone 8 with no restrictions! Yes, Windows Phone 8 fixes most of the annoyances with Windows Phone 7, especially mass storage mode, NFC sharing, Bluetooth file sharing and what not.
Here is the launch video of the Nokia Lumia 620 –
httpv://www.youtube.com/watch?v=rjG5l6vk8bs
On pricing, the press release bluntly states – "Nokia Lumia 620 price will be announced closer to its market availability. "
With that said, we expect a price of around Rs. 14,000/- to 15,000/-. At that price, it is certainly going to attract a lot of buyers as that price range is a hot segment in the Indian smartphone market. The Lumia 620 will not be available immediately like the Lumia 920 and the Lumia 820, but will be available soon, in early February. Again, no solid dates on availability.
Gaurav also contributed to this report