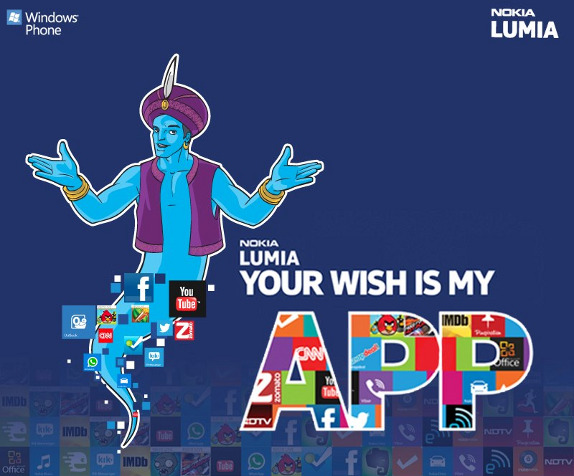 Nokia India, in association with NDTV has launched the Lumia Your Wish is my App contest along with the first ever app reality TV show. This would let you stand a chance to win Rs. 1 million by submitting an App idea for Lumia Smartphones. This contest would see 36 participants fight for the grand prize.  10 winners will be shortlisted, and and top 3 winning ideas would be developed into successful apps for the Windows Phone Marketplace. In addition to the grand prize of Rs 10 lakhs (1 million), the runner up would get Rs 5 lakhs and Rs 2 lakhs each. Rest 7 winners would win 7 Nokia Lumia 920 handsets.
Consumers can participate in the contest by sending SMS to 55555, IVR Call 1800-102-8558 and through Facebook. 3 people would get a chance to present their idea to attending judge at the on-ground festivals across cities of New Delhi, Mumbai and Bangalore. They would gain a wild card entry into the final 50 apps showcased on the reality show.
The Your Wish Is My App festival happens in Bangalore with judge Raj Chinai on 21st December, in Mumbai with judge Vishal Gondal on 23rd December and in New Delhi with judges Rajiv Makhni & Vikas Khanna on 29th December 2012.
This contest is valid till 31st December 2012. The 9 episode TV show will be aired on NDTV starting end January 2013.