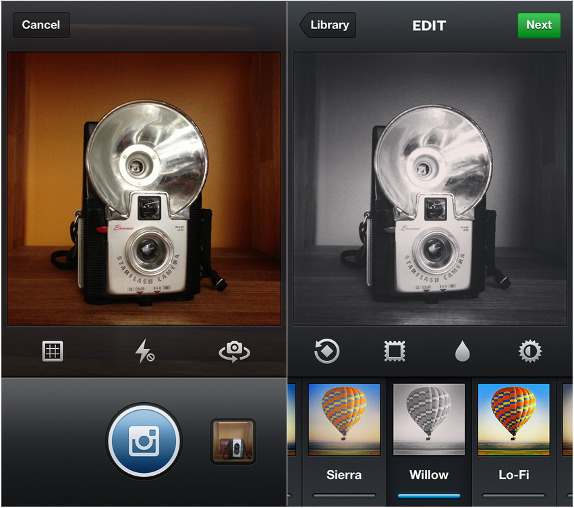 Instagram for iPhone has been updated to version 3.2 that brings new features including a redesigned camera, improved tilt-shift with new algorithm, new filter called Willow, Option to scroll infinitely on user profiles and other grid views and more. This is a major Instagram update for the iPhone since v2.0 update last year.
New features in Instagram for iPhone v3.2
Instagram-themed shutter & shutter release button.
Preview most recent photo on camera roll
Improved Camera Roll image selector (iPhone 5 only) for quick access to your last photograph
Optional grid guide for live photos and a permanent grid guide for the scale & crop screen
New Willow monochrome filter
Improved Tilt-Shift with new blur algorithm for better quality and accuracy
News Feed redesign with larger images
New welcome screen design
Infinite scroll on user profiles and other grid views
Filtered photos are now saved to a separate album called Instagram in the iOS camera roll.
Foursquare button on location pages that opens the Foursquare app with details about the venue
Download Instagram for iPhone from the Apple iTunes Store for free, if you have not downloaded it yet. The new Willow filter is also available for the Android app. This update also include stability and performance improvements for these apps.