The Nokia PureView 808 makes for a rather excellent multimedia centric device with a focus on creating rather than consuming. So if you're out and about on a vacation and shooting with your 808, the last thing you need is a dead battery. While you could carry around a spare, this Mugen Power battery provides an extra 1700 mAh of power resulting in an astonishing 3,000 mAh of battery power for the already efficient Symbian based phone. Read on to find out about our experience with the Mugen Power 3,000 mAh extended battery for the Nokia 808 PureView.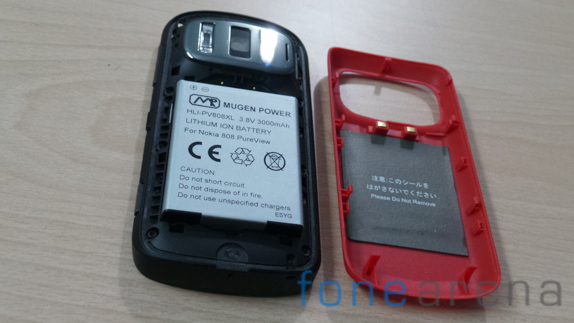 The Mugen battery ships in a standard blister pack with a brief manual alongside informing users how to get the best out of the extended capacity battery.  The battery itself is available in a range of colors matching the different variants available for the Nokia 808. We received the red version which contrasts well with the black design of the phone and is great to look at.
The battery pack delivers 3.8V voltage at 3000 mAh which is a massive jump from the 1400mAh delivered by the original battery. Mugen delivers this by using an exceptionally thick cell which makes the already chubby 808, absolutely massive.
An extra battery cover is provided in the package which makes room for the bigger battery and also integrates the NFC antenna coils ensuring you don't lose any functionality. So how well does the battery perform ? The 3000 mAh claim on the battery seems about right with the Nokia 808 lasting almost three days of extensive  usage on a single charge. We tested it out over the course of a month, allowing the battery to cycle through a few times and to ensure accurate testing. While there is no way to get absolutely accurate stats due to limitations of battery reporting software on Symbian, we were able to chart out average battery life in multiple use case scenarios.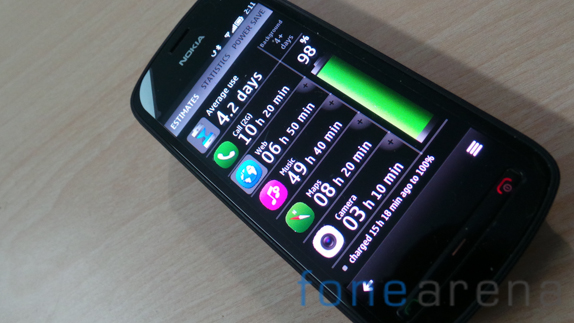 We regularly got about 5 days of light usage and the tool reports over 40 hours of music playback time. All said and done, there is absolutely no way you'll be able to deplete the mugen battery on the Nokia 808 in a day of usage. Priced at almost $98, you pay a lot for the extended battery capacity but it does come in extremely handy when on the move. Go for it if you are heavy user of your 808 and can deal with the added weight and thickness of the handset. You can buy the Mugen battery for the Nokia 808 or a wide range of other smartphones at the manufacturer's website.