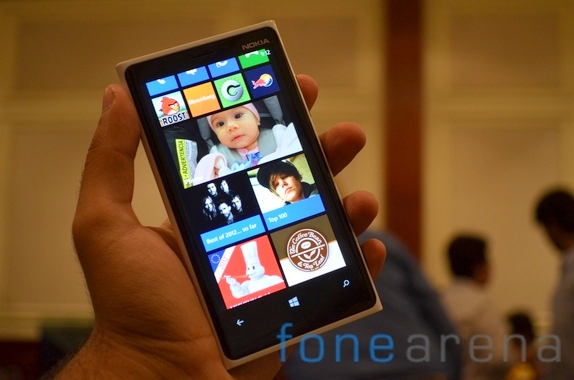 Microsoft is going to show off Windows Phone 8 later today at an event in California. One of the first devices to hit the market that'll run that OS will be Nokia's flagship Lumia 920. It's the first smartphone to feature optical image stabilization, which should deliver ultra high quality blur free photos. It's also one of the first devices to ship with a touch screen that works even when you have gloves on, something that's important in Nokia's home country of Finland. Speaking about Finland, one of the largest consumer electronic store chains in the country, Verkkokauppa, has just announced when they'll start selling the Lumia 920. According to their weekly circular, there's going to be a launch event on November 22nd at 00:01. It'll cost 599 Euros, which is the same price that they'll also be selling HTC's Windows Phone 8X.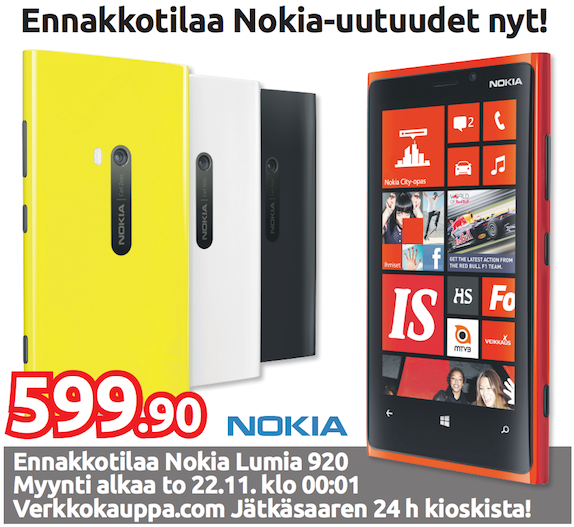 That's the other important Windows Phone to mention, HTC's model. It offers a more compact 4.3 inch form factor, while also managing to maintain the same 720p screen resolution. Translation: It's going to be insanely sharp. Compared to the Lumia 920, the 8X doesn't have wireless charging, and it doesn't have an industry leading camera, but it's thinner and lighter. We can't also but bring up the fact that the Windows Phone ecosystem isn't exactly healthy right now. According to the guys at All About Windows Phone, growth has stalled. And why wouldn't it? Android and iOS absolutely dominate the market. There's no incentive to make WP8 apps.
Like we said earlier, we'll know a lot more about Windows Phone 8 later today, but so far it looks like it's not to be that much different than Windows Phone 7.5. When it comes to applications, Microsoft has yet to issue a publicly available Windows Phone 8 SDK, which means there are going to be little to no applications taking advantage of the new operating system's features on launch.