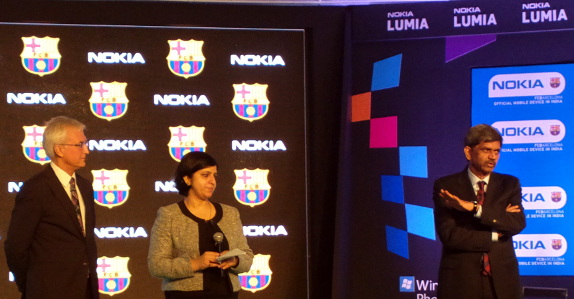 Nokia India has partnered with FC Barcelona to create an engagement platform for the Indian football fans by launching a new brand campaign called 'Tiki Taka with Nokia Lumia'.  The campaign is based on FC Barcelona's famous style of play 'Tiki Taka' and would let the customers engage with their favorite football club.
'Tiki Taka with Nokia Lumia' is aimed at bringing football fans closer to their favorite club, FC Barcelona. It is based on the philosophy of Tiki Taka – sharing, connecting people, being spontaneous and social.
This campaign will run for 6 months, enabling fans to constantly engage with the brands through a variety of forms including digital, television, on ground activation and an exclusive FC Barcelona mobile app on Nokia Lumia smartphones.
The campaign will form a dream team of 11 lucky consumers who will travel to Barcelona to meet the FC Barcelona players and watch the team play at the hallowed Camp Nou.