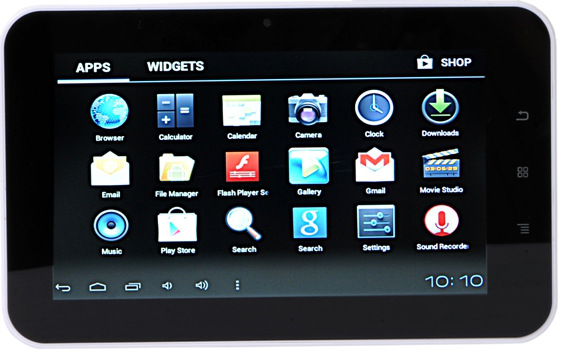 Datawind, the company behind the low-cost Aakash tablets has launched 4 new 7-inch tablets, UbiSlate 7Ri, UbiSlate 7R+, UbiSlate 7Ci an d UbiSlate 7C+. These tablets come with a 7-inch (800 x 480 pixels) display and run on Android 4.0.3 (Ice Cream Sandwich). These are powered by Cortex A8, 1 GHz processor and has 512MB of RAM, 4GB of internal memory and a front-facing camera. Some models also have GPRS data support. These tablets have Ubisurfer-browser with Compression/ acceleration and IE8 rendering.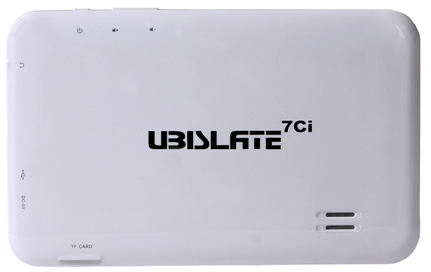 These tablets would have pre-installed apps such as educational apps Sakshat portal, Yahoo! Mail and Yahoo! Cricket, Indian Express app, game based educational modules, interactive smart books and the full CBSE curriculum from Mango learning solutions, TestBag for taking tests and e-assessment and Intelligaia finger tracing apps to teach alphabet letter writing for toddlers.
These tablets would also have Indian language support including Hindi, Marathi, Tamil, Punjabi/Gurmukhi and more from Reverie Language Technologies.
UbiSlate Tablets Specifications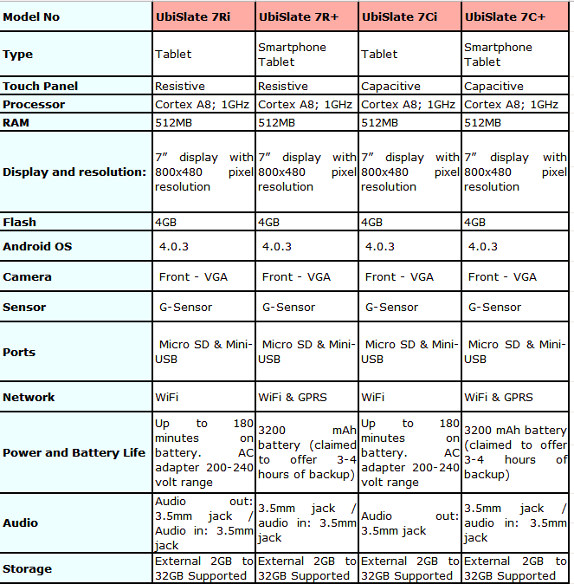 The UbiSlate 7Ri, UbiSlate 7R+, UbiSlate 7Ci, UbiSlate 7C+ models would be available at MRPs ranging from Rs.2, 999 to Rs.4, 499. These tablets would be available from ubislate.com soon.