Samsung launched the Galaxy Ace DUOS (GT- S6802), Dual SIM GSM phone with Dual SIM Active feature in India in June. The design and the features are similar to the single SIM version, Galaxy Ace. Samsung launched the Galaxy Ace DUOS (GT-I589) in India back in February with Dual SIM GSM + CDMA support. You saw the unboxing of the Samsung Galaxy Ace Duos last month, here is the complete review of the device.
Box contents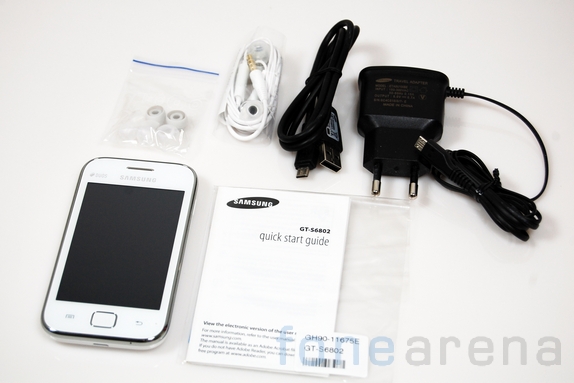 Samsung Galaxy Ace Duos phone
Charger
Micro USB cable
Earphones with ear buds of different sizes
1300 mAh battery
Hardware

The phone has 3.5-inch (320 x 480 Pixels) TFT capacitive touch screen display. The phone is made of plastic with a metal rim running around the front part.

There ear piece is at the top, with Samsung branding below that and Duos mentioned next to that. There no sensors such as ambient light sensor or proximity sensors.

There is Home button at the bottom, below the display along with the menu and back capacitive touch buttons. These buttons are not backlit.

The volume rocker is at the right with a hole for lanyard at the top.

The unlock / power button is at the left.

The micro USB slot is at the bottom with a pin hole microphone in the metal rim.

The 3.5mm jack is at the top

There is a 5 mega pixel auto focus camera at the back with the speaker grill next to it. The Samsung branding is below that.

When you open the shiny plastic back cover, you can find the micro SD card slot that the top which supports cards up to 32GB. When you remove the 1300 mAh battery, you can see the SIM card slots.
Software

It runs on Android 2.3.6 (Gingerbread) with the Samsung TouchWiz UI. The home screen is similar to the other Samsung Gingerbread phone with a weather widget, clock, and number of widgets. You can add up to 7 home screens and long press to add shortcuts, widgets, folders or change the wallpaper. The top status bar shows 2 signal indicators, the one with shaded is the one used for primary data.

You can just swipe anywhere to unlock the screen when locked. You can also set patter lock, PIN lock or password lock from the location and security, under settings menu. The drop down notification bar has shortcuts to toggle WiFi, Bluetooth, GPS, Sound and Auto rotate. You can also switch to SIM 1 or SIM 2 as primary or secondary SIM cards which would let you access data. It also includes find my mobile features that alerts you, when you change SIM card and remotely wipe the data.
There is a total of about 3GB of internal memory (2.15GB mass memory and 900MB for apps) , better than the original Ace that just had 160MB, additionally you can add a microSD card up 32GB. According to the specs sheet, it says 512MB RAM but the task manager shows just 397MB.
Dual Active SIM

This has Dual Active SIM feature with Dual SIM always on feature automatically forwards calls from the phone number on SIM 2, even if a user is on the phone with SIM 1's number. You can access the Smart Dual SIM feature from the SIM card manager under the settings, you need to enable both the SIMs to activate this features. When you enable, it gives a warning that it might not be supported by some service provider, or you may be charged.
Once you enable, you can activate on both the SIMs or either SIM 1 to 2 or 2 to 1. Once you enable both, you need to enter the SIM 2 number in the SIM 1 text box, SIM 1 number in the SIM 2 text box, after which it will wait for settings from the operator to activate call forwarding and call waiting. After it is activated on both the SIMs, once it is active, when you are on a call in either SIM 1 or SIM 2, it would be forward to other SIMs so that you can keep the call on hold to attend the other.
Few things to keep a note is, Airtel doesn't seem to allow call forwarding when busy, so it will not work on Airtel, it works for Vodafone fine, we are not sure about the other operators, better check with your operators before hand if call forwarding when busy and call waiting is supported with the network. There are no chargers for call waiting, but call forwarding would be charged per second or minute based on your network.
Apps
There are a lot of apps in different categories such as Utility apps such as Clock, Calendar, Memo for note taking, Email, News and Weather, My files for viewing files, Quickoffice for viewing office documents, Calculator, Task manager etc. There are Samsung apps such as Maps, Social Hub, ChatON messaging client, Samsung Apps apps store, My Movies and My Movies. There are Google Apps including, Google Search with voice search, Maps, Gmail, Search, Talk, Google+ and, of course Google Play Store, where you can download more apps.
Camera

The 5MP Auto focus camera has different modes such as Single Shot, Smile Shot and Panorama Shot. The colors are not bright but the image quality is decent. Since there is no flash, indoor short are grainy under low light. There is auto focus and macro mode, and some macro shot came out well. Other camera options include, timer, effects (Negative, black and white, Sepia), exposure and several scene modes such as Portrait, Landscape, Night, Sports, Party / Indoor, Beach / Snow, Sunset, Dawn, Fall Color, Fireworks, Text, Candlelight and Backlight.
Here are some camera samples
The video camera can just record videos at 320 x 240 resolution and not even at VGA resolution, which is disappointing. You can adjust white balance and add effects to the video.


Music Player and FM Radio

The Music Player AAC,,AMR,IMY,MIDI,MP3,OGG,WAV formats. There is 5.1 channel audio and several equalizer settings when you use head phones. The loud-speaker is pretty loud. Other features include, repeat, Party shuffle and Playlists. It also has FM Radio with RDS. You can auto tune the radio stations, and add stations to the bottom bar to access quickly. There is DJ-like circle to increase the volume, apart from using the volume rockers.
Calls, Messaging, Browser

The calls went through well, without any dropped calls, and the speaker is also pretty good. There is quick dialing feature, and you can access call longs, favorites and contacts. The contacts menu shows the SIM number, on which the contacts are store, other features include, contact groups, history and activities. The messaging is in conversational view, you can add recent number, contacts and groups to the sender list.
The on-screen Samsung keyboard is pretty small, which is not an easy task for those with small hands, you can also select Swype keyboard by pressing and holding the blank input space or from the settings.

The browser offers tabs, pop-up blocking, java script, passwords, and more. There is no support for Adobe flash. It managed to score 189 points with 1 bonus point out of 500 in the HTML5 test.
Connectivity

The connectivity options include, 3G HSDPA 7.2Mpbs, you can set 3G on one SIM, and 2G on other SIM. You can switch from either SIMs from the drop down notification bar which also changes primary data. Other connectivity features include, WiFi 802.11b/g/n 2.4GHz with WiFi hotspot, Bluetooth 3.0 and it also has GPS / aGPS.

Conclusion
The Dual SIM active feature is definitely a feature that stands out among other Android phones. This is also packed with features but Samsung could have added at least a 1GHz processors to improve the performance. The 1300 mAh battery for a Dual SIM phone, instead of 1650 mAh in the Samsung Galaxy Ace Duos I589 (GSM + CDMA) is disappointing. With both the SIMs active and 3G enable in one SIM, you can hardly make it last throughout the day. After lot of criticisms about the price, now the price is down to Rs. 12,000 which is good for those who are looking for a Dual SIM active phone.
Pros
Dual active SIM
3 GB of internal memory
Cons
No camera flash
Below par battery life