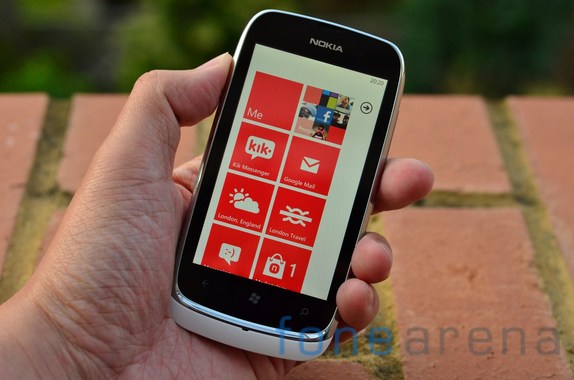 When Nokia announced the Lumia 610 back at Barcelona, it was promised that the handset and Windows Phone Tango will usher in a new era of smartphone. Here was a smartphone that was cheap and still performed well, in theory at least. It was a sound idea, but the compromises were just too big. Read on to find out why.
For an entry level smartphone, the Lumia 610 is well built. The glossy plastic body feels cheap, but at least it feels solid. It actually looks rather like a Samsung Galaxy S3 from the backside and the tacky chrome band doesn't actually help. At least it is an improvement over the Lumia 710's design. While this isn't the prettiest phone I have ever used, the small profile and curves makes it comfortable to hold and use. Maybe Samsung is on to something with that human and nature inspired design of theirs.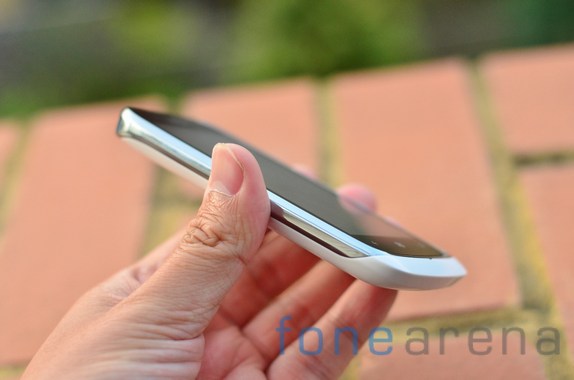 Moving on, as per standard with Windows Phone, you get three touch sensitive hardware buttons on the front. Unlike the Lumia 710, these buttons are well spaced and easy to use. On the right side of the device you will find the now standard 'Lumia' configuration – volume keys, power button and two-step camera shutter button. A 5MP camera with autofocus and LED flash can be found on the backside.
On the top lies a secondary microphone, micro USB charger/sync port and 3.5mm headphone socket. You will be glad to read that the back cover is removable and the battery accessible. Thanks to the lower power requirement of the Snapdragon SoC as well as the operating system, I found I could easily use the Lumia 610 for a couple of days on the same charge with light usage, or a day with heavy use. It easily outlasts the more expensive Lumia 800.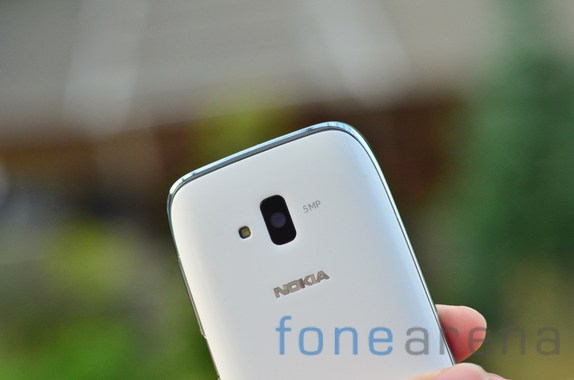 When Windows Phone Tango was only a rumour, there were talks that it will introduce a new lower resolution as standard to Redmond's fledgling mobile OS. I am glad that it did not as the Lumia 610 sports a 3.7″ LCD display with 480×800 resolution. With a pixel density of 252 pixels per inch, the screen is sharp. But because it does not feature Nokia's rather excellent ClearBlack filter, it suffers from being too reflective particularly when used outdoors.
Windows Phone Tango has been optimised to run on an older generation Qualcomm Snapdragon SoC with a 800MHz ARM Cortex-A5-class CPU and Adreno 200 GPU, and 256MB of RAM. The cut down in specs, particularly the RAM bit, has brought some dramatic compromises to functionality and features. Background tasks, for example, is not enabled with Tango, so kiss goodbye to background updates on third party apps. 8GB of none-expandable storage is included for apps and media, which is plentiful for a device of this price. You also get 7GB of complimentary SkyDrive cloud storage.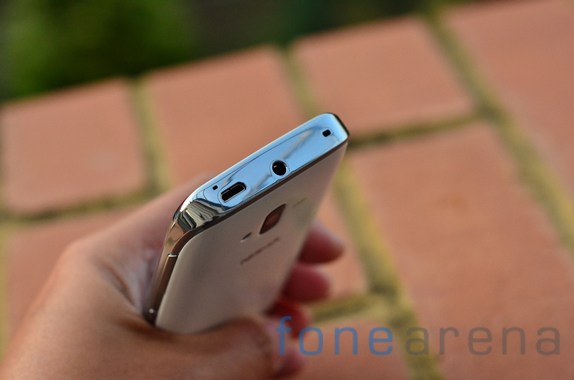 With only 256MB of RAM and the compromises that comes with it, what you have here is a device and OS that felt more like a first generation Windows Phone pre-NoDo device. Now, this isn't necessarily a bad thing, but when you consider how important Live Tiles is with the Mango update and is now a core Windows Phone experience, I do believe that removing such a distinctive Windows Phone feature to be a mistake.
On the flip-side, the Lumia 610 does feature WiFi tethering/hotspot built-in plus a new flip to silence feature. As expected, call quality is brilliant with its dual microphone set up and Nokia's know how  in all things voice calls. Furthermore, the GPS receiver's performance was stellar with both Bing Maps and Nokia Maps capable to getting an accurate lock seconds after launching.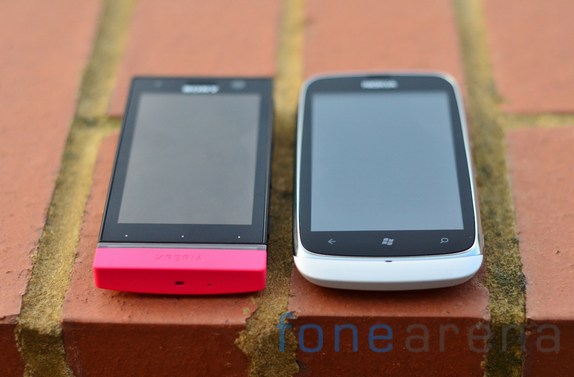 It has been said that the number of none-compatible Tango apps are minuscule to the point that it isn't a huge issue. This is certainly true, but many 'big name' apps and games still won't run on Windows Phone Tango. Most of these apps will run perfectly on a generation one Windows Phone device, so it is disheartening to see apps and games like DoDonPachi Maximum and Angry Birds won't run on the Lumia 610, all because Nokia or Microsoft wanted to see Windows Phone run on 256MB RAM.
App compatibility issues aside, the phone runs smooth otherwise. Built-in apps runs smoothly for most of the part. There are occasional lags to be witnessed, especially when typing and web browsing but scrolling doesn't seem to have suffered. The sleek UI of Windows Phone 7 is still a joy to use even when Live Tiles are only limited to built-in core apps such as People and Me. The keyboard is simply the best default keyboard I have used on any mobile OS.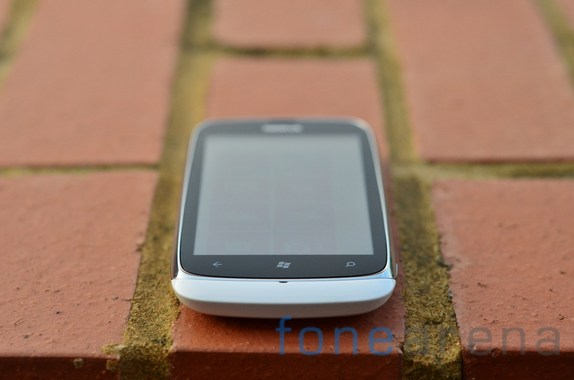 The Nokia exclusive apps are fortunately all present and working properly. In fact, within 15 minutes of unboxing the Lumia 610, I had the Nokia Music app up and running with a few free mixes downloaded and ready to rock my Bluetooth speaker. Nokia Maps, Drive and Transport all work fine, so it is nice to see Nokia not skimming on value added apps.
The 5MP camera isn't ground breaking, but the pictures that came out of it were actually rather usable. It struggles in areas where lighting are an issue, and at times uses the wrong white balance setting. Unfortunately due to the mediocre specifications, the Lumia 610's camera is only capable of recording 480p videos, but the results were still usable. Image samples are embedded in the gallery below.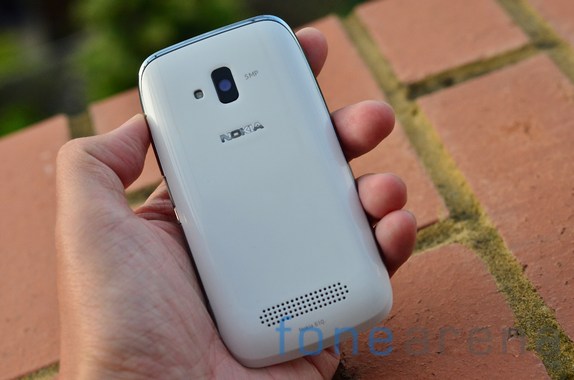 With the Lumia 610, Nokia aims to create a lower price barrier for Windows Phone. It is an admirable task, but one that sadly fails in execution. The race to the bottom strategy is one that Nokia has previously attempted with Symbian, as well as Android OEMs, but I think it is a wrong one. I have never been fond of smartphone platforms running on specifications it wasn't designed for and the feature hits here are just too huge to ignore.
I feel that resources spent at making Windows Phone Tango a reality on 256MB RAM devices were wasted. I know I have used the word compromise a lot in this review, but that is what the Lumia 610 is. It's a phone full of compromises. With Windows Phone Apollo nearing completion, I suspect this will be the first and only Tango device to be ever released by the Finnish brand, and for that alone, I just can't possibly recommend this. If you are in the market for a budget Windows Phone device, get the Lumia 710 or HTC Radar, or check out one of the older first generation Windows Phone devices like the Omnia 7 and HTC 7 Trophy instead.