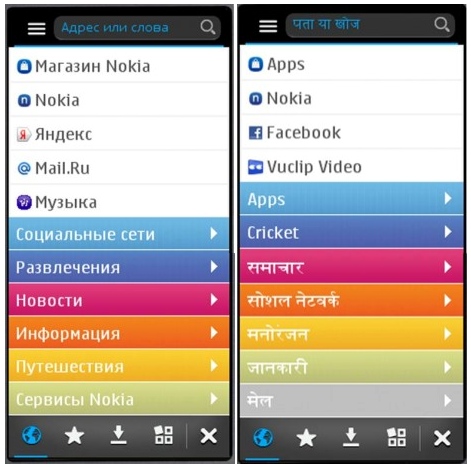 Nokia Browser for Series 40 devices including the Asha Series has been updated to version 2.0 that has new features such as new interface and reduces data consumption by up to 90% that makes browsing faster and consumes less data. 
New features in Nokia Browser 2.0
New interface with one-click access to top, local sites via the Nokia Browser's start page.
Reduces data consumption by up to 90% that loads the page faster and saves data charges.
New and Improved Download Manager that lets you save music, video or pictures on a memory card in the background and queue the downloads.
Multitasking while browsing so that you can switch between text messages and the web.
Install the latest web apps from the collection of more than 10,000, that offer a richer, more desktop-like internet experience.
Share favourite web links, pictures, videos with friends on social networks (Facebook and Twitter) easily from the options menu with One-click share.
The Nokia Browser 2.0 is available for Nokia Series 40 Touch, QWERTY and Non-Touch devices including the Nokia Asha range. This would come pre-loaded on current and all future Nokia Series 40 devices.
Download Nokia Browser 2.0 for S40 devices from the Nokia Store for free. It is also available as optional over-the-air (OTA) download for these devices. It is available in 87 languages in over 200 countries and territories.