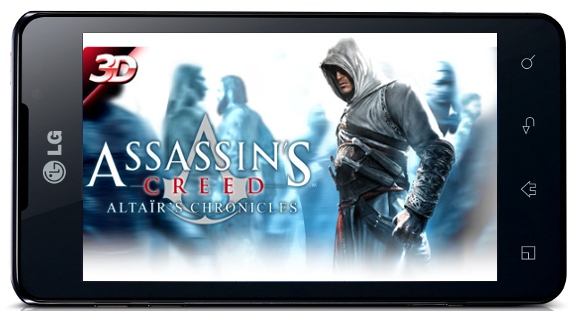 Gameloft has partnered with LG once again to bring several Stereoscopic 3D games for the upcoming LG Optimus 3D Max smartphone. The Optimus 3D came pre-loaded with 3 Gameloft S-3D games last year including several downloadable games. LG announced the Optimus 3D Max at the MWC 2012 last month.
The games include Assassin's Creed 3D, Dungeon Hunter 2 3D, James Cameron's Avatar 3D, N.O.V.A. 2 – Near Orbit Vanguard Alliance 3D, Shrek Kart 3D, BackStab 3D, Fishing Kings 3D, Modern Combat 2: Black Pegasus 3D, Shadow Guardian 3D and Spider-Man: Total Mayhem 3D, Order & Chaos and Splinter Cell 3D that will be available through LG Smart World.
Users can also convert Google Earth, Google Maps and other road views into 3D using the enhanced 3D Converter. The 3D photos and videos captured by the Optimus 3D Max can be viewed in a single-screen mode in 2D and easily be toggled between 2D and 3D using the 3D Hot Key mounted on the side of the phone.
LG Optimus 3D Max is scheduled for release in March and it packs in 4.3-inch IPS display with Corning Gorilla Glass 2 protection that would offer Glasses-Free 3D viewing and is powered by 1.2GHz dual-core processor.