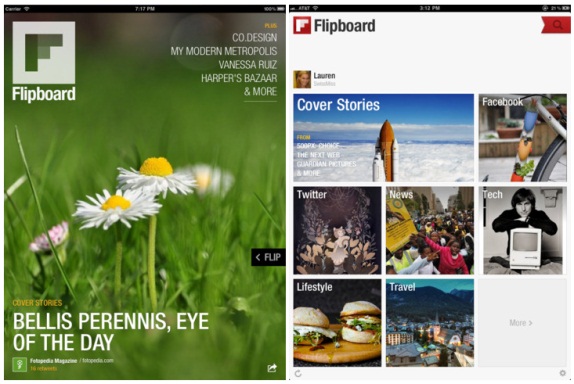 Flipboard app for iPad now has the Cover Stories, a new feature that was launched with the iPhone app last December. The Flipboard iPhone and iPad apps now has a French Edition that offers content from French publications, blogs and other content sources. The Cover Stories offers personal feed of the most interesting news, updates and photos being shared with you. Cover Stories learns what readers like from their interactions with news, posts and photos shared by friends and sources.Both the iPhone and the iPad app has also received new features based on reader's feedback.
New features in Flipboard for iPhone and iPad v1.8
A third page in the Flipboard Table of Contents gives readers more tiles, now with a total of 32 tiles, to quickly dive into favorite Flipboard sections.
New first launch experience on Flipboard for iPad during which a reader can pick topics of interest to get started — from Tech to Travel. This set-up now mirrors the new user process from Flipboard for iPhone.
In addition to having whole Google Reader feed, now it's possible to add a specific Google Reader folder as a Flipboard tile.
International Content Guides with hundreds of recommendations for readers in the UK and Ireland, Canada, Australia, France, Hong Kong and Taiwan. Tap on the red ribbon to choose your Content Guide Edition.
Download Flipboard for iPhone and iPad from the Apple iTunes store for free. You can also download the French Edition of Flipboard separately.