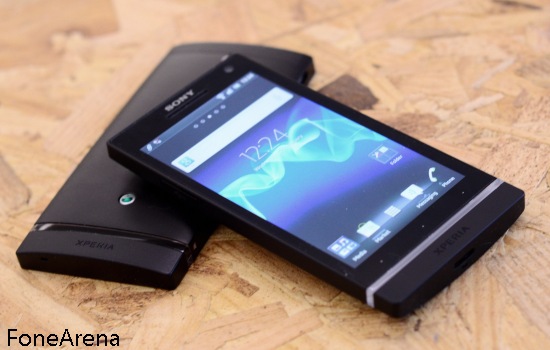 Sony announced two new Xperia NXT smartphones at MWC a couple of days ago and today we had a chance to go hands-on with the new devices, the Xperia P and Xperia U, alongside the already announced Xperia S. Read on for our hands-on impressions.
With the new Xperia NXT family, Sony has introduced a new design language that looks stunning. While the new Xperia S, Xperia P and Xperia U were developed under Sony Ericsson, the far reaching influence of Sony are clear. The translucent bar near the bottom of the phones for example reminds me of a couple of their Bravia TV models with 'floating' frame construction. Read on for our hands-on impressions.
Xperia S
Heading into 2012, the Xperia S is Sony's flagship smartphone. Sony (Ericsson) has arrived late into the multi-core game, and the Xperia S is their first ever Xperia smartphone with dual core processor. In an age of quad core processors, a flagship with dual core may seem odd. Still a dual core Qualcomm Snapdragon processor running at 1.5 GHz clock speed isn't something to sniff at. Not that it was surprising as my experience with the Xperia Arc reveals that Sony Ericsson has optimised their Android code well enough that it doesn't even need anything more than a 1GHz single core processor. Put it this way, with a dual core processor, the Xperia S flies. There is virtually no lag detected during my hands-on in London.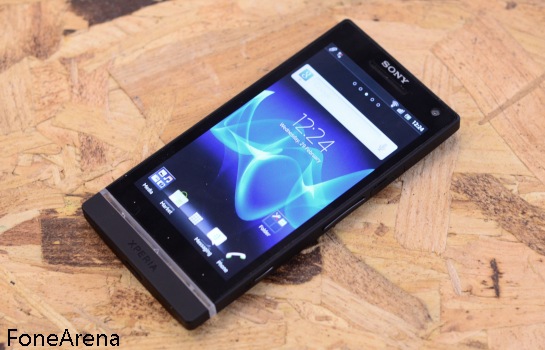 The Xperia S features a 4.3″ 720p LCD display, optimised by a Bravia software engine. The display is indeed sharp, and with a pixel density of 342ppi, more than qualifies as a 'Retina' display. Sadly it lacks the extra white pixel that adorns the Xperia P's display, but with such a high density screen, you probably would not miss it. For all the limitations of conventional LCD, the display here is great, sharp and offers great contrast.
The camera is a 12MP variety, with low light photography helped by the fact that the sensor is a backlit EXMOR-R type. It can record videos in 1080p with continuous autofocus. Sony has also engineered in a feature called 'fast capture' enabling users to quickly capture an image without turning on the screen first. It takes 1.5 seconds from pressing the camera shutter button for it to focus and capture an image. It's a neat feature and works well.
The 32GB of built-in storage is generous, but the lack of microSDHC expansion slot isn't. Still I would rather take 32GB of fast NAND storage than say, a 32GB microSDHC card and very little built-in NAND storage. The write and read speed of NAND tends of outweigh the lack of expansion slot, but it would been nice to have both. A micro HDMI port can be found on the device confirming the device's multimedia pedigree.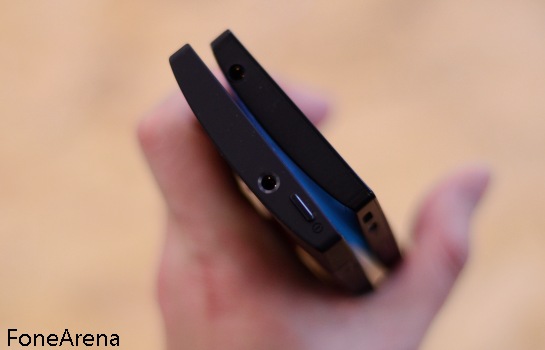 On the back beneath the unibody plastic body lies a NFC chip. NFC are all the rage these days and it is obvious Sony is betting big on this technology. Sony will be selling programmable Smarttags (Similar to Nabaztag RFID smart tags). These tags can be programmed to tell the phone what actions are to be performed when the tags are scanned. For example you could leave a tag in a car and when you scan it, it your phone would turn off its WiFi and turn on its Bluetooth instead. The possibilities are endless. Want to listen to music? Scan a tag that instructs your phone to connect to a Bluetooth speaker and starting up Spotify. It's that simple.
These tags will be available to buy separately. It is not known any will be bundled with the retail unlocked version of Xperia S, but in the UK, O2 will be shipping four with the device and Three UK will be bundling two. Phones 4U stores will also be selling them. A pack of four Sony NFC Smarttags will cost £9.99 and comes in a wide range of colours to help differentiate.
Despite being made primarily of plastic, the Xperia S feels solid and expensive. While it lacks the aluminium body of the Xperia P, it doesn't feel like built quality was compromised. Everything about the Xperia S, from the ludicrously sharp display to the curved back just screams premium. There is a good valid reason for using plastic, and that is NFC. As far as I know all phones that has NFC built in, has the main RFID chip residing in a none metal enclosure.
Xperia P
The Xperia P is the smaller and lighter version of the Xperia S, and is the phone I am most excited about during my hands-on. It may be a cheaper version of the S, but it also has an advantage over its more expensive flagship cousin – the use of aluminium unibody shell. The metal body just feels better in hand. That's not to say that the Xperia S feels awful – it isn't, but the Xperia P just feels a tad more solid than the Xperia S, and nothing quite feels the same as the touch of cold metal.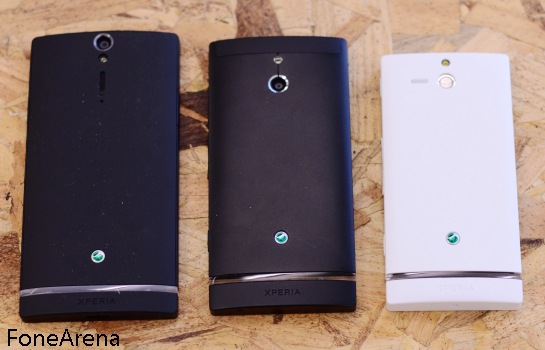 Powering the Xperia P is a dual core SoC by ST-Ericsson, the NovaThor U8500, making this and the Xperia U the first none-Qualcomm powered Xperia Android phones. Performance wise, the phone feels fast. As it runs on the now mature Gingerbread platform, Sony has obviously optimised the code as much as they possibly can. Do not worry as Sony has promised that it, along with the Xperia S and Xperia U, will be receiving the ICS upgrade in Q2 of this year. Unfortunately no timeline has been announced yet.
The 4″ display has a QHD (540×960) resolution resulting in a still impressive pixel density of 270ppi. The downgrade in resolution may disappoint some, but it does have an ace up its sleeve. Unlike a traditional RGB screen with three sub-pixels making up a single pixel, the Xperia P's Reality Display adds a fourth subpixel to the mix. This additional subpixel is white, which Sony claims results in a screen that is ultra bright and power efficient. It was difficult to put the display to test and we were in a controlled office environment, so it will be interesting to test the performance of this screen outdoors once we get hold of a review unit.
The 8MP camera is likely to be the same type as the one found on the Xperia Arc. It supports 1080p video recording and decent low light capturing thanks to the backlit EXMOR-R sensor. There is also a front camera for video calls. Like the Xperia S, the Xperia P does not contain an expansion C slot. Instead it comes with 16GB of built-in NAND storage. As a compensation, you also have access to 55GB of cloud storage.
Xperia U
Finally, the Xperia U is the smallest handset in the Xperia NXT range. Despite being classed and priced as an entry level phone, the Xperia U has the same design of the S and U. It runs on the same 1GHz dual core ST-Ericsson processor as the Xperia P and comes with 8GB of built-in NAND storage. Again, there is no microSD card slot for expansion. The phone had no trouble running Android Gingerbread and Sony's custom Timescape UI, making it a cracking entry level phone.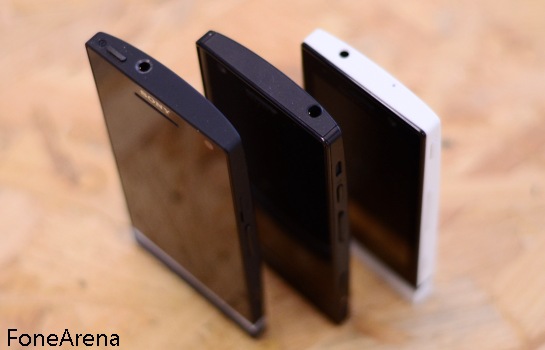 The Bravia powered 3.5″ screen has a more modest resolution of 480×858, but with a pixel density of around 280ppi, the screen is one of the sharpest we have seen on a device of this class. While the 5MP camera isn't based on an EXMOR-R sensor, it is still capable of capturing video in 720p, and like its more expensive siblings, it also supports fast capture. The front camera can capture videos in VGA resolution, good enough for video calls but not much else.
Unique among the NXT phones, the battery is also user replaceable and the transulent strip changes colour depending on what image is shown on the screen, or music being played. Because the bottom cap can also be removed and personalised, it is likely Sony will be targeting the youth market with this. Two coloured bottom caps will be bundled with each phone. It is certainly a unique way to personalised the phone, and is a shame that Sony did not engineer the same translucent 'disco' strip, as I call it, on the other other NXT devices.
With the new Xperia NXT family, Sony has successfully crafted a range of devices that stands out design wise among the sea of Android clones. The devices are powerful, fast and beautiful in their respective categories. And more importantly, they are proof that modern smartphones need not look like toys. Both the Xperia P and Xperia U is due to hit the UK market in April, and the Xperia S hitting the retail channels in the next coming weeks.