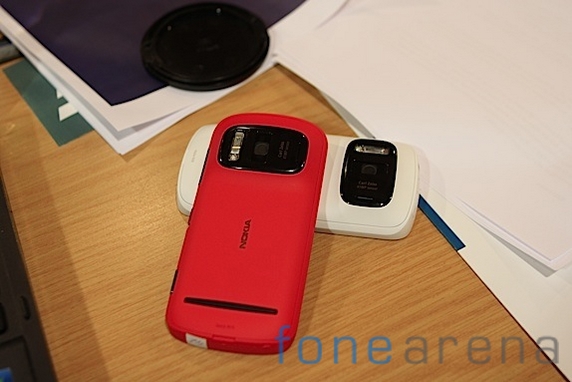 In a swift move to change the landscape of mobile photography forever, Nokia unveiled their latest camera flagship device on monday here at MWC. The intention was simple: End the Megapixel race. And end it on top. Having said that, Nokia today blew the competition out of the water by announcing the Nokia 808 Pureview, a Symbian Belle-powered, 41(!!) Megapixel device, with an obvious heavy focus on photography and videorecording. We were lucky enough to get an invite to a Q+A/hands-on session with the great people from Nokia Connects, and here's what Nokia's new camera flagship device is all about: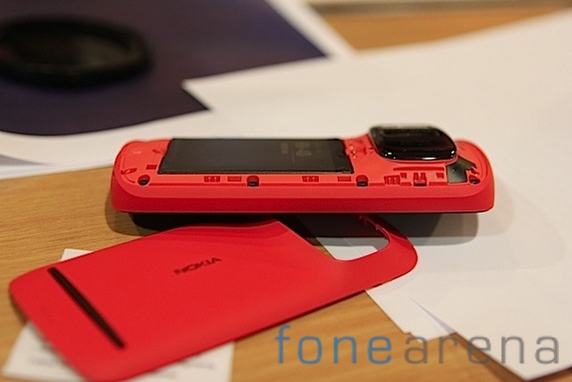 It's chunky, it's heavy and it's promising to take extraordinary pictures. Let's get right to the main selling point: The camera is spectacular. While still being a work in progress, the photos we have seen so far, no matter if viewed on the 4″ ClearBlack AMOLED display (only 640 x 360 nHD resolution though), or blown up to a huge poster on the wall. The levels of details are unlike anything else we have seen so far. The imaging components of the Nokia 808 Pureview read like out of a digital camera spec sheet: a total sensor size of 41 Megapixel, resulting in 4:3 resolution shots at 38 MP, while 16:9 photos are still shot at 34MP. For sharing-friendly photography, still shots can be set to just 5 Megapixels, resulting in 700-800 kb sized images. A benefit from the insane Megapixel count, is the possibility to crop parts of pictures in lossless quality, as well as 3x lossless zoom for still photos. Combine that with a Xenon flash twice as powerful as on the Nokia N8 and a maximum aperture of f/2.4 and things are getting serious. Playing a big part in the camera tech, is Nokia's new "pixel oversampling" technology, where many pixels combine to create one, according to Nokia, super pixel, removing as much noise and unwanted distortions as possible. Even the sheer size of the camera sensor is in a league of it's own, as seen in the picture below.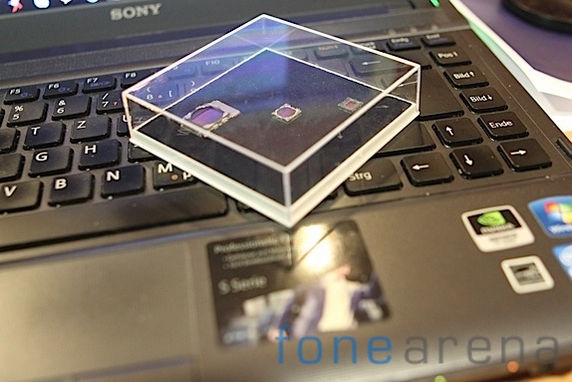 Videowise, we are talking about full HD 1080p video recording at 30 fps, with 4x zoom, 6x lossless zoom in 720p, or even 12x zoom in nHD (640 x 360) video. Nokia has learned a mistake from the Nokia N8, and slapped on a Video LED for low light videos, and improved the continous autofocus, including touch-to-focus. Further improvements have been taking place in the audio recording section while doing video, as the 808 is able to record audio with up to 145 db without distortions, which is indeed very impressive. There are a lot more technical details about the Nokia 808's camera, which will we explain in our full review, once the smartphone hits the markets.
During our hands-on impressions, Damian Dining, Nokia's imaging mastermind, made it clear that Nokia wanted the absolute best camera experience on the market, and the results agreed with them, when we were shown big posters, with photos directly out of the camera in great detail, even in low light. Even more impressive was a short video from a live show, with big, loud pyro explosions with absolutely no distortions whatsoever, putting my Samsung Galaxy S II to shame, which was not able to record proper audio at a recent indoor motocross event. We were promised that this was indeed straight out of the camera, making us even more eager to bring a 808 Pureview with us to a festival and try ourselves.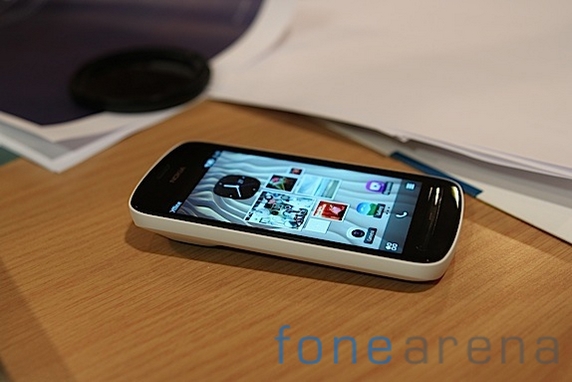 Besides the massive camera on the backside, the Nokia 808 Pureview is also a smartphone. It features a 4" ClearBlack AMOLED display with nHD (640×360 pixels) resolution, powered by a 1,3GHz ARM11 Single-Core CPU, 512MB RAM and 16GB mass memory storage, which can be expanded to up to 48GB via MicroSD cards and as promised by Nokia, NFC. Power will be delivered by 1.400mAh battery, which seems a little out of place compared to the other specs. With 169g it's not exactly on the lighter side, and with 13,9mm thickness, it's going straight against the trend of razor-thin smartphones. However, despite it "only" being plastic, it felt very solid in our hands, with no wobbly, squeaky parts.
We here at FoneArena can't wait to take the Nokia Pureview 808 out for a spin as soon as the device is out and rocking. What do you think about this crazy Nokia camera smartphone?