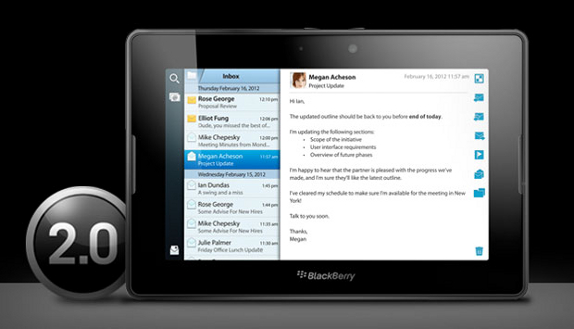 BlackBerry PlayBook OS 2.0 software update  is now rolling out worldwide. RIM previewed the PlayBook OS 2.0 at CES 2012 last month. This brings lots of new features such Advanced Messaging Experience, Deep Social Integration, Improved Mobile Productivity, BlackBerry Bridge, Better browser, New Apps and Content and more new features.
New features in BlackBerry PlayBook OS 2.0
New unified inbox with email and built-in messaging apps including Facebook, Twitter, and LinkedIn
Social Integration with Calendar and Contacts apps with updated information from Facebook, Twitter, and LinkedIn to create a consolidated view of contacts.
Updated BlackBerry Bridge app with new remote control feature that allows a BlackBerry smartphone to be used as a wireless keyboard and mouse for a BlackBerry PlayBook.
Improved mobile productivity with new Print To Go app, and increased control and manageability of corporate data with BlackBerry® Balance lets you to get more out of your BlackBerry PlayBook every day. The updated virtual keyboard with auto correction and predictive next word completion learns how you type to enable faster, more accurate typing.
New BlackBerry Video Store (initially be available in the United States) that offers catalog of thousands of movies and TV shows
Enhanced web browsing capabilities with a new reading view, which is designed to make web sites even easier to enjoy by eliminating page clutter at the touch of a button.
New users who purchases new PlayBook would get this update automatically during the setup process. Other users would get the notification in the status ribbon or they could update it manually in the Settings Menu, under Software Updates.