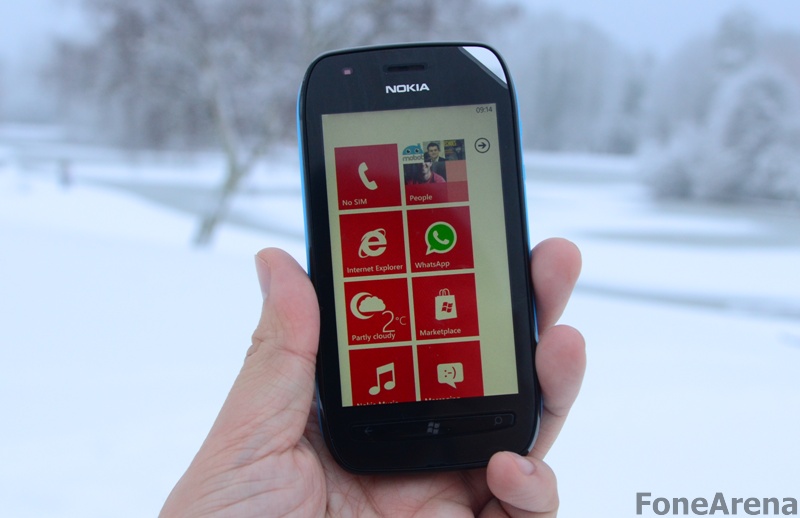 Welcome to FoneArena's review of the Nokia Lumia 710. The Lumia 710 is Espoo's second Windows Phone 7 device. It is Nokia's designated entry level smartphone aimed at introducing Windows Phone to the masses.
The Lumia 710 currently sold in Britain for around £200 on Pay as you Go – way cheaper than similarly spec'ed Android phones. But don't be fooled into thinking that the cheaper device would get you a lesser experience. Thanks to Microsoft's strict chassis rule, the Lumia 710 has pretty much the same performance with its more expensive siblings, the Lumia 800 and 900.
Design wise, the Lumia 710 is based on the Nokia 603. It won't win any design awards, nor is it designed to do so. The ability to personalised the device does help a little bit. Nokia has also bundled an additional battery cover, in cyan, and they have promised that more colours will be made available to purchase.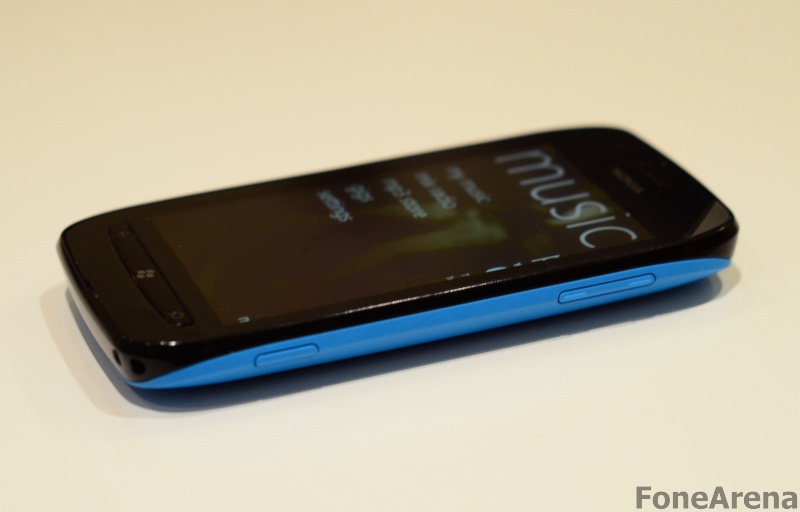 Unlike most WP7 devices, the three mandatory front buttons are physical. I initially welcomed this feaure, but have now grown to dislike them due to how difficult each buttons were to activate. Apart the buttons, the device as a whole feels solid and does not in any way feel cheap.
Beneath the plastic exterior lies a powerful (by WP7 standards anyway) Qualcomm Snapdragon S-o-C with 1.4GHz Scorpion CPU and Adreno 205 GPU, the same one that powers the more expensive Lumia 800, Samsung Focus S and even the Android-based and previous Sony Ericsson flagship, the Xperia arc S.
Despite the limited support to multi-tasking, no one will complain about the 512MB RAM – plenty for a device of this price. The lack of expandable storage to augment the 8GB of built in storage is a disappointment for people keen on using the Lumia 710 as a multimedia device. You get 25GB of SkyDrive cloud storage, but application access and file format support are limited, and not everyone is in a position to access SkyDrive easily or freely.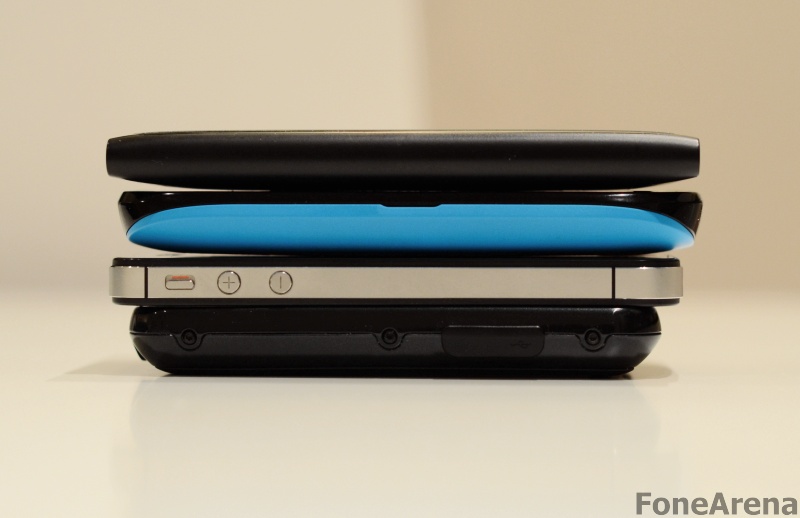 One of the key differentiators that sets the Lumia 710 apart from its competitors is the use of LCD TFT with Nokia's proprietary ClearBlack filter. The CBD filter apparently enhance the black levels as well as contrast level. It does seem to work well as the LCD screen here is one of the better ones I have viewed, though it doesn't quite reach the level of the iPhone 4S's IPS display.
The use of LCD TFT instead of AMOLED can be seen as either a positive or negative depanding on a buyer's preferences. Compared to the Lumia 800's AMOLED CBD display, the LCD display here features a traditional RGB matrix, meaning the screen on the Lumia 710 is sharper and texts doesn't suffer from the same fuzzy issues when viewed on a display with PenTile sub-pixels. The use of LCD TFT will help with web browsing, due to the predominately white background used on many websites.
A 5MP AF camera with single LED flash can be found on the back, and while it isn't a Carl Zeiss branded lens, image quality are adequate. I have always believed that like Sony's old Cybershot cameras with Zeiss optics, Nokia manufacturers all their lenses, Carl Zeiss branding or not. The camera is also capable of recording videos in 720p HD resolution with continues auto focus.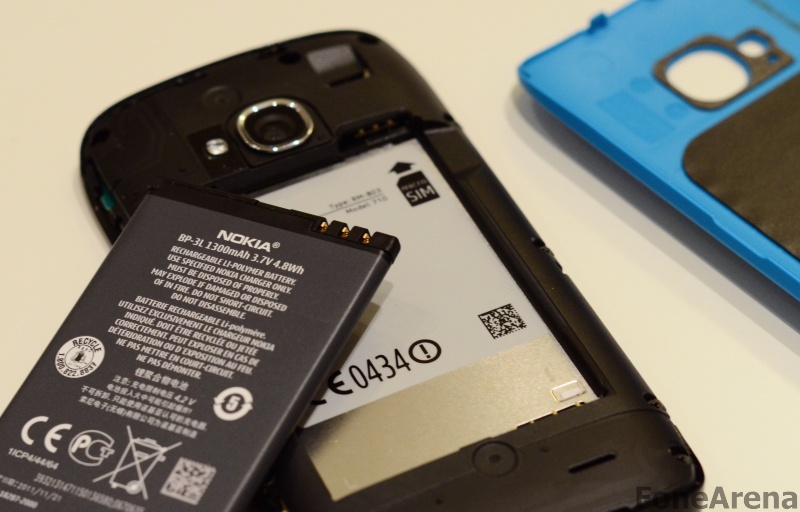 The included 1300mAh battery capacity is smaller than what I think should be included in a smartphone, but unlike its unibody cousin, the Lumia 710's battery is user replaceable. Power users would be adviced to invest in a second battery as the battery here struggles to last a full working day on heavy use. The Windows Phone Battery Saver program allows users to extend the battery life further by automatically turning off none-essential services like background emails.
Powering the Lumia 710 is Microsoft's latest Windows Phone 7.5 Mango. Where previous versions of Windows Phone 7 did not even contain copy and paste, the latest Mango update has brought with it an excellent Internet Explorer 9 browser, multi-tasking, Twitter and Linkedln integration, Facebook Chat and even Facebook events integration into the calendar app.
Unfortunately, like the Lumia 800, Internet Sharing, a key feature added with the Mango update, is missing. Despite their promises in relation to the Lumia 800, it is unknown if Nokia is planning a FW/OS update to bring this feature to the Lumia 710.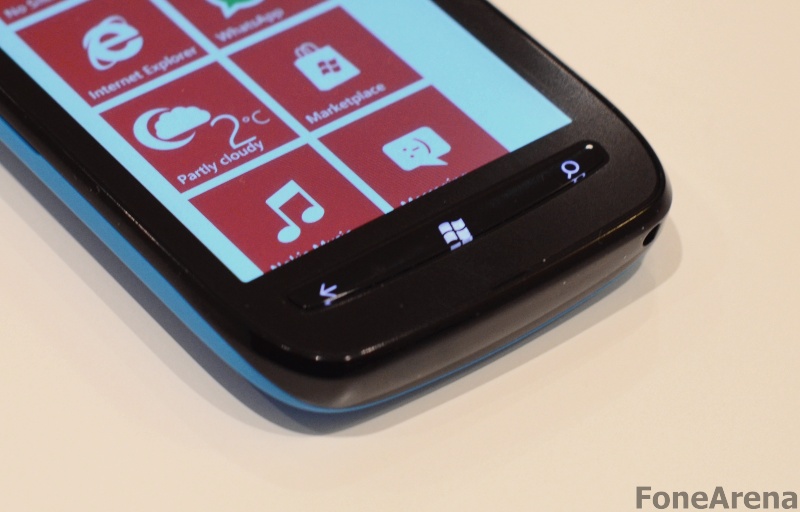 If you are looking for some form of differentiation within the UI that sets this apart from other Windows Phone devices, forget it. Part of Microsoft's strict licensing requirement with Windows Phone 7 is that manufacturers are not allowed to customise this portion of the OS.
Personally I believe this is a good thing as the core Metro UI experience is unparalled in the mobile world, and that UI customisations done by manufacturers tends to degrade the performance and user experience, as seen on various Android and previous Windows Mobile devices. We will touch on Windows Phone 7 Mango in a seperate more detailed review.
The move to Windows Phone from Symbian is an issue that has divided Nokia's fanbase, and even those within the company. I have always believed this was the correct decision, and the Mango update further solidifies this belief. The rumoured Windows Phone Apollo will introduce many features clamoured by power users, but as is, WP7 is designed with consumers in mind.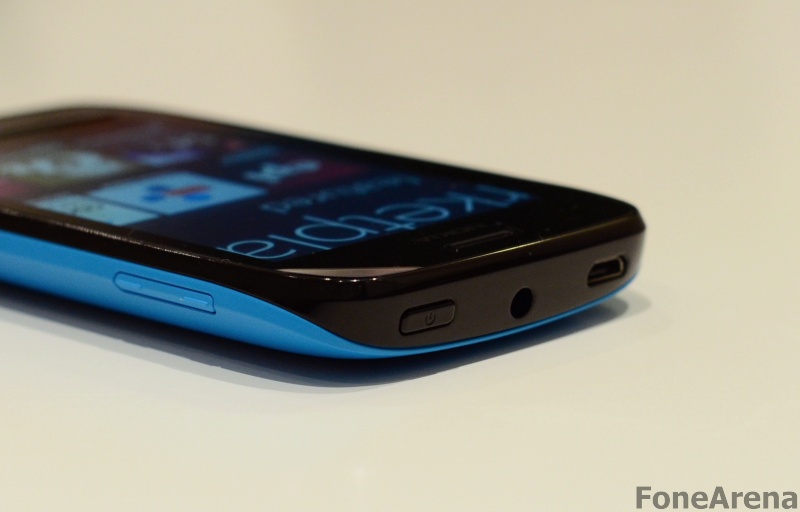 Despite my genuine enthusiasm for Windows Phone 7, there are areas that it falters. The lack of dedicated notification area is something I miss from Android and iOS. WP7 supports toast notifications but if you regularly receive notifications like I do, you can easily miss them. A pull down/swipe sideways notification will easily improve the experience of using WP7 as a social networking device.
The poor file support has also annoyed me. The lack of support for XviD and DivX by Windows Phone 7 can be an irritating point, as is the ability to side load even compatible video files. Finally, I do wish Microsoft would build support for direct messages within the Twitter part of the People Hub. This may be an API access issue, but I hope Microsoft works with Twitter to get this feature integrated.
The Lumia 710 ships with a couple of Nokia-exclusive applications, namely Nokia Music and Nokia Drive. Nokia Maps is also bundled, as are several third party applications, but these are hardly exclusives.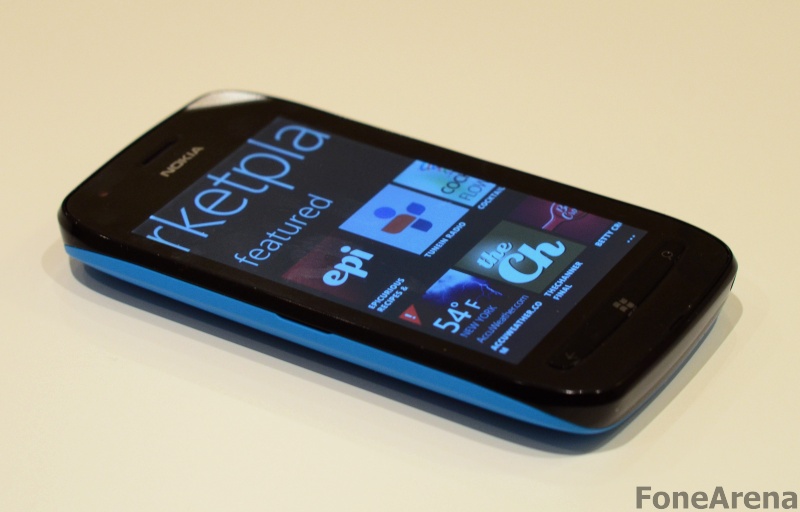 Nokia Drive is a free voice navigation application. It works exactly like Ovi/Nokia Maps on Symbian, complete with 3D landmarks, 2D/3D and satellite mode, and access to a huge database of POIs. Nokia Drive has an advantage over competing maps applications in that you will have access to maps from around 100 countries.
Maps are available to download offline in regions or whole countries. For example the entire UK map is available as a 231MB download, but you can also download the maps for separate countries like Scotland or Wales. Map downloads is fast. It took the device 10-15 minutes to download the entire UK map via WiFi. Unfortunately Nokia Drive does not yet support background downloading, nor side-loading via a computer.
The Lumia 710 was able to obtain a location fix within a relatively short time, even in urban areas of London which is surrounded by tall buildings. It is also very accurate for inner city use.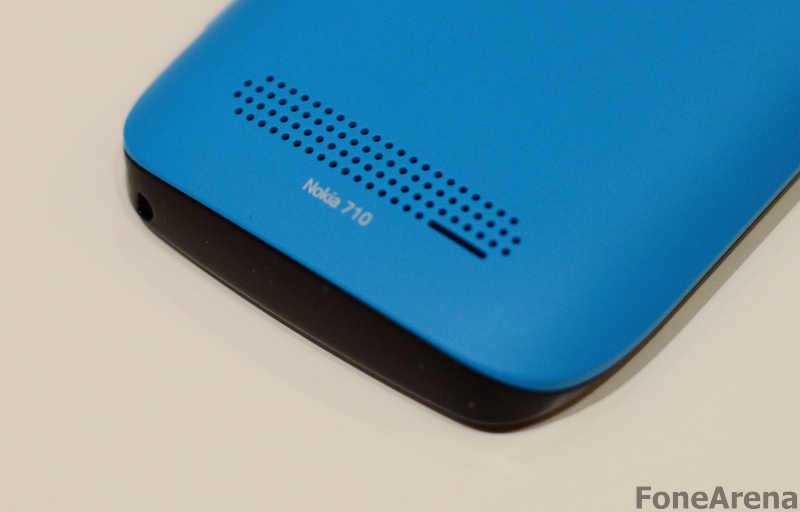 With Spotify and Zune available, windows Phone isn't totally lacking in clients to download legal music. But Nokia obviously thought different and bundled their own Nokia Music service. What Nokia Music provides is an easy interface to pre-packaged radio stations that has already been customised for different regions and genres.
Up to four mixes (each with about 30-40 tracks) can be downloaded for offline listening, including the new White Mix, released to celebrate the launch of the Lumia 800 white edition. An unlimited amount of mixes can be accessed and streamed for free.
As Nokia Music is also a music store, you can easily purchase and download music directly from the phone. Tracks costs from £0.79 in the UK and you can buy them individually or the album as a whole (which tends to work out cheaper). Album prices are also competitive. Nirvana's Nevermind for example costs £4.99 on the Nokia Music store, a full 50p cheaper than if bought via Amazon UK's MP3 store. Track previews are available for each track.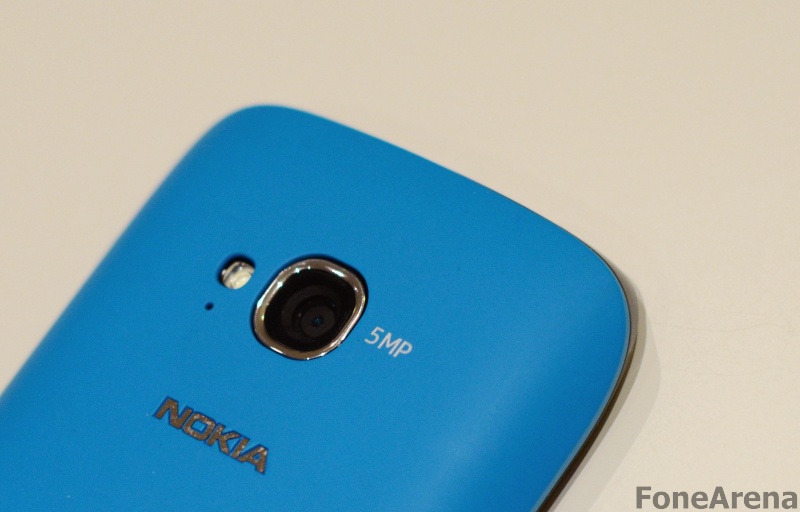 The Nokia Lumia 710 has a 5MP camera with a single LED flash. As mandated by Microsoft, the phone comes with a built-in camera shutter key which can be used even if the phone is unlocked. Like any good autofocus camera, the shutter key can be pressed half-way to focus before pressing fully to capture the image, a concept everybody and their dog knows. It is a shame that the camera shutter key suffers from the same issue as the front buttons, in that the key travel is extremely low and therefore difficult to press. I rather take the flimsy Lumia 800 buttons than the ones found here.
Fortunately the camera app offers users the ability to focus and capture images, as well as an extensive amount of manual setting, including white balance control, saturation, ISO, sharpness etc. For a 5MP camera, the Lumia 710 takes some decent pictures. As with all phones that comes with tiny sensors it struggles with dynamic range as well as determining the correct exsposure. The lack of HDR mode does not help its cause, but overall I am satisfied with the image quality produced.
A select number of unedited samples follows. Click here for the full size image files.
As a video camera, the Lumia 710 is capable of recording up to 720p HD resolution with continuous autofocus. Like the still image settings, the video camera part offers an extensive amount of settings available which includes white balance, exposure compensation, effects, contrasts and saturation. You can also turn off autofocus if you were so inclined. As far as video quality is concerned, the Lumia 710 delivers well. However like the Lumia 800, it can sometimes get the white balance wrong.
httpv://www.youtube.com/watch?v=DqrG0jtcIqg
As a phone, the Lumia 710 offers good voice quality. There has been reports of issues pertaining to the inability to disconnect a call, but I have not once encountered it. The loudspeaker, located on the back of the device, isn't exactly the loudest I have heard too.
The Lumia 710 is Nokia's promise to bring Windows Phone 7 to the masses and there is no denying that Nokia has been aggressively pricing the phone as such. Three UK is selling the Lumia 710 for £199 on PAYG, which is practically a steal. A quick glance at what's available on the UK PAYG market at that price range reveals that the Lumia 710's competitors includes the HTC Cha Cha, Nokia E5 and Samsung Galaxy Ace – all competent phones in their own right, but hardly approaching the hardware value of the Lumia 710.
The Samsung Omnia W is the Lumia 710's closest Windows Phone 7 competitor, but it isn't readily available on the PAYG market. However when you start to compare the sim-free retail price of both phones, the price advantage of the Lumia 710 gets obliterated, and suddenly the Omnia W looks rather more attractive, not only having an advantage in terms of better design and larger battery but also front facing camera and Super AMOLED display.
As a PAYG phone, the Lumia 710 offers great value for money and is by far the most responsive smartphone I've played at that price point. With its speedy 1.4GHz processor, the Lumia 710 smokes all its similarly priced competitors. It is not without its fault though, but it isn't a bad phone either and can do anything its far more expensive Lumia 800 brother does.
+ Great value on PAYG for a second generation WP7 Mango smartphone
+ Speedy 1.4GHz processor
+ Customizable cover
+ Value added Nokia exclusive applications
– Buttons have poor travel and feedback
– Mediocre battery life
– Lack of storage expansion
– No internet sharing