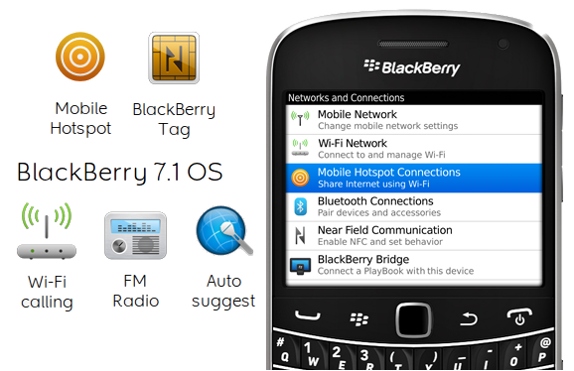 RIM has announced the BlackBerry OS 7.1 update for BlackBerry OS 7 that brings the most expected feature such as Mobile Hotspot, BlackBerry Tag, FM Radio and more. It also comes with new app updates for some of the apps including BBM 6.1, BlackBerry Traffic, and BlackBerry Travel.
BlackBerry OS 7.1 Features
Wi-Fi Hotspot provides Internet access for up to five Wi-Fi devices, including laptops and tablets.
Universal Search now has a new auto-suggest feature that that intelligently filters Bing search results with relevant Web sites based on your search terms.
BlackBerry Tag lets you share contacts, media and files, and even invite friends to BlackBerry Messenger (BBM) through a simple touch using NFC
Wi-Fi Calling (where available) lets you make Wi-Fi calls using your carrier's Wi-Fi calling service (aka UMA-lite or GAN-lite). save your talk time minutes and make phone calls over any Wi-Fi network.
FM Radio feature is now enabled on the BlackBerry Curve 9360 and 9380 smartphones.
Blackberry maps now has special offers, coupons and discounts from nearby vendors
BBM 6.1 is now out of beta and comes with this update
BlackBerry Traffic v3.0 determines a user's estimated time of arrival (ETA) based on current traffic conditions, and now includes hands-free turn-by-turn voice guidance.
BlackBerry Travel now has special discounted rates for for hotels and car rentals, or for arranging limo services in major cities in Europe
The WiFi calling is not available on all carries. The BlackBerry OS 7.1 will be rolled out for all the BlackBerry OS 7 devices from the carriers around the world beginning today and over the coming weeks. The new BBM 6.1, BlackBerry Traffic and BlackBerry Travel could also be downloaded from the BlackBerry App World separately.