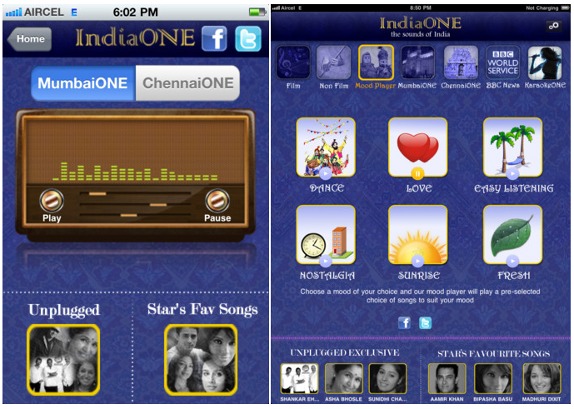 IndiaONE – The sounds of India is an app for music lovers that is available for Apple iPad and iPhone. This app offers a range of features including a huge collection of Music, News in three languages, Live Radio, a Mood player and Karaoke channel. All the music will be updated every 30-45 days at no extra cost for the period of subscription.
Features of The IndiaONE app for iPhone and iPad
Current hits and classic songs from Indian movies of your choice.
Non filmy music of various genres such as Ghazals, Religious, Folk, Indipop and Lounge
News updates from BBC World servive in English, Hindi and Tamil.
Live Radio in Hindi and Tamil
Exclusive unplugged sessions with the best Indian artists recorded LIVE at the RadioONE studios.
Top 13 exclusive songs from India's best Bollywood Celebrities.
Mood player that shuffles music and a 1000-song karaoke channel (only on iPad version) with tracks from the 70s to the latest film songs
Separate KaraokeONE app is also available for Indian Bollywood music.
The IndiaONE app is available for the
iPhone
at $0.99 and for the
iPad
at $1.99. The KaraokeONE app is available for
iPhone
for $0.99.