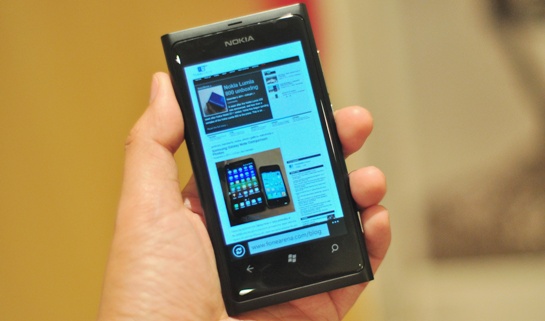 Welcome to the FoneArena Nokia Lumia 800 Review. It is barely eight months after Stephen Elop's infamous burning platform memo, Nokia has announced their first ever Windows Phone 7 device and has even begun shipment to retailers in Europe. Many thought it was impossible, but Nokia did it anyway. Is this a sign that the once complacent giant has finally woken up to the reality of mobile phone business in the 21st century?
Speak to many Nokia employees and in their views are the same: the Lumia 800 is Nokia's comeback phone. It isn't the high end device that many hoped for, but it is the first step. After all you need to learn to walk before you run. For Nokia to be able to get the Lumia 800 into the hands of the press eight months after they started working on this device is impressive, but would that be enough. Read on to find out what we think about the new Lumia 800.
Hardware: Chassis one with a speed bump
The Nokia Lumia 800 is easily the most stunning smartphone I have ever held, period. It is made of a single piece of polycarbonate (basically a posh variety of plastic), a first as far as I know in the world of consumer electronics. Unlike other devices with a unibody design, there is no way of getting into the Lumia 800. Unless you were to break it open, the device is completely sealed from the public world. Electronics were inserted during the manufacturing of the plastic itself, before the sealing begins, or so I was told. The use of polycarbonate not only improves reception, it also means that if the Lumia 800 were to suffer from a fall, the damage will not so apparent as the plastic is coloured inside out.
httpv://www.youtube.com/watch?v=sZpUgHDtY_Y
At 142g the Nokia Lumia 800 feels reassuringly heavy – like it actually is worth something. There is a trend for mobile phone manufacturers to release ever thinner and lighter devices and Nokia bucking the trend isn't surprising. While it is thick at 12.1mm, the tapered edge gives it a slimmer feel. It is also a comfortable phone to hold and use. The bundled rubber case is equally impressive, maintaining the sleekness of the phone without any additional bulk. I showed off the Lumia 800 with the case and many were surprised to find that it had a case on.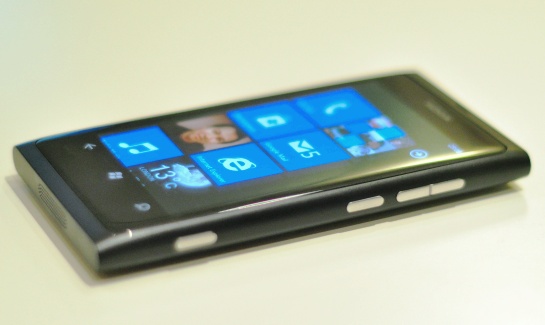 On the front you will find curved display made of the scratch resistant Gorilla Glass. Beneath the display lies a 3.7" capacitive touchscreen with WVGA resolution based on AMOLED and Nokia's ClearBlack technology. It is an incredibly bright screen which works well in both indoors and outdoors. The 3.7" screen is small by today's larger than 4" standard, though at least it is larger than the iPhone's 3.5" screen. Below the screen you will find three touch sensitive Windows Phone 7 buttons – the back, home and search keys.
Unfortunately the screen uses a PenTile subpixel matrix rather than the traditional sharper RGB stripe layout. The PenTile matrix is clearly visible even from a distance, giving texts a more fuzzy look than it would be if it was using a conventional RGB stripe. Fortunately most people will likely not be able to tell the difference unless placed side by side with another phone that uses a screen with RGB stripe.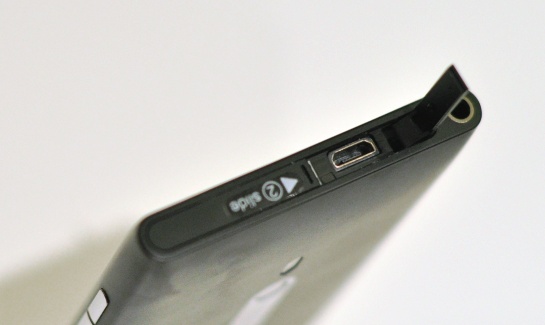 Ugly PenTile aside, the screen on the Lumia 800 is one of the most gorgeous display I have set my eyes on. In terms of colour saturation, viewing angles and contrast level, the ClearBlack AMOLED display is on par with the Samsung Galaxy S II, and we all know what a great display that was. Only the new Motorola RAZR has a brighter screen than this.
The 3.5mm headphone jack resides on the top of the device, alongside the micro USB port and micro SIM slot, both of which are protected by doors. To access the micro USB port, simply press it down before swinging the hatch open. The flap does look fragile and I am concerned that it will break one day. On the other hand the micro SIM slot uses a pop up tray.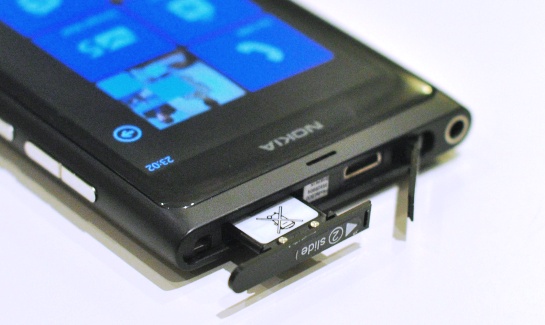 The Nokia Lumia 800 is only the second device from Nokia to use the micro SIM standard, and they are the only manufacturer after Apple to have done so. Personally I see it more of a hassle than anything. The loudspeaker and microphone (likely behind the loudspeaker grill) can be found on the bottom of the device.
The left side of the device is devoid of anything, but this isn't the case on the right side. Here is where the Nokia Lumia 800 is at its busiest. Some would even say that it ruins the design of the phone somewhat. The controls are a volume rocker, power button and camera shutter button.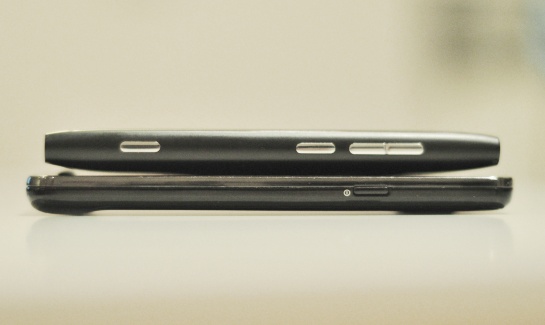 Each of these keys provides sufficient feedback, though I did find the power button to be a tad too close to the volume rocker, almost always accidentally pressing that whenever I want to change the volume. Incidentally the volume rocker not only allows one to change the volume, it also pops up the music control from anywhere within the OS. This is a key Windows Phone 7 feature, and one that I wish many times that other OS makers would copy. It just works.
On the back you will find the 8 Megapixel autofocus camera with Carl Zeiss optics and a dual LED flash. The flash is sufficiently bright, and as an added bonus can be used as a fill light when using the camera to film. The camera supports both 4:3 and 16:9 aspect ratios, as well as 720p video recording. On paper the camera should perform well. After all the performance of the camera has always been part of Nokia's better strengths in relations to their competitors. Unfortunately this is not the case. I will elaborate further in the review.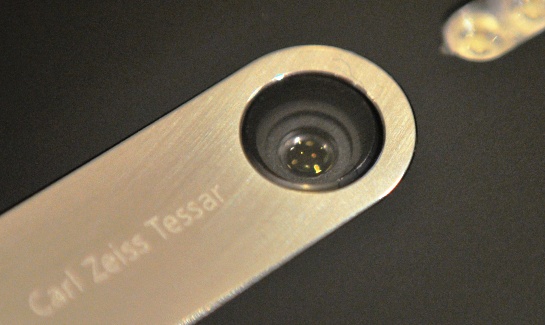 Moving on, beneath the sexy piece of plastic lies a Qualcomm Snapdragon SoC with a single core 1.4 GHz Scorpion ARM Cortex-A8 processor and Adreno 205 GPU 3D hardware accelerator. While relatively outdated by today's standard, the Snapdragon is still an incredible performer, especially when paired with a very efficient Windows Phone 7 operating system.
A modest 512MB of RAM and 16GB of NAND storage, of which almost 14GB is available to the user, are found ticking alongside. The Nokia Lumia 800, whilst isn't a complete worldwide phone (it lacks a pentaband 3G chipset necessary to be called one), still offers an impressive array of wireless connectivity and features including quad band GSM, quad band 3G, support for HSPA+ up to 14.4 Mbps, Bluetooth 2.1 EDR, A-GPS, accelerometer and digital compass. Do not expect to find a NFC chipset inside – Windows Phone 7 does not support it yet.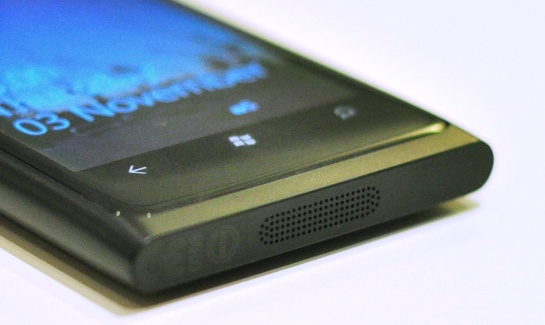 Powering the Lumia 800 is a single none removable 1450mAh Li-Ion battery. Nokia has quoted a 2G talktime of up to 13 hours. As part of Windows Phone 7 Mango, a Battery Saver program allows users to extend the battery life further by automatically turning off none-essential services like background emails. In my general experience the Lumia 800's power efficiency is rather good for a smartphone. I found I was able to go through an entire day on a single charge, which is a lot more than say about my Samsung Galaxy S II.
Windows Phone: Mango'tastic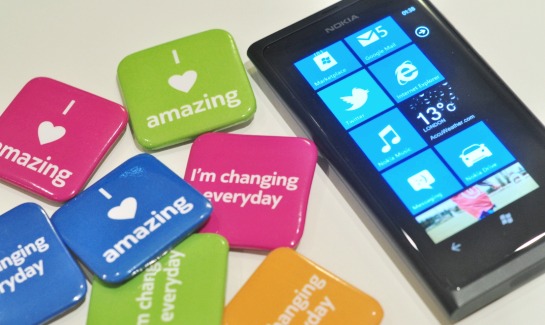 The Nokia Lumia 800 is the first Nokia smartphone to be released in the UK that runs on a smartphone OS that isn't built in house. Now this isn't necessarily a bad thing. With Nokia now free of the shackles of developing multiple operating systems, they can go back to doing what they do best – building great hardware.
httpv://www.youtube.com/watch?v=zg2fyJY50-s
Running at the heart of the Lumia 800 is Microsoft's latest Windows Phone 7.5 codenamed Mango. Curiously it is almost exactly a year ago I first reviewed the Samsung Omnia 7 and therefore my first experience with Windows Phone 7. Back then I found myself in captivated by the love it or hate it Metro UI, but the love was brief due to how many features Windows Phone 7 were missing. With the Mango update Microsoft has played catch up with Apple and Google into making it a compelling OS not only for consumers, but power users as well.
Where previously Windows Phone 7 did not even contain copy and paste, the NoDo and Mango update brought with it an excellent Internet Explorer 9 browser, multi-tasking, Twitter and Linkedln integration, Facebook Chat, Facebook events integration into the calendar app and yes, even that elusive copy and paste feature. Internet Sharing, added during the Mango update, is surprisingly missing from this prototype device. But Nokia has confirmed that the ability to turn the Lumia 800 into a mobile hotspot will arrive in an update.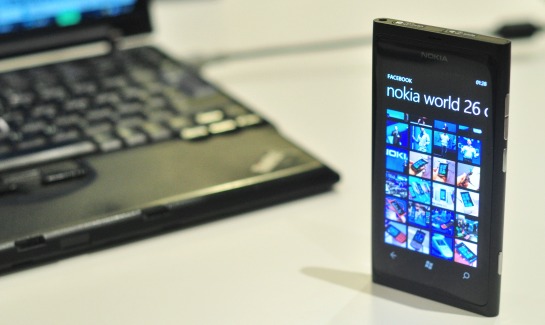 Nokia has not done much to differentiate the Lumia 800 from other competing Windows Phone 7 devices. At a glance the Windows Phone 7 looks like a stock version, with a few exclusive apps that are not available on the Marketplace. The core Metro UI experience has been left untouched, which in my opinion, is a good thing. After all why use Windows Phone 7 without its unique mobile UI? The default typeface on the Lumia 800 is Segoe and there is no way of changing that. Personally I do not mind as I prefer the Segoe typeface to Nokia Pure anyway.
There is one small consolation for those seeking for a more "Nokia experience". Under the theme settings you will find a new accent called 'Nokia Blue'. This is the same hue of Nokia's famous blue logo, and it looks great on the Lumia 800′s AMOLED screen.
The Lumia 800 ships with two Nokia-exclusive applications, Nokia Music and Nokia Drive. There is an icon for Nokia Maps, but this takes us to a Nokia Maps app-holder page on the Marketplace, plus it isn't a Nokia exclusive application. Nokia has also announced an 'exclusive' ESPN application, but this was missing from the prototype. Besides, an ESPN app isn't exactly newsworthy no matter how much Kevin Shields screams about it at Nokia World.
Nokia Drive is Nokia Maps for Windows Phone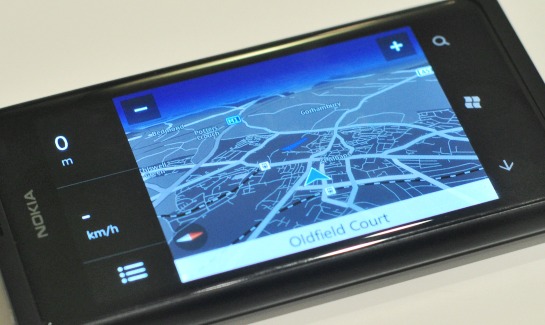 Nokia Drive is a free voice navigation application. It works exactly like Nokia Maps on Symbian, complete with 3D landmarks, 2D/3D and satellite mode, and access to a huge database of POIs. Nokia Drive has an advantage over competing maps applications in that you will have access to maps from over 100 countries and these maps are available in offline as well.
As the Lumia 800 contains a A-GPS receiver, the phone was able to obtain a fix within a relatively quick time.
httpv://www.youtube.com/watch?v=BP2DFfzR7mc
Maps are available to download in regions or whole countries. For example the entire UK map is available as a 231MB download, but you can also download the maps for Wales separately. Map downloads is fast. It took the device ten minutes to download the entire UK map via WiFi. Unfortunately it is not possible to queue downloads.
Voice guided navigation aren't a totally unique selling point, but at least with Nokia Drive you will know you get this for free with guaranteed access to the latest maps and POIs during the entire lifetime of your device.
Nokia Music takes on Spotify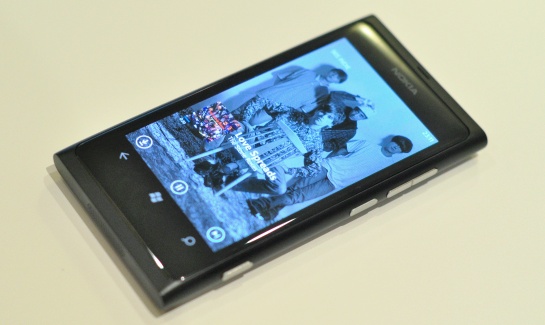 The second exclusive application that Nokia has provided is Nokia Music. We all know about Spotify, and that Spotify requires subscription to listen to streaming music on mobiles. It also isn't available in many countries. Well Nokia Music is similar (in a stripped down sort of way), but instead of paying US$10 a month, you get the streaming bit for free. The application is integrated into the Zune music app.
What Nokia Music provides is an easy interface to pre-packaged radio stations that has already been customised for different regions and genres. Nokia has announced that stations can be downloaded for offline listening, though I have found no way of doing so. As the Lumia 800 I have is a prototype device running on none-finished software, this may be possible on the retail version.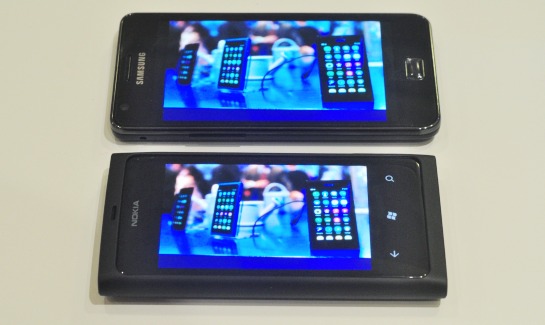 Regardless, the app makes music discovery a rather easy process and most customers will find being able to get music right out of the box with a new phone to be a compelling experience. Once you start listening to a music you can control the jukebox from anywhere within the OS, even on the lock screen. Pressing the volume button will toggle a pop up control, a feature available as a standard Windows Phone 7 feature.
httpv://www.youtube.com/watch?v=5udaGe6t84Y
As Nokia Music is also a music store, you can easily purchase and download music directly from the phone. Tracks costs from £0.79 in the UK and you can buy them individually or the album as a whole (which tends to work out cheaper). Album prices are also competitive. Nirvana's Nevermind for example costs £4.99 on the Nokia Music store, a full 50p cheaper than if bought via Amazon UK's MP3 store. Track previews are available for each track.
Camera: This ain't the N8
The 8MP AF camera with f2.2 lens on the Lumia 800 is not only disappointing compared to Nokia's previous flagship smartphones, I also found pictures taken with the camera to be poorer than their competitors. Not only are images fuzzy, the colours are mainly cold and the autofocus doesn't work very well. Images are also noisy and over processed. The lack of xenon flash does not bother me as I find a LED flash to be more useful for video capturing; something a xenon flash is useless for.
If you believe in the ill advised marketing guff that camera phones can replace proper cameras, then the Lumia 800, as it is currently, isn't for you. At least the two stage shutter button works like what you would expect on a 99% of all cameras with autofocus, press half way to autofocus and set exposure, then press all the way down to capture the image. As the camera module and lens are the same as on the Nokia N9, I can only hope that a software update will improve the image processing algorithm to the same level as the N9.
Below you will find two image samples. One was taken with the Nokia Lumia 800, the other from a Samsung Galaxy S II (bottom image) – both with settings set to auto, no flash. Not only is the image taken with the Lumia 800 washed out, it is also blurry. The white balance is way off, the image is filled with a huge amount of noise. Details are minimal.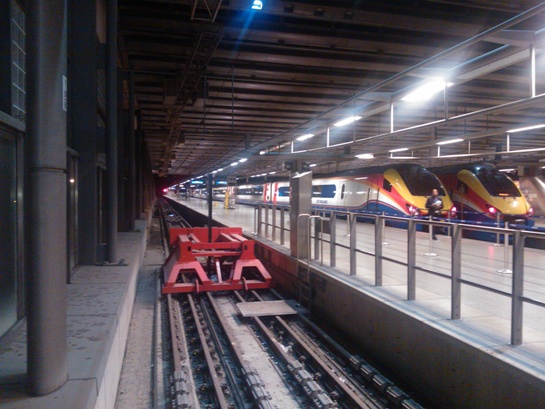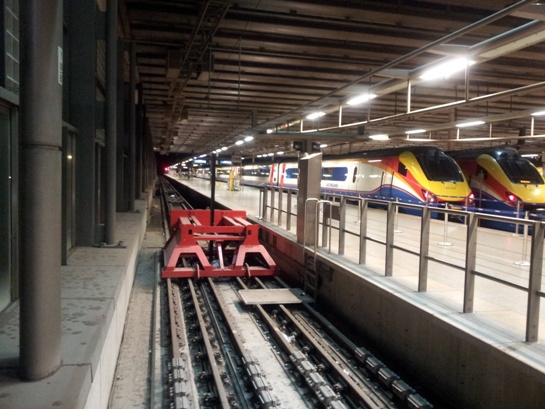 The image taken with the Samsung Galaxy S II on the other hand is sharp and have a more accurate white balance. Noise is also minimal. This despite the fact that the Lumia 800 has a better camera hardware than the Galaxy S II, on paper at least. Whether or not this is an issue with how Windows Phone 7 handles pictures or agressive file compression is up to Nokia's engineers to find out. I suspect it is a combination of the two. The file of the image from the Galaxy S II is 2.82MB, a fair bit larger than the Lumia 800's 2.08MB suggesting that Nokia or Microsoft has set a higher level of JPEG compression.
Below are further image samples taken with the Lumia 800. The original unresized samples, and more, are available to download here.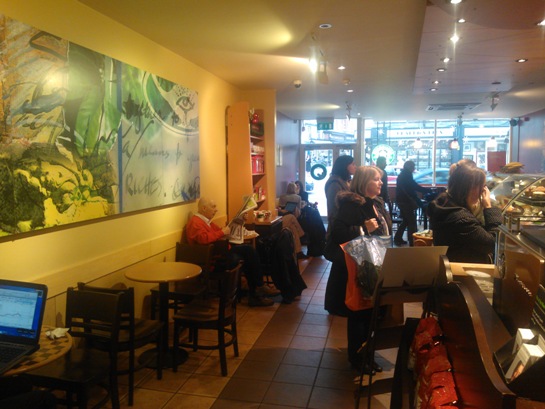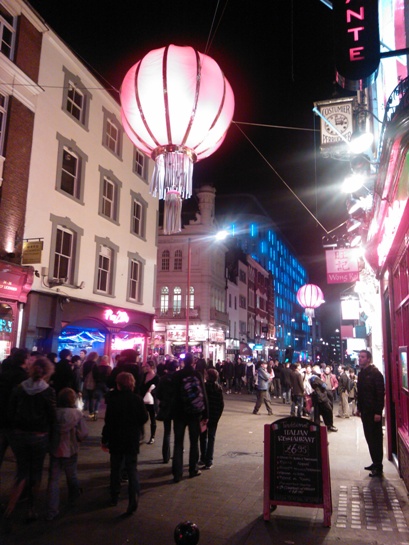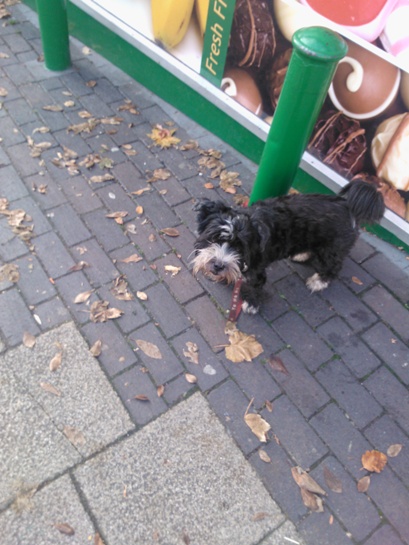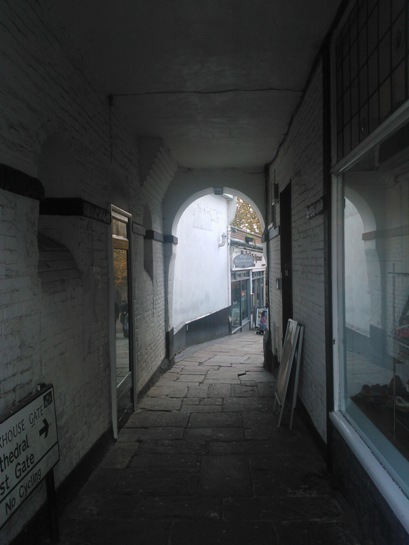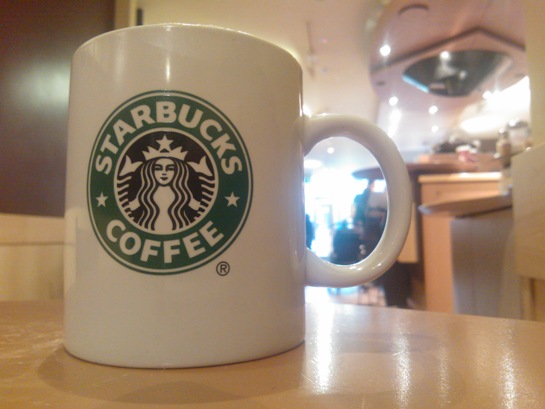 Video capturing is limited to either VGA or 720p resolution. Like still images, the settings can be changed. These include white balance, exposure value, effects, contrast, saturation and auto focusing. Video capture quality is good but the auto focus lags by quite a margin. It also has trouble in identifying the white balance if the settings were left on auto. Still as far as video capturing goes on a smartphone goes, the results are actually rather decent.
httpv://www.youtube.com/watch?v=gzafuS8hmsk
People Hub: The Social Network 2.0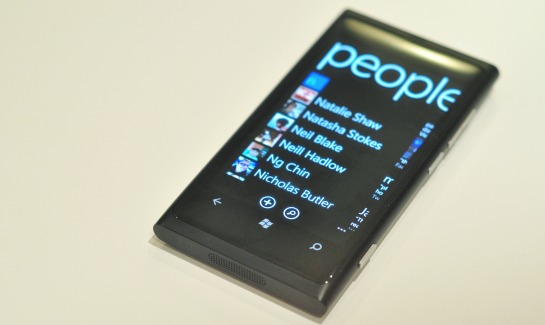 Unlike Android and the iPhone which are built around applications, Windows Phone 7 is built around people. This is its unique key selling point and it shows. The people hub and the integration with social networks such as Twitter, Facebook and LinkedIn is second to none and outclass all efforts by other manufacturers.
Contacts gathered from Facebook, Gmail, Twitter and LinkedIn can be linked together. Normally the OS would link together contacts from different social networks easily, but there are some misses, particularly if your friends do not use their real names. Linking contacts manually is fortunately a two second affair, and in a far more elegant way compared to say, on Android. Once linked, all updates from that particularly contact will appear in their own unique hub. You can post to their Facebook wall as easily as mentioning them on Twitter or sending them an email, all within the profile hub. You can also view any historical text exchanges or phone calls between you and any contacts.
The integration with social networks goes beyond status updates. The Pictures hub allows one to view their Facebook albums, in addition to those stored on the phone. As long as there is a good network connection the transition is seamless. In fact the loading of thumbnails and pictures are so quick, one could almost believe that the albums actually reside on the phone itself. You can also pin contacts to the sub-pictures people hub and even as a Live Tile. This gives users an easy access to all public pictures of the person in question. This is either creepy or unique depending on who you ask.
Phone
As expected, this being a Nokia device, the quality of in-calls is generally good. It is not known of the Nokia Lumia 800 has a dual microphone set up for noise cancelling, but outgoing calls were still good with background noise generally held back. The speaker quality is good and loud, with only the slight odd bit of crackling apparent when in an area with poor signal. As a phone, the Lumia 800 passes with flying colours – but you knew that anyway.
Wrap up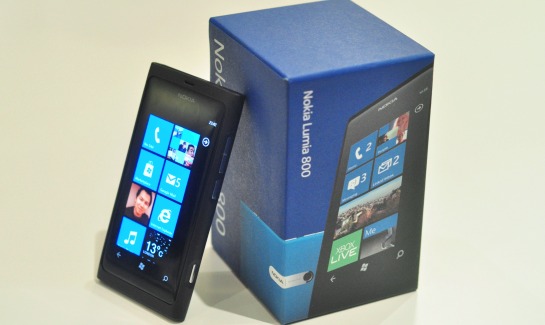 At an estimated price of £400 in Britain, The Lumia 800 isn't exactly cheap. But what you do get is a phone with a hardware design that is so unique; it is worth paying £400 just for that sexy angular body. And yet some faults have held it back. I can't help thinking how much of a better phone it would be if the screen was slightly larger, or that it uses a traditional RGB stripe instead of the much maligned PenTile matrix. Still all phones have faults, and some of the faults found on the Lumia 800 aren't unique to Nokia.
The biggest challenge facing Nokia is educating the masses about Windows Phone 7. As Nokia rightly said, this is the first Windows Phone 7 smartphone. Not from a literal point of view, but a market perception. Long time users of Windows Phone 7 will likely see no compelling reason to upgrade to this, preferring instead to wait for Microsoft to unleash chassis 2 specs (HD screen, dual core processor), and I can't see how Nokia's first Windows Phone effort will convince Android power users and iPhone users to part with their phones.
So is the Nokia Lumia 800 worth your time? Perhaps. Yes, the camera is disappointing, but I have hopes that because the camera module is the same as the one found on the N9, a software update will help fix whatever flaws it had. Despite that there is no doubt that the Lumia 800 is a fantastic device, the best Windows Phone 7 device in fact, but it just isn't for everyone.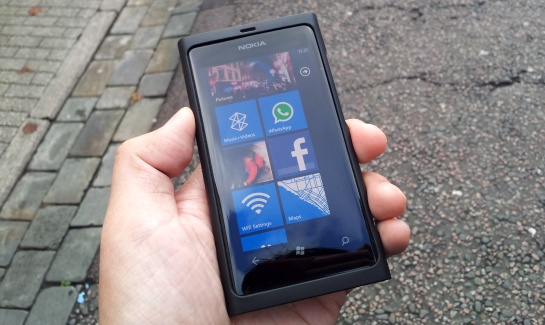 Nokia's best chances with the Lumia 800 are those people who are just getting onto the smartphone bandwagon, and there are plenty of them around. Even disillusioned Nokia Symbian users will likely find the Lumia 800 appealing, providing them with an upgrade path from a dead OS to one with a future, while still retaining the brand loyalty. For those afraid of tinkering with Android, or sick of all things Apple, the Lumia 800 may just be the right phone for you.
Regardless of how one feels about Nokia's choice in operating system, with the Lumia 800, Nokia has succeeded in crafting the sexiest smartphone to date. And for that alone I applaud them. Welcome back Nokia.
+ Gorgeous design
+ Great performance
+ Windows Phone 7 Mango
– PenTile matrix
– Disturbingly poor camera performance
This review is based on a none-retail prototype of the Nokia Lumia 800 and is running on unfinished software. The review will be updated accordingly when a software update arrives.