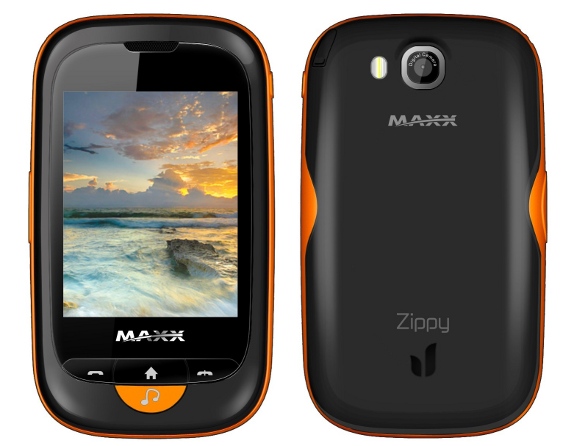 MAXX mobiles has launched a new Dual SIM Touch screen phone, MAXX ZIPPY MT105. The MAXX touch portfolio already include 2 phones, MAXX Scope MT150 and MT250. This is their 3rd touch phone, and it colorful and compact along with lots of multimedia features.
The MAXX ZIPPY MT105 has2.4 TFT full touch screen and has digital camera with LED flash. It comes with Wirefree FM radio with recording feature, audio player that supports, MP3, AAC & WAV playback as well as video player that supports MP4, 3GPP, AVI video playback.
It comes with 4GB memory card that is pre-loaded with multimedia contentincluding music and videos and it supports expandable memory up to 8GB via MicroSD. It comes with a torch-light and has connectivity features like Bluetooth and USB Mass storage. It has 1000 mAh battery that offers talk-time up to 4.5 hours and stand-by time up to 350 hours.
MAXX ZIPPY MT105 comes in Black with Blue, Metallic Red & Orange colors and is priced at Rs. 2,599. It would be available in the retail stores that include, Planet M, Tata Croma, Hyper City, Star Bazar, Mobile & Gadgets, Indian Naval Canteen, Kings Electronics, Hotspot, Reliance Web World and NEXT electronics.